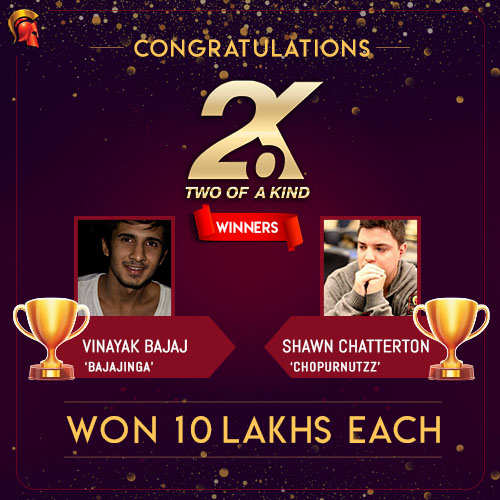 Poker
---
Shawn Chatterton, Vinayak Bajaj win Spartan's October 2.o.K
It was a big night yesterday as along with big tournaments running on TheSpartanPoker, the site hosted its monthly 2.o.K (Two of a Kind) tournament where 1st place and 2nd place finishers are guaranteed INR 10 Lakhs each. This re-entry tournament drew a total of 882 entries who generated a prizepool of INR 35,28,000 distributed to top 70 places with a min-cash of INR 8,820. 
Coming out on top of it all was Shawn 'Ch0pUrNutZZ' Chatterton and Vinayak 'bajajinga' Bajaj each scoring a sweet seven figure payday as a result of their win. Chatterton, 29, a Kolkata native worked as a banker for few years after his MBA in Finance before he decided to quit his job to play poker more seriously. The other winner Bajaj is originally from Ranchi, Jharkhand and is currently a resident of Gurgaon. This 24 year old obtained his Masters degree in Chemistry from IIT Kharagpur in 2016. Gutshot was able to speak to both winners and here are the excerpts:
Congratulations! Please tell us about your start on your poker journey?
Shawn Chatterton: Almost a decade back I was introduced to poker back when I use to play INR 100-200 buy-ins at my friend's place and was hooked since. I got my first break in 2011 when I won an all-expense paid trip to Goa for PokerGuru Tour and ended up chopping the INR 10K event. It was quite a big deal for me at the time looking back I think that's the first time I actually thought of taking the game seriously. However, my parents were having none of it and so I finished my Masters in Finance and got into banking. It was only when poker clubs made their first appearance in Kolkata in the year 2014, that I decided to just go for it and give it a shot. Worst case scenario I would go busto and get back into banking. So I started with INR 50-100 blinds and by the end of the year, I had moved up to INR 200/500 blinds. After travelling and playing the cash game circuit for two years I started organizing cash games in the city of Kolkata and had been running games here until August 2017. 
Vinayak Bajaj: I have always been a fan of card games since my childhood. I play almost all card games ranging from 29 to bridge, but poker was the only game with real money involved. I picked up poker in college where we had a group of 15 people who used to play INR 1-2 cash games daily and obviously you don't get your money. We still used to play for the love of it. After some time almost all of us started playing online too. TheSpartanPoker was where I started playing or I should say started losing (laughs). Till now my first big live experience was at casino Deltin, Goa. I can still remember the exact day. The small showbiz boat ride, the grandeur, the big 10k buy-in. Well, the only thing I got back was a can of Coke which was kinda free (laughs). But, it was worth it. 
Describe your journey through the 2.o.K.
SC: Had a rebuy early on in the tournament but it was smooth sailing after that and was able to chip up nicely. Was one of the chip leaders from the time when there were 100 left down to when there was 12 left before I had a bluff go wrong in which 'bajajinga' got a massive chip lead and I went down to 12BB's. I started the final table as the shortest stack but wasn't too worried as the chip leader had a huge chip lead and I just needed a double up to be back in contention for the rest. I had 6x 6x in the BB with 10BB's, button opens 2x small blind 3-bets it to 7x and I re-shoved behind. SB had Kx 6x and I got that much-needed double-up. Very next hand the button shoves 9BB's and I woke up with 9x 9x in the SB to eliminate him. Got one more double up on the FT with As Ts when I jammed on a board of Tx 4x 3x after being 3-bet by the CL who had Kx 4x and after that the two of us had around 80% of the chips in play so it was just a matter of biding our time and picking off the rest. 
VB: The 2.o.K is a very high-value tournament which I generally play. I was anyways going to play but won a one-hand satty to the tournament and we took it up from there. Interestingly in the one-hand satty, we won a 10 handed pot with ten pair with Ace and King on the flop. I was playing tight in the beginning but had a semi-bluff gone wrong where I lost 40% of my stack. We won some big pots and then a big pot – Ace-Queen VS Ace-Jack which got us in a comfortable position. We then won two big pots in the next 30 minutes 9x 9x VS Qs 3s and Ace-Queen VS Jack-Seven with the customary flush draw on the flop. 
Any particular turning points in the tournament.
CS: I was in the chip lead for the longest time in this tournament, I think from like 100 players down to the final two tables so yes, the thought had crossed my mind but I just wanted to keep playing well and picking good spots to chip up. I just kept backing myself even after I ended up being the shortest stack at the start of the final table. 
VB: The first turning point was when we called UTG with my poison Kc 8c and again call a raise from the button. The flop was 3c with an Ace. Villain shoved Ace-Queen and we won a 1L pot. After that, we floated between 3L to 4L stack for at least 2 hours. After losing some chips we were 17/19 when we got a double up with Ace-Queen VS Queen-Nine PFAI. After a few deals, we doubled on KK VS 66 against 'Ch0pUrNutZZ'. This was when I felt I was back in the game. The next turning point was when I won a 12L pot with Tx 2x against Queen-Jack suited on a T high flop. That is when I was on for winning it. We kept climbing on and had more than 60% chips 5 handed. That was it. 
What was the reaction of your friends and family?
CS: It's been great my friends and family are really happy for me. Big shout out to my Mom and Dad for having faith in me and letting me do my own thing. 
VB: Friends are as usual 'bhai party' 'bhai party' …literally. I have not told my family about this it. I am just not sure how much am I going to spew; and then later be like dad, mai 2L haar gaya. Will need to think about this more. 
Your feedback on The Spartan Poker itself and their promotions.
CS: I think TheSpartanPoker's user interface is head and shoulders above any other Indian site and the way they are giving back to the community like bearing TDS is really commendable. Keep up the good work. 
VB: TheSpartanPoker is no doubt among the best, with big value tournaments on a regular basis. Well, I have had my share of bad beats on TheSpartanPoker but I think that has what made me stronger and pushed me to commit to my bankroll which still has to be incorporated. The tech here is fab. It's just great. 
So you are a Millionaire now, what do you plan to do with this money?
CS: I'm going to add a large chunk of it to my bankroll and the rest I will probably give to my parents. 
VB: Well I had not imagined this would happen. I am still planning what to do. On a wild side, a Harley Davidson or at least a Euro or Vegas trip seem fascinating. Also, definitely tying back some money to my bankroll and stick to it. 
Gutshot congratulates Shawn Chatterton and Vinayak Bajaj for winning the Two of a Kind, next in the line is The Millionaire which is on 8 October at 4:30 PM.
---
---
Comments