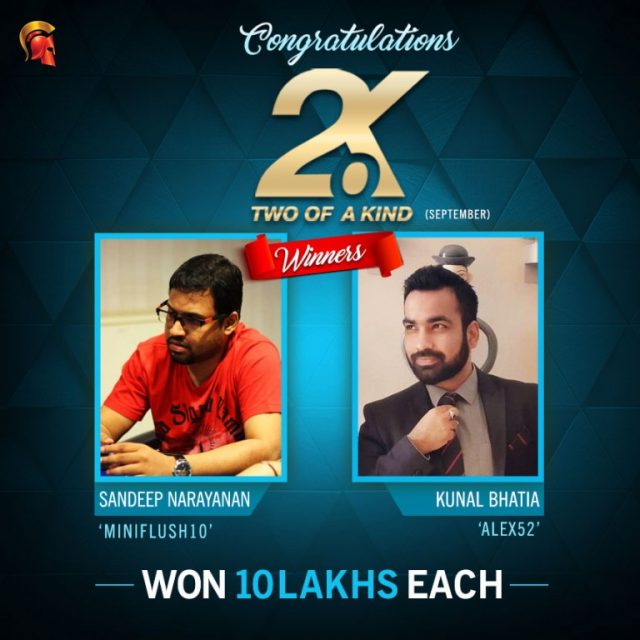 Poker
---
Sandeep Narayanan, Kunal Bhatia win September's 2.o.K
TheSpartanPoker.com makes a minimum of four players an instant millionaire every month and September too got off to a flying start with the 2.o.K (Two of a Kind) tournament taking place on the first Sunday of the month. The top 2 finishers got INR 10 Lakhs each for outlasting a huge turnout of 827 entries which made a prizepool of INR 33,08,000. Top 70 places were paid with a min cash of INR 8,270 to all.
Notable players to cash in this event were 3-time monthly tournament leaderboard winner on Spartan, Anirban 'pokernoob' Das at 3rd place for INR 3,01,028, Gaurav 'DevlinGG' Gala at 6th place for INR 1,15,780, Ankur 'aryan89' Aryan at 9th place for INR 66,160, Jaikiran 'zeeke' Kumar at 26th place for INR 15,878 and Anuj 'aatmaan' Kodam at 37th place for INR 12,901.
It was Chennai based Sandeep 'miniflush10' Narayanan and Kunal 'Alex52' Bhatia who emerged triumphant taking down the September 2.o.K. Born and brought up in Chennai, 35 year old Narayanan currently works with an Oil & Gas MNC company. While winner #2 Bhatia, a 26-year old is pursuing his MBA from the Indian School of Business. He has worked as an investment banker for more than 2 years.
Gutshot was able to speak to both the winners and here are the excerpts:
How did you start on your poker journey? When did you first pick up the game?
Sandeep Narayanan: I'm an old-timer relatively speaking. (smiles) Started my journey right around the "Moneymaker Effect" (2004) when I was in US for my masters. I started with play money online on Full Tilt and PokerStars. Watching the World Series of Poker (WSOP) with hole card cam on ESPN really hooked me onto the game. I got to know one of India's finest tournament players 'Aditya Agarwal' during my time in the States, hung out a few times with him including a memorable Vegas trip. I have been interested in the odds/probability aspect of the game and the mental aspect of it.
Kunal Bhatia: I started playing poker in college while in hostel. I used to play with play chips on Zynga poker as well as small buy-ins tournaments/SnG we use to organize among college friends. The first major break and exposure to a mainstream live tournament happened in 2014 when I got staked in the Golden Aces Poker League held in Goa at Casino Pride (3 tournaments) after winning (1st/400) an online satellite. Enriching experience, truly the liveliness and energy flowing in the ambiance was so contagious that it was hard to get back to normality in life afterwards. That was when I developed a profound love for tournament poker from which there hasn't been any looking back since.
When did you start playing poker for real money?
SN: My first NLH cash games were on Full Tilt (0.5-1 blinds) with a $100 buy-in and graduated to a mid-stakes NL grinder when the games were good while I was in grad school. I have played cash upto $5-$10 NLH in poker rooms across US (Vegas predominantly) while I was there till 2008. I was recently in the US during WSOP and its a phenomenon more like a pilgrimage for every poker player. Been through a few cycles of bankroll boom and bust it has been a real journey of learning's so far.
KB: My game was poor to average until I moved to Bangalore. That's where the actual learning and a transformation of sorts happened. This was the period when I played with almost every who's who of the poker world, the veterans, the grinders, the cash rich and the owners, alike. This was when I realized the importance of factors important to excel in the game other than the game itself; factors such as player profiles, their backgrounds, their ambitions, their latest runs, playing at the right stakes with the right bankroll. I managed all this with a full time 14-16 hour x 7 days a week job (Investment Banking is not easy). It was intense. There were days I went with minimal sleep. I was playing for real, playing at high stakes and with people with high propensity to gamble that the swings could unrest/unease the calmest of personalities. I never turned professional though (relying on poker for bread and butter) and don't think I'll be doing that anytime soon.
Losses, wins, more losses, some more wins. I'll attribute the development of my game through this vicious cycle and learning associated from these losses, whenever they occurred.
There are certain people/organizations dedicated toward the progress of the game in the community whose timely and selfless support I'd like to acknowledge. Specifically – Rocket's Poker Room (Santosh Suvarna, Guru), Bazee Live (Vikram), Abhishek Goindi, and Sajjid Patel along with quite a few others have played a significant role in the process.
And I wouldn't daresay that my learning is complete yet. A win here or a loss there (however big or small) doesn't affect my propensity and willingness to learn. I still consider myself work in progress. It is the pursuit of mastery & perfection, knowing that it going to be a never ending pursuit, but persevering still, is what makes the journey even more beautiful.
Some successes I have been lucky enough to have include:
– Getting to play with Delhi Panthers under Akash Malik's supervision. Winning & lifting the cup of the first ever Poker Sports League for the team! (And having my Business School Exams right after the event concluded, which I thankfully did well in, will add to the everlastings of the experience – it is a story for another time, how I almost missed my flight/exams)
– Won / final tabled 5-6 tourneys in the last month itself on Spartan (I don't remember the specific names, please look it up in your DB)
Describe your journey through the Two of a Kind event. Kindly give us details on some of the key hands.
SN: First off I rarely play tournaments because with my schedule it's easier to play cash games for 1-2 hours per day, if at all  I play MTT's I pick a couple of them on Saturday or Sunday on the Indian sites like TheSpartanPoker, PokerBazzi and PokerNinja. It was a rollercoaster ride till the final table and you just can't win an event like this without your fair share of luck however skilled you are. Some of the key hands were I was in early on with Ace-Queen against Ace-King and the board double paired resulting in a split pot so the luck was on my side. The second key hand was when around 11 people were left, got it in with pocket Queens against pocket Kings resulting in me being short stacked (lost 65% of my stack) but I did not lose my composure and avoided silly plays. The third hand was in the final table with 5 people left, my pocket eights open was 3 bet from the blinds and called to see a flop, 8x Tx Tx boom and we got it all in on the turn and their Ax Ax was busted that was pretty much coasted after that.
KB: I won't say I knew beforehand that this was the tournament I'll star in. In fact that's what I like to believe before every tournament just to get the adrenaline high. I joined 2 hours after the tournament had begun. I was working on a case study competition with my team which got stretched that caused the delay. Another 30 minutes and I would have decided against joining altogether. The plan was to fish for chips early on. No point being conservative with a field this size with a stack of ~30-35 big blinds which you know will be no good when the blinds/antes rapidly increase. I didn't mind getting my stack in on combo draws, certain spots where I may not be ahead but still a 30-40% favourite. Bigger the pot, the better the value. Knowing it was a rebuy tournament helped (i usually have a stop loss at 3x). There were some key hands a. Almost a Double up – I busted AA when about 200 people were left with Q4hearts (Big blind). Flopped a flush vs AA set, and got his entire stack by the river
60%+ Increase in Stack – Busted AA again with QTx (again big blind) when I flopped 2 pairs. This was when the field was down to ~30 players. The boost was much needed.
Busted a player on the final table with KK (mine) vs QQ. Major Action happened on turn and the river. After this hand I was in a comfortable chip lead with 5 players remaining.
Any particular turning points in the tournament where you felt that you could win it?
SN: Right after the hand where I lost with QQ got a huge rush, busted a couple and was among top 3 in the final table. Just the overall way I played I felt I could win it, because in between all the hands I made some really good folds and was playing my 'A' game for sure.
KB: I try to play every tournament with a basic belief in my ability to win it. So unless I have a stack < 15 BB, I'm as confident as I'm realistic about winning the tourney.
What was the reaction of your friends and family?
SN: I disbelief mainly as it's my largest score in India to date in live and online both. I woke up my wife to tell I won and next day she asked me whether it was a dream! My parents have been supportive and they were quite happy. Even my birthday is also coming this month and my friends can look forward to a treat.
KB: I'd like to use this as an opportunity to acknowledge two of my friends at ISB – Vinay and Samiksha, with whom I was supposed to spend the wee hours of the night working on a case competition with a deadline that was fast approaching. But these two displayed a tremendous understanding of the gravity of the situation and asked me to focus on the game and nothing else, putting my mind to rest.
They are also the ones who were the most excited (and jumpy though not really jumping) when I finished joint first. So I guess a treat is due on my end. 🙂
What are your future plans in the live and online space?
SN: I don't play on PokerStars anymore and this will mostly likely change as I can use the winnings to deposit a seed bankroll in the site. I am going to continue with light online schedule playing selective tournaments. In live poker scene, I love Goa and in fact I won this just a day after I got back from a Goa vacation. I am looking forward to be there again during Deltin Poker Tournament and other live events as well.
KB: This changes things a bit, but only as much. Future plans in life- continue with my MBA, and not deviate from the short-mid-term set goals. In Poker – continue playing high value tournaments whether live/online. I'd also like to remain associated with the Poker Sports League in the future years. Hope to get retained by Delhi Panthers (If there's any such provision) or get picked again by equally good teams.
Your feedback on The Spartan Poker itself and their promotions.
SN: Kudos to TheSpartanPoker team for the early 4:30 PM start of the Two of a Kind tournament. This allows people with day jobs to play without their sleep schedule for the Monday work week even if they go deep. I have played a few India Poker Championship events in Goa ,well organised and professional. Also giving recognition on a live stage such as this in Bangalore is commendable and motivating for aspiring players, hoping there is lot more to come.
KB: I think they're doing really well. I think they have come up with a brilliant player centric strategy of consistently organizing high value tournaments, and gradually increasing the volumes. I also think that at this point they understand the players (their customers) better than anyone else.
Although they weren't the first in the industry, and faced quite a few challenges initially, they've rebounded well to quickly penetrate into the right segments of the market and have established a brand around the same.
I wish them all the luck, and hope to work with them someday with their strategy/corporate development team (if they recruit from business schools that is. :))
So you are a Millionaire now, what do you plan to do with this money?
SN: Split between settling some dues, keeping a portion in the poker bankroll and the rest to family.
KB: Immediately – Nothing. No impulse spending/playing/gambling/purchases. I'll most likely invest a chunk in the equity markets (after retaining some proportion for tournament poker), and use the balance to repay my student loan.
Anything else you want to share.
SN: The poker landscape in India is in a growing phase also fact that poker is becoming mainstream is an achievement in itself and hopefully removes the negative connotation since poker is usually bunched with gambling when it's clearly not. I hope this golden run continues in the same vein for Indian poker without comprising ethics (be it poker players or poker room operators).
KB: Appreciate this opportunity. Thank you.
---
---
Comments