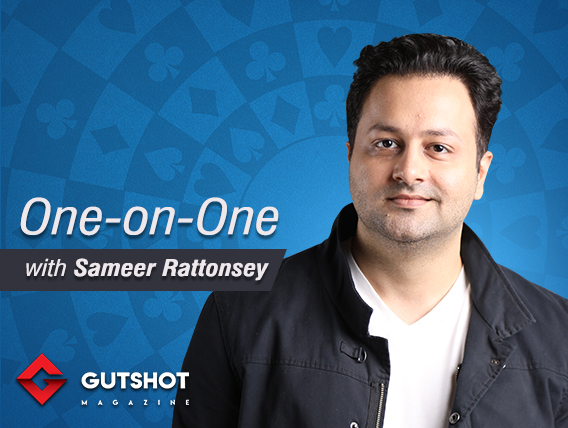 Poker
---
Sameer Rattonsey on 'A decade of Indian Poker'
Poker in India has been around since the late 2000's. Technically, it was around since before that, but not too many people knew about it. It was only those who studied abroad in countries like UK and US who learned the game there in colleges and universities and returned to make poker popular among their friend's circles.
However, it remained in that 'niche' category during the time. Ever wondered when the real explosion happened, and when poker started being considered as a mainstream sport in India? Well, the last decade has been instrumental in the growth of the game, and Gutshot caught up with Sameer Rattonsey, co-founder of the India Poker Championship and Spartan Poker, who spoke about the 2009-2019 period and some of the key moments that led to that eventual boom.
WPT airing in India
"I began playing in early 2003. My friends and I were Teen Patti players earlier when we heard about this game called poker. We had grown a bit weary with Teen Patti because there was barely any skill to it. We weren't entirely sure of the rules of poker and it was completely new to us but it still felt much more like a skill game. Back then, there weren't a lot of resources to learn about poker, except for books but slowly and steadily we picked up the rules and had a weekly home game on Sunday afternoons," commented Rattonsey on the start of his poker journey.
One of the earliest big factors was the airing of the World Poker Tour (WPT) on Indian television in those years. The WPT is one of the biggest poker brands across the world and every Sunday night for a couple of hours in the prime-time evening slot, episodes of the WPT from various exotic locales of the world would transport fledgling Indian poker players into the excitement of the beautiful game.
"Not only was it great fun to watch this game we started to love on TV but in due course we also rectified some of the things we were doing in our home game, which helped the game move at a smoother and therefore faster pace," said the 40 year old Mumbai-based poker entrepreneur. And Rattonsey and his friends were not the only ones glued to the television as plenty of players across the country were discovering for the first time this game of skill and reading other players. Soon after, a trip to the poker capital of the world Las Vegas, helped Rattonsey clear his fundamental understanding of how tournament poker was played in casinos and he shared that knowledge with his homegame mates.
Asian Poker Classic (APC)
The Asian Poker Classic was the first international-scale event hosted in India. The country's first-ever poker tournament was hosted by an overseas online poker site and this was not necessarily catering to Indian players. 12 players from India were sponsored by the organizers, each winning an entry to the tournament. The concept was much like those we have on Indian websites now, with The Poker Trip and Destiny being popular offerings on Spartan Poker today, where players can win package trips to Las Vegas and other exciting locations.
Taking place in March 2007 at a 5-star hotel in south Goa, this was a historic few days in India's poker timeline. Gurpreet Bakashi and Shahzad Ahrestani finished 13th and 14th respectively for $13,600 each, while the Indian who made the deepest run of all was Pranav Bathija (who would eventually become CEO of Mercury Poker), finishing 3rd for a massive prize of $97,000, which remains his best live cash till date. The tournament attracted 143 entries and had a massive $1 million guaranteed prize pool, with 18 set to finish in the money. Danish player Carl Hostrup-Pedersen finished victorious for a massive prize of $320,000 (~INR 2.26 Crore).
Regarding the APC, Rattonsey told us, "I came to know about this tournament taking place in Goa through some friends. This event was slightly under the radar as they were catering to international players rather than Indians so it wasn't really advertised. In 2007, opportunities to travel and play poker were unheard of in the Indian circuit and Bathija's run turned out to be a very inspiring one for the few active Indian players at the time."
When Goa got its first poker room…
Casino Pride located in Goa's River Mandovi was home to Goa's first poker room. A brand called India Poker Ranking Tour (IPRT) hosted a series in this ship in December 2009. It was launched by Jim Rammchand, who can be a poker pioneer, someone who was largely responsible for the beginnings of casino poker in this country. While the IPRT series did not last for too long, it did give rise to other live poker brands in the country, such as the India Poker Championship (IPC) and the India Poker Series (IPS).
Rattonsey spoke about this development as well, saying, "I went to Casino Pride to play in the IPRT, which had a modest turnout. On my return to Mumbai, I told my friend Peter (Abraham) about the series. At the time, we were running Bombay Poker Club or BPC which was an informal group of poker enthusiasts who gathered to play tournament poker every Sunday afternoon." Both friends realised that there enough players who were a part of BPC that may be interested in coming to Goa for a 'proper' tournament series.
"That's how the idea of starting something in Goa popped into our heads. We said, 'Why not give it a shot?!' and that's how IPC was launched in March 2010. Our grand vision for the IPC was for it to be a stepping stone for Indian players to compete on the world stage. Our inaugural edition saw three tournaments taking place, with the buy-ins at INR 5k, 10k and 20k (Main Event). The IPC Team was disappointed initially, even though the usual turnouts in Goa were less than half of what we achieved. However, the poker room manager at the time told us that we should be very pleased with the participation numbers and that if we continued at this the right way, growth was inevitable," Rattonsey continued.
The March 2010 IPC series saw a total of around 80 unique players across the three tournaments hosted. The team then put more energies into the brand as they realized the potential. Over the years the field size grew from double digits to over 500 players taking part in an individual tournament. Team IPC even forayed into international waters hosting IPC Colombo, hosting its first international edition in 2013 in the Sri Lankan capital. "The 2015 season when we returned to Goa was truly fantastic as player participation grew with every edition leading to records being set and broken repeatedly," said Rattonsey who along with Abraham now had experienced hands in Rajeev Kanjani and Amin Rozani joining the IPC Team. At present, this same team is looking after poker operations in the Big Daddy casino in Panjim, Goa.
The advent of online poker
The slowdown years of live poker in 2012-13, saw online poker picking up in the country via sites like Adda52.com who got the ball rolling. In 2014, Team IPC too expanded their focus from live tournaments to online poker as well, launching Spartan Poker. The website built itself up over the next couple of years, soon getting into the top 3 platforms of the Indian market. Spartan has opportunities for players to build a bankroll from scratch and even has domestic and international package trips on offer besides terrific prizes like luxury cars and bikes and everyone's favourite cold hard cash! You too can learn how to win your first million in online poker here.
Talking about his entry into the online poker world, Rattonsey said, "At a couple of live IPC events, we struggled to accomodate all players in. The idea with an online platform like Spartan was that A) there wouldn't be any infrastructure restrictions, B) we could offer a whole range of buy-ins catering to different player appetites, and finally there was also the chance of entering into bigger tournaments for FREE, via satellite qualifiers and freerolls. We are also very happy with the growth of the online version of IPC i.e. the India Online Poker Championship (IOPC), a marquee tournament series which runs for 10 days at Spartan. The edition of IOPC which took place in January gave away in excess of 10 Crores in prizes! Running IPC, IOPC and Spartan together has allowed us to grow the poker community and give players opportunities to make poker a viable career option."
Rattonsey was right when he spoke about poker being a legitimate career option today, as there are hundreds across India who earn their livelihood through this sport as professional poker players, while there are thousands more who use it as a source of secondary income. "It is fantastic to see how far a young market like India has come in such a short time. Our players are performing at the highest levels on the regional and global stages. India is slowly but steadily being recognised as a potential powerhouse of producing the next generation of world class poker players and we are happy to play our part in India's poker growth story," says a beaming Rattonsey as he signs off.
For similar updates on the Indian poker industry and its future, keep following GutshotMagazine.com.
Don't have an account on Spartan Poker? Check out their review page here, and don't miss out on their bonuses, promotions, and guarantee-smashing tournaments. Sign-up now.
---
---
Comments