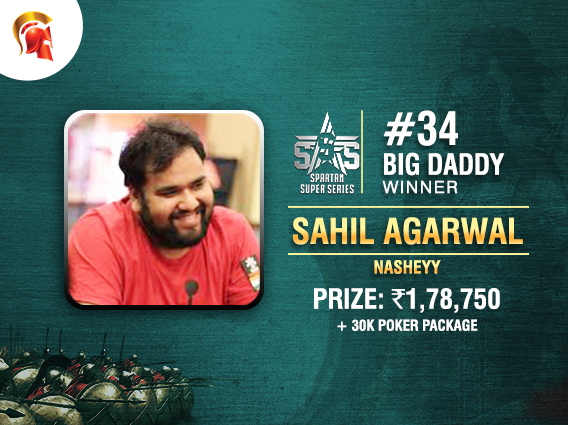 Poker
---
Sahil Agarwal wins SSS Big Daddy on Spartan
Sundays are great for online poker players in India, and yesterday was even better, as it was the final day of the Spartan Super Series (SSS), one of the biggest poker tournament series in the country. As part of the festivities on the final day, the Main Event was shipped by Dhawal Lachhwani, while the Sunday SuperStack tournament was shipped by 'Mishtabond'.
There were also plenty of other tournaments being played simultaneously, one being the Big Daddy tournament which is contested every Sunday at 4pm IST. The most attractive feature of this tournament is that the winner will not just take away his/her tournament winnings, but also an INR 30,000 package trip to play poker at the Big Daddy poker room in Goa.
Yesterday's tournament had an increased guarantee of INR 10 lakh for the SSS and a total of 984 entries registered to the tournament, with their eyes on that package trip to Goa. The top 81 players were paid out a minimum cash prize of INR 3,150 and coming out on top of this huge field was popular poker player Sahil Agarwal, who plays under the name 'Nasheyy'.
Agarwal has quite a few accomplishments in online and live poker, with the most recent and most impressive one being a 2nd place finish in the APPT Manila High Roller. He also shipped the SSS Super High Roller for nearly INR 16 lakh. Here, he won the top prize of INR 1,78,750 and also the package trip to Goa, where he can play live poker and multiply his winnings.
In heads-up, he faced off against 'Imachampion', who finished second and settled for the runners-up prize of INR 1,28,750. Coming into the final hand, Agarwal had a chip lead of nearly 4:1. Agarwal held Ts 9h, while Imachampion held 5d 4s. The board opened 5s Tc 9s 4h Kh and Agarwal went all-in with Tens and Nines, which was better than his opponent's Fives and Fours.
Gutshot caught up with Agarwal after this victory. He said, "Winning a SSS Freeze Out event felt great. I always believe the true test of a poker player is winning with the least re-entries. Freeze out formats are increasing on The Spartan Poker and even though there is some need for rebuys and re-entries for guarantee boosts, and are now the norm world over, I am very happy to see more options for Freeze Out tournaments on offer. As far as the particular tournament goes, I got lucky in a few spots and un-lucky in others. In the end, however, I felt the structure was deep enough that my patience and skill were rewarded with a victory."
We asked him about key hands in the tournament. He said, "One of them happened when I was in the big blind with Jd4c and flopped a 4 on 498 rainbow board. I called the villain's c-bet. The turn brought in a second heart and I check-called again because the card did not connect with the board and on the river I called off the effective shove from the bigger stack with nearly all my stack already in the middle. The river was a brick so no straights or flushes had come in and I don't think the villain would have played 9x like that, so my hand was a pure bluff catcher as the villain could only have an over-pair+ or a bluff. Sure enough, the villain had QJ and had bricked a 3 outer to a straight." 
He would be on top of the world after winning two SSS titles in the last few days. "Feeling great to win 2 big tournaments in a week. Great structures. Very juicy fields. Ran really good. Cheers to Spartan. I finished 3rd in the IOPC in January 2018 and missed another series because I was in Europe. I could not play this SSS fully either because in the near future I plan to open a MTT training website and also invested in a new twitch layout to promote the game in India. All of this had me busy and playing time was sparse. I believe the only way to grow the Indian market for poker is to bring in new players, educate the recreational players and illustrate the fun of playing poker through outlets like Twitch. In the end, I do not fear giving away my strategies to other players because NLHE is ever evolving and only those who truly study the game will get better. Being a professional poker player, I have a vested interest in – and the motivation to – grow the number of players across all sites in India," he said on a parting note. 
Keep reading GutshotMagazine.com for more updates on the final day of the Spartan Super Series.

---
---
Comments