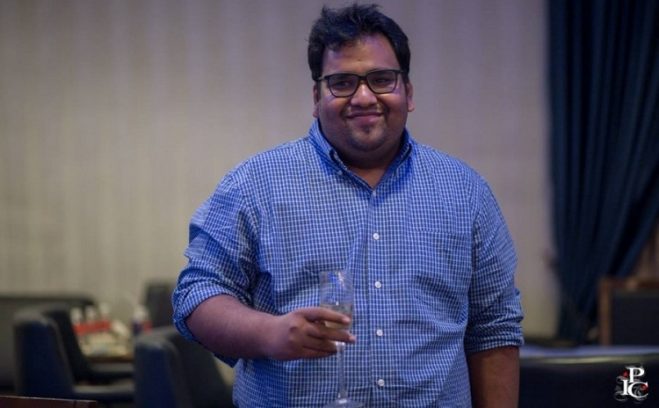 Poker
---
Sahil Agarwal is the 9th Destiny winner on Spartan
Sahil Agarwal 1The every week Destiny has come to its ninth week and this time it was Sahil 'Variance' Agarwal to secure his seat to the Destiny SnG Finale. Agarwal outlasted 397 entries making a prizepool of ?19,85,000. Top 40 players took a share of the prizepool with a min cash of ?9,925. Coming on top it was Agarwal the Spartan Super Series Super HighRoller winner, February 2017 edition. Agarwal received ?4,26,025 and also won a ticket worth ?1 Lakh to the Destiny Finale SnG.
Agarwal defeated 'phantom' in the heads-up battle in level #42 with blinds running 35,000-70,000-7,000 with both the players pushing all chips on turn. Agarwal with As Js and 'phanthom' holding Jc 8d, the board ran Jd 7s 9d 4d 6h giving pair of Jacks and Agarwal won the hand with Ace kicker.
28-year old Agarwal who is a former engineer and currently playing poker professionally also a coach in Indian Poker Pros shares his Destiny journey to GutshotMagazine.com and here are the excerpts:-
Please take us through your journey in the Destiny tournament.
Destiny tournament has been really kind to me. I have cashed the last 4 times I played and final tables twice before this. I never had a huge stack of chips through the tournament just kept grinding a 20-40bb stack and ran good in crucial spots.
Please share some key hands and turning points in the tournament.
I entered the final table 7/8 and found myself in a spot all-in with AJ v AK and got lucky to make a flush and win that hand. After that a surge of good hands helped me gather a big stack and made it easier to work my way around on the final table.
Does being a coach at IPP help you improve as a player?
It definitely does. You need to be constantly reviewing your game, your strategies to stay ahead of the curve. We tend to ignore this when we are just playing so much, coz honestly it's probably not as exciting. But being a coach and having people looking up to you, you find yourself constantly talking about hands and discussing best possible strategies for various spots which helps.
Is your family supportive to you for playing poker?
Oh yea! I have been playing professionally for over 3 years now. It took them sometime but now they have really accepted it and are very supportive as well.
Next tournament or series live or online you are looking forward to?
I am looking forward to the Spartan DeepStack Series on TheSpartanPoker which starts today. It is definitely my favourite site to play tournaments. I am also looking forward to Destiny Fianle SnG for Vegas with rest of the winners. That should be pretty awesome. We already have 2 of IPP's HSMTT players in there and now with me in as well I feel pretty good about our chances.
Here we have the 9th Destiny winner and only one Destiny left for the Destiny Finale SnG which is scheduled on 20 August, Sunday at 9:30 PM. Stay tuned for the other poker stories to GutshotMagazine.com.
---
---
Comments