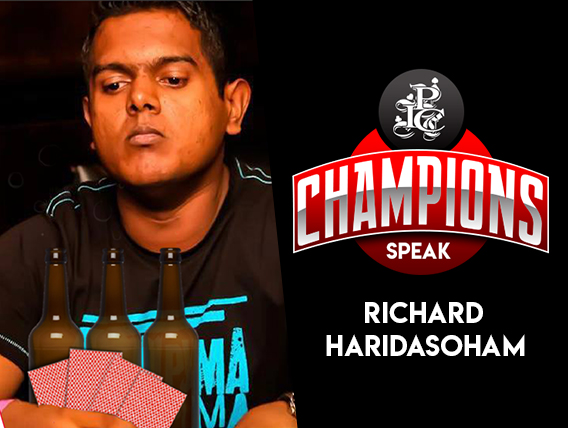 Poker
---
Richard Haridasoham speaks on his IPC 2012 victory!
It was August 2012 and the India Poker Championship (IPC) had returned for yet another series, this time 4 months after its last outing in Goa. At the time, the IPC was being held on board the Casino Royale in Goa's River Mandovi, and the number of people playing the game of poker during the time was much lower than what we see today!
In this particular series in 2012, three tournaments were hosted and the INR 25,000 Big Game Main Event managed to grab all eyeballs. 26 runners competed for a prize pool of INR 5,85,000 and the champion turned out to Mumbai's Richard Haridasoham, taking home the IPC title and INR 2,51,000 in prize money.
Since then, Richie has watched the IPC brand as well as the overall poker industry grow in size, both in terms of participation as well as in terms of prize pools and guarantees. He's also been actively producing poker content with his 'Poker Rajas' being a very popular podcast that included guest appearances from many known entities from the poker community.
Right now, we can say that Poker Rajas is on a small hiatus but Haridasoham is still always around when an IPC event takes place, participating in the 10k Freezeout Event in IPC September 2019 while also being a commentator for the series. Prior to that, he was a commentator at the inaugural GPL India league too, and this is something we may see him do more often in the months to come!
IPC returns in January 2020 with an INR 5 Crore series guarantee and we're expecting plenty of fun at the Big Daddy Casino in Goa once again. In the build up to the series, Gutshot decided to catch up with this past IPC champion to know his views on the game, the brand and of course how the industry has grown since his victory more than 7 years ago!
"I was really happy to hear about the IPC comeback and clearly everyone who plays tournament poker was too. Social media was buzzing about it. My first live poker hand was at an IPC and I couldn't wait to get back to the felt," he said about the return series which took place in September this year. His association with IPC has been a very long one, also being a part of the inaugural edition in 2010! Keep reading for the complete conversation…
Q. Richie, you're one of the first winners of the India Poker Championship. What do you think about the brand and its growth over the years?
IPC's growth was inevitable. The brand has always focussed on growth of Poker in India. This of course includes awareness of the game and also creating an atmosphere most comfortable for players, new and old. This is what makes IPC endearing for a poker player and their growth organic. Congratulations to the IPC team for all that they have done for poker in India.
Q. Talk us through your Main Event victory in 2012 and the competition you faced there…
The final table was very reggy. I was three handed worth Rajeev Raut and Lawrence Sanjay, two very aggressive and experienced players. I tried my best to be calm and focused. Credit to Jasven Saigal and Sumit Sapra who supported and mentored me in my earlier days in poker, they were railing me and keeping me in check. All said and done, I ran like god and I'm thankful to have an IPC title.
Q. You've done a little bit of commentary too. What interests you about it? Do you see yourself doing more of it in the future?
I grew up watching the World Series of Poker (WSOP) coverage, High Stakes Poker and all other poker content. I enjoy watching and talking about poker. I think which is why it is very enjoyable for me to see and be able to talk about poker action. I would love to continue doing commentary and playing live as often as I can.
Q. Tell us the funniest story you remember in poker since the time you started playing?
On the final table of the IPC Main Event 2012, I opened from UTG+1 with KK and got a caller. I think we were 6-handed at this time. Flop comes 910K r. I cbet small and villain jams. I snap of course. He sees my KK and is very disappointed. The turn is a 10 and for some reason villain started celebrating. Poor guy thought he won. It was funny and we all had a laugh including villain who was a sport even after that sick cooler.
Q. Word of advice for those going to IPC Jan 2020.
My advice to any poker would be to enjoy themselves and have a good time during the IPC. Since the series will run for almost a week, I think very important to pace yourselves and get rest everyday instead of having long sessions in cash etc. This is important if you want to be deep in tournaments. Good luck at the tables!
We expect Richard to be a part of the action once again when the IPC returns between 14-19 January 2020 in Goa. "There is a phenomenal difference in the skill level of the average poker player from 2012 to now. Poker has grown in numbers and quality like you'd expect in any other sport," he said about the current industry status.
The future seems bright and we expect many more such champions to crop up in the months to come. Keep reading GutshotMagazine.com for more updates on the India Poker Championship.
Check out our online poker rooms section, where you can read reviews on the biggest and best poker rooms in the country, while also taking advantage of their bonuses and promotions. Check out these top poker rooms HERE.
---
---
Comments