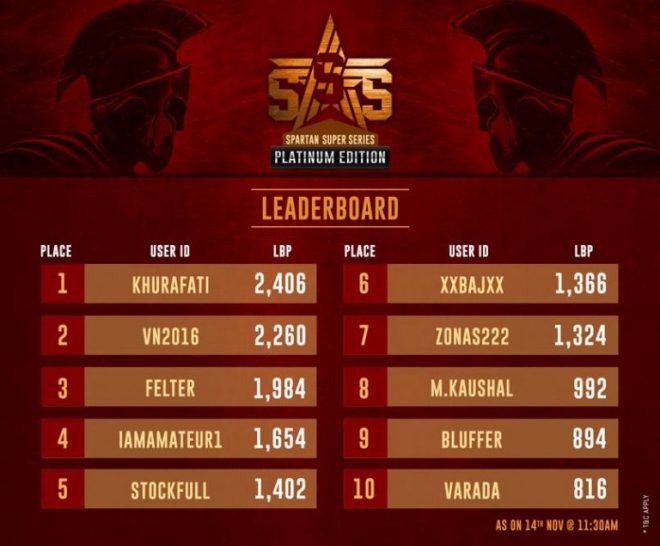 Poker
---
Record Day 1 at SSS Platinum series
The very first day of Spartan Super Series (SSS) – Platinum Edition at TheSpartanPoker saw a huge number of entries and guarantee crushing tournaments. The seven-day series features 35 tournaments with an overall guarantee of more than 3.4 crores which also includes INR 10 Lakhs towards the SSS leaderboard (with INR 5 Lakh from this going up top). The daily featured tournament are the 'gems of the series' if you will pulling in significantly huge numbers resulting in very healthy prizepools on Day 1. Here is a quick round-up of the opening day of this SSS Platinum Edition:- 
SSS #1 INR 770 (300K GTD) (RE)
The very first event of the series drew total entries of 530 making a prizepool of INR 3,71,000. Top 45 players took a share of the prize pool with a min-cash of INR 2,041. It was Shivam 'khurafati' Shukla to take down the first event of the series for INR 70,490. Shukla defeated 'stockfull' in heads-up battle with the latter having to settle for INR 51,013 as his runner-up finish prize. 
Opening event winner Shukla is a young man based in Gorakhpur shared his poker journey thus far, "My first attraction to poker was with Zynga poker back in 2013 and then one of my friends told me we can play for real money. He introduced me to adda52.com and then I began my journey in poker with freerolls and made a decent bankroll of INR 2-3 Lakhs via these freerolls and at the cash tables. At that time, I started learning to play PLO and was doing well in PLO. But sometime back, I lost all my bankroll and went into debt. By God's grace now I have recovered and a big thank you to my investors who trusted me and staked me blindly. I do see my future as a professional poker player. It's one of my dreams to ship The Millionaire of TheSpartanPoker and also the MoneyMaker of PokerBaazi.com. Thank you to The Spartan Poker for bringing great series like the SSS, IOPC etc." 
SSS #2 INR 330 (150K GTD) (R+A) 
The second event of the day was a Re-buy+Add-on tournament drawing 658 entries easily passing the guarantee to make up a prizepool of INR 1,97,400. The prizepool was distributed to the top 27 players with a min-cash of INR 1,777. Mumbai based poker player Jairam 'iamamateur1' Parab outlasted all players to score top prize of INR 43,428. He defeated another reg in Irshad 'bluffer' Chaudhary who took home INR 29,413 for his 2nd place finish. 
27-year old Parab is an engineer when he is not playing poker, "I had a great time playing the tournament. I love how TheSpartanPoker comes with bigger and better events each time. I ran pretty well in this tournament. Once I got the chip lead, it was a swift run for me. I was dealt good cards and I think I played well." This is not Parab's first title at The Spartan Poker having previously won Event #1 at the Spartan DeepStack series. 
690-x-90 
SSS #3 INR 1,650 (450K GTD) (RE) 
338 entries participated in this tournament making a prize pool of INR 5,07,000. The top 30 players would walk away with at least INR 3,803. It was 21-year old Prafull 'Felter' Hasbe who took down the tournament for INR 1,06,470. Hasbe is also a Millionaire runner-up from the month of July winning a sweet INR 10 Lakhs for that finish. "It was not a good start to this tournament for me as I already fired 3 bullets and mistakenly I made a tick to auto-rebuy into the tourney and then it was my 4th bullet," he said. 
Studying in the 4th year of mechanical engineering, he shared his experience, "After I fired my fourth bullet I got a double up soon and then it was the time to play a little tight. Until the money bubble, I started opening a wide range of hands and busted a lot of short stacks, that's how I built my stack. After the money bubble, I concentrated on conserving as well as building my stack slowly. The field was soft; no big players were there except Neeraj 'slowplayaces' Kumar and Rajesh 'bahubali' Shukla. But they played tight only as I was the big stack. On final table with a big lead (I had double of the nearest stack to me) I played patiently, folded some good hands to 3-bets, got value in every right situation.
At the three-handed table, "After we were 3 handed, Prashant 'rituprashant' Bhutoria was also remaining, so applied max pressure as one player had merely 3 or 4 bb and Prashant had a decent stack, I shoved with J7off on the button. Prashant called with AQ off, luckily I hit pair of 7s on the river to win that pot and eliminate him, while the other guy survived with 2-3 bb's. Heads-up lasted for only 3 hands. The last hand my opponent shoved 8x 4x and I called with Qx 7x, the board ran out clean for me giving me the victory." He defeated 'M.kaushal' in the heads-up battle who took home INR 74,529. 
SSS #4 INR 6,666 Devil's Freeze (999,999 GTD) (FO) 
The Freezeout featured tournament drew 197 players to make a prizepool of INR 11,95,002 which was distributed to the top 27 players with a min-cash of INR 10,755. It was 'vn2016' to ship the tournament for INR 2,62,900 defeating 'Zonas222' in second place who collected INR 1,78,056. 
'vn2016' said, "Overall, it was a good Day 1 at the SSS where I was ITM in 3 out 4 tournaments played, of which final tabled 2 and shipped the Devil's Freeze! No matter what the format, one needs to run well to beat 197 regs. I was the chip lead for almost 3 hours, so I did run good I guess. The toughest part was the heads up which must have lasted for at least an hour or maybe more with huge swings on both sides. Respect to the second spot finisher 'Zonas222'. Eventually, I just lucked out to come first and not second. I hope this run continues for the rest of the series! :)" 
SSS #5 INR 2,750 (400K GTD) (RE) PLO 
The Pot-Limit Omaha event drew 196 entries making a prize pool of IRN 4,90,000 distributing to top 18 players with a min-cash of INR 7,840. Coming on top it was 'xxbajxx' to take down the title with a first-place prize of INR 1,26,175. 'xxbajxx' defeated 'krdurr1' in heads-up battle who took home INR 83,545.
Stay tuned with GutshotMagazine.com for other poker stories. 
Here is the updated leaderboard after Day 1:
---
---
Comments