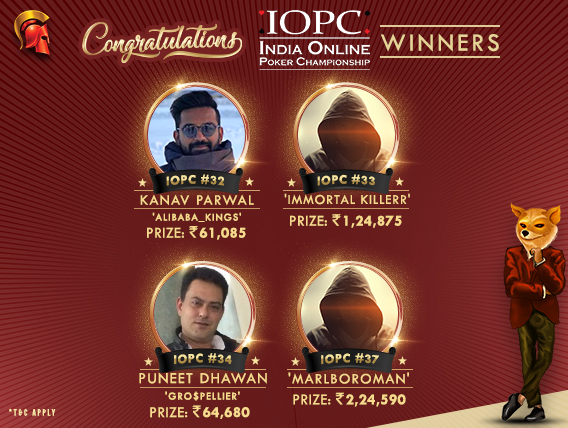 Poker
---
Puneet Dhawan among 5 other winners on IOPC Day 7
The India Online Poker Championship (IOPC) saw Day 7 yesterday with a total of 6 events being hosted. The biggest of them all was Super High Roller INR 70 Lakhs GTD which was won by Gokul Raj. The Flash, yesterday's feature tournament of The Spartan Poker, also had an upgrade in its guarantee being in IOPC and was won by Deepak Bothra. Other four events all broke their respective guarantees and yesterday's IOPC created an uproar in the community.
IOPC #32 – INR 2 Lakhs GTD
The day kicked off with a relatively smaller tournament of INR 2 Lakhs GTD, NLH format. The tournament gathered a field of 304 entries and created a prize pool of INR 3,21,500, something that's been happening in almost all IOPC events so far. The winner to ship this tournament was Kanav Parwal aka 'Alibaba_kings'. He took home INR 61,085 for his 1st place finish, baeting 'Dragon Kewe' in heads-up.
The final hand saw Parwal with over 2.5:1 chip lead, so it was logical for him to shove pre-flop with 8c Th, decent enough cards. Dragon Kewe called with Qh Ad. The board of 2c 8h Kh 3h Tc made two pairs for the eventual winner and Dragon Kewe had to settle for the runner-up cash prize of INR 44,206.
We spoke to Parwal after this IOPC win and he reacted by saying, "It feels good to ship a tourney and it being a part of IOPC makes it even sweeter. I've been working on my game a lot and that's resulted in deep runs consistently. Hopefully, I can get some good results in the remaining IOPC events." Kanwal will be looking forward to shipping a few tournaments in upcoming IOPC events as well as the exciting events lined up this year on Spartan and other platforms.
IOPC #33 – INR 5 Lakhs GTD
The 2nd event in IOPC Day 7 was bigger than the previous one. The entry field in this came to 361 entries and created a good INR 6.75 Lakhs in prize pool. Top 54 places were paid for a min-cash of INR 3,038.
The player to emerge victorious in the event was 'Immortal killerr'. He took home INR 1,24,875 and beat well-known online grinder Ankush Aryan aka 'invinciblewolf' in heads-up. The final hand of the tournament saw the eventual champion with over 2:1 chip lead and shoved pre-flop with pocket Eights and received a call by his opponent with As Jh. The board came to Qs 9c Kd 7d 5d missing everything. Immortal killerr eventually won with Eights and Aryan had to settle for INR 90,113.
IOPC #34 – INR 3 Lakhs GTD
This one attracted 259 entries and created INR 3,23,400 prize pool. Out of the 36 paid places for min-cash of INR 2,102, the winner to bag home the highest amount and ship the tourney was known online grinder Puneet Dhawan aka 'Gro$peLLier' takinh home INR 64,680 as 1st place cash prize. He beat another known grinder Ram Kakkar aka 'TheLagLawyer' in heads-up to secure his victory.
Final hand of the tournament saw both with almost even chip stack. Kakkar was packing good hole cards Qh Kd and was enough for him to shove pre-flop. Dhawan made the call with 3s Ad. The board came to 8s 2d 6d 6c 7d and he won quite surprisingly with just a pair of Sixes on the board and Ace-kicker. Kakkar made INR 45,275 for his runner-up finish.
The champion has a few online cashes and plays online regularly. His previous wins include shipping Spartan's SSS Warm Up Event and the Triple Bubble last year. Dhawan made his first IOPC tournament win this time, starting the year on a good note. He'll be hoping to ship a few more with this amount.
IOPC #37 – INR 8 Lakhs GTD
IOPC Day 7 wrapped up with this tournament. For a buy-in of INR 2,200, the tournament attracted a good field of 607 entries (including 89 re-entries and 234 re-buys). The total prize pool came to INR 12,14,000. The field saw quite a few regulars who jumped from other two big events no the day.
The winner to ship the last tournament of the day was 'Marlboroman' bagging the 1st place cash prize of INR 2,24,590 after beating 'TheSpartanSpecial' in heads-up. The last hand was played at Level 43 with blinds 50k/100k/10k (ante). Marlboroman already had almost 4:1 chip lead in the final hand. TheSpartanSpecial shoved with Fours and the eventual winner made the call with Qd Jc. The board of Ac 8d 6s 6d Jh gave Marlboroman Jacks and he subsequently bagged the title and the runner-up had to settle for INR 1,62,069.
Other knowns to rank in the top 54 paid places were Arjanveer Chadha (4th), Rajat Sharma (5th), Pranav Bang (7th), IOPC SHR winner Gokul Raj (11th), Sahil Mahboobani (18th), Siddharth Karia (30th), Amit Ajwani (33rd), Rubin Labroo (39th), Anant Purohit (40th), Vaibhav Sharma (50th) and Ashish Ahuja (51st).
Today is Day 8 of the prestigious IOPC and a total of 6 events will be hosted out of which the biggest is The Elite INR 50 Lakhs GTD and is expected to cross the guarantee by a huge margin. Keep reading GutshotMagazine.com for upcoming IOPC results and for your daily dose of poker news from around the world.
Don't have an account on The Spartan Poker? Check out their review page here, and don't miss out on their bonuses, promotions, and guarantee-smashing tournaments. Sign-up now.
---
---
Comments