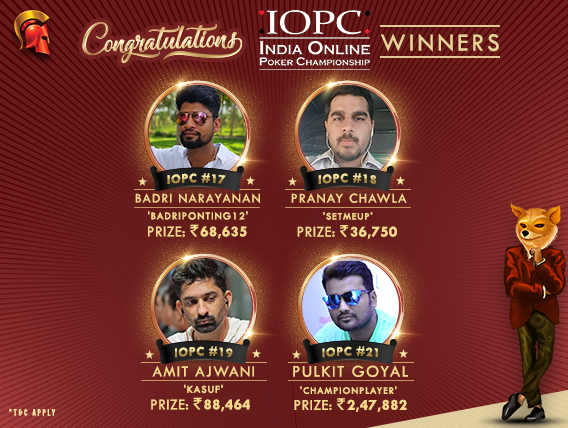 Poker
---
Pulkit Goyal and others crowned on IOPC Day 4
Day 4 of the prestigious India Online Poker Championship (IOPC) hosted by The Spartan Poker is in the books. The series has a total guarantee of over INR 8.5+ Crores and is still underway on the platform and will see its last day on 20th Jan 2019. The Main Event of this edition's IOPC received an upgrade to a staggering INR 1.5 Crores GTD.
The biggest event of IOPC Day 4 was Mega Freeze which was won by the known online grinder Pranjal Gandhi for INR 2,65,663. The event had attracted 265 total players and was played for almost 6 hours yesterday. Along with that, side events also declared its champions yesterday, which are as follows.
IOPC #17 – INR 3 Lakhs GTD
The first event of the day was INR 3 Lakhs GTD NLHE which attracted 359 entries and exceeded the guarantee by an extra INR 71k. The event had a buy-in of INR 550 and was a competitive affair. This kind of low stakes events with such a great competition is always the case with IOPC.
The champion to emerge from the event was online grinder Badri Narayanan aka 'badriponting12'. He took home INR 68,635 for his 1st place finish, beating 'truthordare' in heads-up. Narayanan, a software engineer by profession, hails from the southern city of Chennai.
We got in touch with him after his win the IOPC yesterday and he said, "I started playing poker only on Spartan. I really love the super value tourneys. I grind 3/4 micro tourneys daily and always look forward to SSS, IOPC & Little Big Series which offer so much value that I haven't seen on any other site."
Commenting on yesterday's win, he said, "I started IOPC #17 with a fresh mind after coming from office. Most of the pros play in IOPC. I got to know bet sizing and spots. I knew the regs are fighting for the leaderboard. I got into the zone and played accordingly and got the prize. Final Table was an amazing experience since I became the chip leader and it was easier to ship the tourney after that. I'm looking forward to crushing more MTTs."
IOPC #18 – INR 1.75 Lakhs GTD
This event was second in line for the day and attracted 243 entries for a buy-in of INR 770. Top 30 places were paid for a min-cash of INR 1,313. The player to get crowned as the champion of this event was known grinder Pranay Chawla aka 'setmeup' who took home INR 36,750 as the 1st place cash prize. The runner-up 'MaalChaHee' took home INR 25,725 for his finish.
Chawla is a accomplished player online and has played quite a few live ones too. He cashed in 2018 The Indian Poker Series (TIPS). Among his online wins and cashes, he won the LBS Main Event and the Leaderboard on Spartan back in March 2018. The player will be looking forward to play in more upcoming IOPC and other online tournaments with this welcome addition to his bankroll.
IOPC #19 – INR 3 Lakhs GTD
The INR 3 Lakhs GTD NLHE drew a total of 289 entries and crushed the guarantee by the fresh INR 4,65,600 prize pool. The tournament paid the top 45 places and saw a well-known player Amit Ajwani aka 'kasuf', taking home the lion's share of INR 88,464 from the prize pool.
Ajwani is an MBA grad and has turned his attention to poker full time, making the hobby his profession, a perfect combination we say. He has earned live cashes previously and has a respectable record in the Indian circuit. He had this to say about his win yesterday, "It's been a great experience playing in the IOPC. The new structures are amazing and there is a lot of gameplay even in small buy-in tournaments which is hard to find in Indian sites."
We also did an interview with him after his Spartan's Millionaire win back in Jan 2018, for which he earned INR 24.5 Lakhs. He'll be looking use his welcome earnings in more upcoming IOPC tournaments as well as other tournaments on Spartan.
IOPC #21 – INR 10 Lakhs GTD
The next event of the day in the IOPC's line-up yesterday was the INR 10 Lakhs GTD NLHE, which attracted a huge field of 739 entries and created a fresh prize pool of INR 14,78,000 crushing the original guarantee by a huge amount.
The winner to emerge in the last and the second biggest event for the day was Pulkit Goyal aka 'Championplayer', who bagged the higher amount of INR 2,47,882 after an ICM chop between him and his runner-up opponent 'Anupam_aryan', who took home INR 2,17,687.
Pulkit Goyal is by no means an unknown player and his previous results are filled with huge title wins, on Spartan as well as other sites. He even won a brand-new Jeep Compass in for topping Spartan's IOPC Leaderboard in July last year, showing his calibre in the circuit and dedication for the game too. 
We got in touch with him after his awesome win and he had this to say, "I have always done well in IOPC before and am looking forward to winning more such events. I played decent, got a bit lucky in a 5 bet pot. It was a fun experience overall and has always been so in IOPC. As i said, looking forward to making some more deep runs."
This was the conclusion for the day. Day 5 of IOPC will be underway today and has five events lined up to suit all kinds of pockets. The biggest event today will be the Mega Stack INR 20 Lakhs GTD. Keep reading GushotMagazine.com for timely IOPC updates as well as for general poker news from around the world..
Don't have an account on The Spartan Poker? Check out their review page here, and don't miss out on their bonuses, promotions, and guarantee-smashing tournaments. Sign-up now.
---
---
Comments