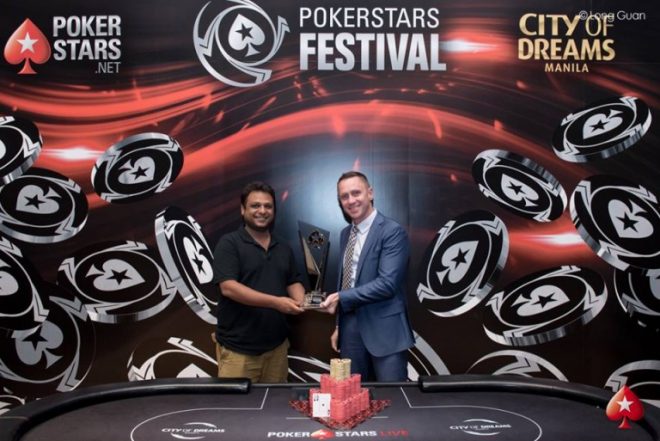 Poker
---
PS Manila: India's Uday Bansal wins Main Event for 4,676,000
Delhi based player Uday Bansal emerged victorious in the inaugural series of PokerStars Festival in Manila. Bansal outlasted 594 entries to claim the first place prize of ?4,676,000 (?59.12 Lakhs) after a heads-up deal with runner-up Antii Halme of Finland. This is Bansal's second major title in the Asian region having earlier claimed his first live poker tournament win in India Poker Championship (IPC) Main Event back in 2015 in Goa.
By the final hand, Halme's stack had been whittled down to just 1.45 million as compared to Bansal's 16.3 million. So when Bansal shoved on the button Halme who had a pretty strong hand called off for his tournament life only to see the bad news.
Bansal: A♥J♠
Halme: A♣T♠
Bansal had the dominating hand and while the 2♠7♠7♣ flop gave Halme a glimmer of hope for a chopped pot, the J♦ turn card was met with roars from the Indian rail as Bansal locked up the title. Halme was already drawing dead by the time the 3♥ fell on the final street and he got up to shake the new champion's hand.
30-year old Bansal is the co-founder of SkyBulls, a financial advisory service powered by artificial intelligence. He is a graduate of London Business School where he earned a Master's degree in Business Administration and Management.
Speaking about the heads-up battle with Halme, Bansal said, "Sure, Antti has more experience playing than me playing heads-up. But I think in heads-up there's a lot of variance. So I wanted to do a deal based on ICM."
On his poker journey, he said, "I started playing about seven years ago, and about five years ago I was living in Vegas for two or three months playing poker and there was not that much happening in India. And now there poker rooms in many cities. with big tournaments happening. We have the brands in Goa like the India Poker Championship which gets about 250-300 runners. So it's pretty healthy and it's growing steadily."
Final Table Payouts:-
Uday Bansal – ?4,676,000*
Antii Halme – ?4,273,000*
Michael Falcon – ?2,456,000
Mike Takayama – ?1,900,000
Jaehyun Lim – ?1,500,000
Sam Razavi – ?1,170,000
Kenneth Buck – ?870,000
Hoa Thinh Nguyen – ?596,000
Tien Than Nguyen – ?470,000
*denotes a heads-up deal
---
---
Comments