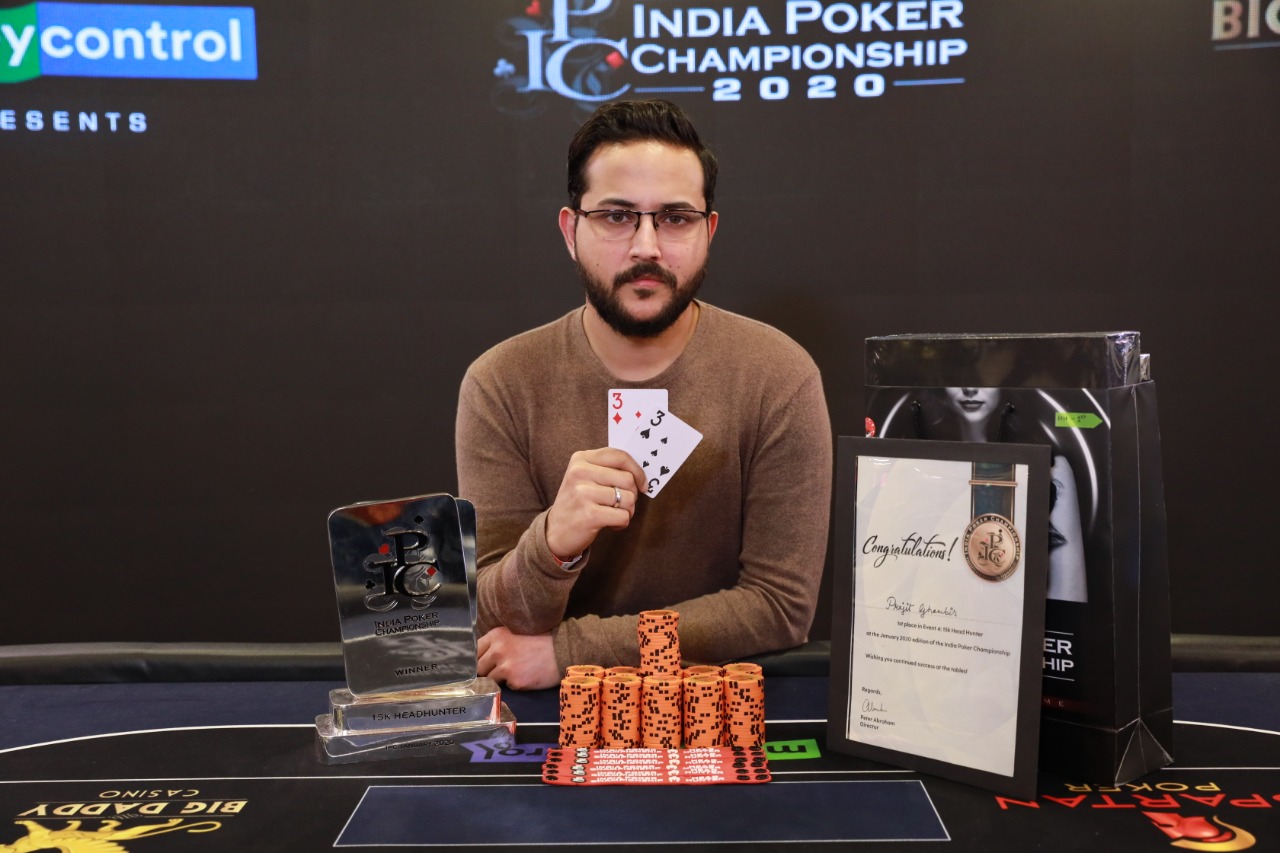 Poker
---
Prajit Ghambir on his recent IPC Head Hunter victory
It can usually be extremely intimidating when a player arrives for the first time at an India Poker Championship (IPC) event. You're one of hundreds of aspirants, the floor is buzzing with anticipation and many players you've idolized for years are seated at the tables, sometimes even next to you during a tournament.
However, all this didn't affect Prajit Ghambir, who flew down to Goa and played his maiden IPC event, while defying all odds and walking away with his maiden IPC title too. He beat 364 entries for a cash prize of INR 6,15,000 in Goa, but Delhi has been his home right since the start. He completed his Bachelor's in Business Administration there before getting into a real estate job which consumed at least 14 hours each day.
Gutshot had an exclusive chat with the player who recently celebrated his 29th birthday after this victory in Goa. About his beginnings in poker, he said, "I didn't have someone act as a gateway into poker for me. I introduced myself to it during a Diwali game 7-8 years ago. Poker was just a way for me to exercise my mind as a diversion from my job. I've actively played amateur poker for 5 years now, mostly online. I'd qualify myself as a semi pro, if anything. Until recently, I worked alongside my father while playing poker. It challenged me personally and the steady stream of extra revenue from online poker didn't hurt. Live games were limited to be an excuse to spend an evening with my friends."
We first spoke to Prajit when he won a title on Spartan Poker during the Spartan Value Series (SVS) in November 2019, playing under the username 'Prajit'. He particularly likes playing on Spartan because of its functioning, UI and quality of play, and recently decided to challenge himself through online satellites to the India Poker Championship. 
"I played satellites to all four IPC tournaments. I followed my usual gameplay and ended up winning tickets to two, booked my tickets to Goa and played this IPC tourney based on that opportunity and access. Based on the last 5 years of studying my play and self-education, I've long felt the dynamics of live poker better suit my style as a player. I've got a deeper stack to play with, and blind levels would work for me too. Most of all, there are no shove fests at the table, which is unfortunately common with online play. All in all – it's a purer version of the game."
Also having played the 10k Freezeout, Ghambir had a simple case of being card dead in that tournament, being eliminated in Level 8 of that tournament, shoving with A6s and being called by QQ and AQ. Pocket Queens executed a double elimination and Ghambir finished 175th in that tournament out of 315 entries. However, he was determined to do better in the 15k Head Hunter, which he did. Gutshot spoke to him about the victory and more, which you can read below…
Prajit, when you registered for the Head Hunter, did you imagine you would go on to win it?
My strategy is straightforward. Pay attention to the numbers. I've found if I play good solid poker, make good decisions and not think about what's not in my control, I end up doing well for myself. That means choosing my spots and putting money in when I think I'm good in a hand. That's the ideal plan and pretty much what I ended up doing. Bottom line is, if you play correct poker, you create chances to go deeper in tournaments. That's it.
At which point of the tournament did you think you would go on to win it?
I wasn't chip leader at any point in the tournament. My thought process throughout was to make correct plays and accumulate chips to leverage my position in a hand. When I reached the final table, I was ranked 7th out of the final 9. However, the chip leader on the table had a 3:1 chip advantage over me, which isn't significant in these circumstances. Everyone else was shallow stacked too. So, I wasn't at any disadvantage that would derail my usual approach. Shipping the tournament at that point was more about patience and stable decision making than making any big moves. I saw a lot of quality competition during different stages of the game. Anil Adiani for one. Sahil Mahboobani tripled up at one point and created a decent chip stack too. Armaan Kochhar for another, exerted ICM pressure as the big stack especially when we were 5 handed.
With all focus on the final table of the Main Event, was there any less pressure?
The Main Event FT and our final table were going on simultaneously, in fact the ME ended 30 mins before us. What that meant is that all that mattered was what was going on, on the table in front of us. That sort of tunnel vision is important for me. So, I didn't feel any more or less pressure than I did when I started. Once you're locked in, you should just concern yourself with good poker. The main event is the main event for a reason, and they deserved their coverage.
Who initiated talks of the deal on the FT?
We were 3-handed, Vipul (1.90 million chips) Armaan (1.7 million chips) and me (1.875 million chips) when the idea of a deal came up. Our math was that we were at 100k/200k blinds with 200k Big Blind ante. That's not even a difference of a single Big Blind between us. At that point the money jumps between 1st, 2nd and 3rd position were high. So as far as the tournament went, we wanted to get the business of poker out of the way, before we got down to the business of figuring out who was the best. We spoke to the Tournament Director, added up the money for P1/P2/P3, which was a pool of INR 16,15,400, and we decided to split INR 5 Lakh each three ways. Then, we had to play for trophy and the rest of the prize money.
What was your immediate reaction after taking down the title?
Not all that different from when I was playing and would win a hand. Satisfaction at things working out how I saw them. I was happy to be there and mostly just motivated to play decent poker. Was the win a surprise? Not really. As I said, it's just following the numbers. I felt okay. It opens doors to play bigger tournaments, using this win to springboard and make bigger wins. Family reactions were similar. They get what I went to do. They expected a reasonable result. Now that I think about it, when I told them I won, their happiness was greater than mine.
Any purchases made or gifts bought with the prize money?
That's not what this is about for me. I'm not into buying gifts and making big ticket purchases. I believe in money management and smart bankrolling in life, as in poker. So, 30% of my winnings are now what's backing my poker. As for the rest, I'm exploring investing in sound ventures with Year-on-Year returns. And eventually trying to multiply that money further.
Your opinion on the India Poker Championship brand?
My experience with IPC was great. This was my first, so this has set the standard for me for what a tournament can and should be like in India. Big Daddy Casino and Team IPC did a great job setting this up. My suggestions are more opportunities really. I believe by expanding the gameplay to create a few more tournaments – 6-8 instead of 4 – during a season would be a huge boost for the game here. It means more footfall in Goa, more player width and variety and a more dynamic arena of gameplay. Adding a deep stack tournament and PLO for variety and different styles will also bring in a lot of players who don't feel like there's a tournament to suit their individual style. This isn't just better for the IPC calendar, but for poker in India. As far as IPC goes, I'm glad for the pathway. Good players need a solid feeder system to work their skills and to develop as players.
– With inputs from Dwayne Fernandes, Gutshot Editorial.
For more interviews with the biggest winners in India and for news updates from the Indian and international poker industry, stay tuned to GutshotMagazine.com.
Check out our online poker rooms section, where you can read reviews on the biggest and best poker rooms in the country, while also taking advantage of their bonuses and promotions. Check out these top poker rooms HERE.
---
---
Comments