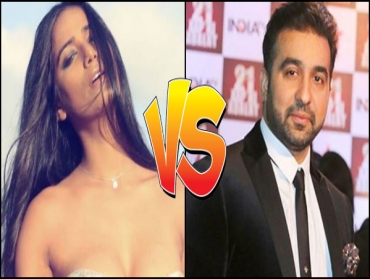 Poker
---
Poonam Pandey's battle with Raj Kundra reaches High Court
Over the years, Bollywood actress and model Poonam Pandey has become one of the most talked about internet celebrities in India. Known for bold videos that she regularly posts for her millions of followers on Twitter and Instagram, she now finds herself in the middle of a fresh controversy.
This time, she's involved in a legal battle against Mumbai-based businessman and Bollywood actress Shilpa Shetty's husband, Raj Kundra. Pandey has claimed to have filed a case with the Bombay High Court against Raj Kundra and his associates, for allegedly using video content of hers even after her contract with Kundra's company was terminated.
After this news broke out, Kundra and his associate Saurabh Kushwah have denied being involved in any such wrongdoings and they also claim to have received no legal notice yet. Kundra and his associate's company Armsprime Media was handling 'The Poonam Pandey App', where regular adult videos of the actress were posted for her fans and users of the app.
However, the actress claims that the contract with Armspine ended around 8 months back but that Kundra has still been using these videos to make money. She also stated that she's been getting a number of obscene calls over the last 6 months. The claim says that her videos were being sold explicitly while also leaking out her personal number with the message 'call me, I will strip for you'.
"The company was handling my app. I kept the contract small because I could see that there was some fraud happening. After a while, I terminated the contract. Now, I read in the news that these guys have terminated the contract. If they have terminated the contract, why have they been stealing my videos over the past eight months. I have been calling and messaging Raj, mailing him with the request to stop stealing my video. Now, I am getting threatening messages from Raj Kundra," said the actress.
She further went on to add, "I want to understand whether he is really broke that he wants to steal my videos. If he is really facing a financial crunch, I can lend him some money but don't steal my content. Now, that the news has gone out, these people have sent me a settlement agreement. They have accepted that they have been stealing my content, and are putting an amount in the contract. I am not going to be quiet. I have been silent for a year."
It's not the first time that either Raj Kundra or Poonam Pandey have been involved in a controversy, with Kundra being involved in a spat with actor Sachiin Joshi over an INR 40L Match Indian Poker League (Match IPL) dispute a while back. Kundra is a poker enthusiast and has run 4 editions of the poker league so far, while also briefly running online poker platform, PokerRaj. Here however, Kundra's company didn't keep mum on the allegations placed by Poonam Pandey
"The allegations by Poonam Pandey are false and frivolous. We have not received any notice or even a copy of the Writ Petition filed. We are surprised at how can we even be made a party to such Petition. There has been a breach of contract on her part and we are exercising our rights as per the agreement. Since the matter is sub-judice in High Court, we don't wish to make any further statement. Just because Raj is an investor in Armsprime, she is trying to extort money by misusing criminal law," said an official statement from the company, signed by Kushwah.
However, Poonam Pandey is confident about her case, claiming to have all evidence and proof needed for the same. For all updates on this case, stay tuned to GutshotMagazine.com.
Check out our online poker rooms section, where you can read reviews on the biggest and best poker rooms in the country, while also taking advantage of their bonuses and promotions. Check out these top poker rooms HERE.
---
---
Comments