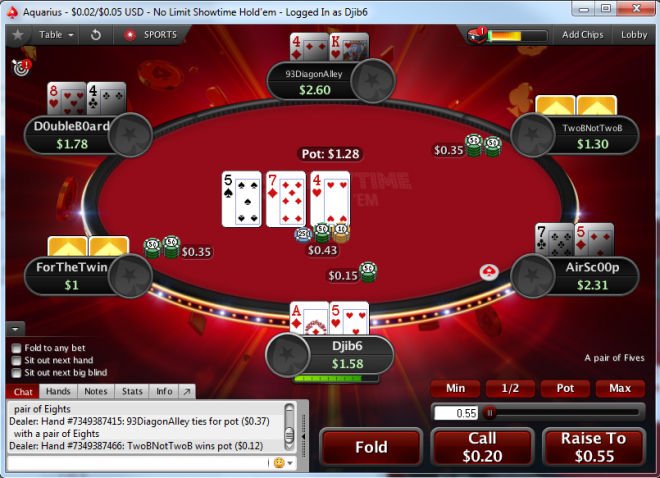 Poker
---
PokerStars launches 'Showtime Hold'em'
They are the biggest poker company in the world and PokerStars remains at the top primarily due to the big prizepools and guarantees they offer as well as the frequent innovations they introduce to their players. The latest one which was launched yesterday across their network is called 'Showtime Hold'em', a variant in cash games which puts a twist on the traditional way of playing Hold'em.
In Showtime, players have to reveal their hand to the table every time they fold. Spokespersons for PokerStars have mentioned that it is a temporary variant and it might be withdrawn after a short run if it does not produce the desired results. This happened with Split Hold'em which was pulled after a 6-week run on the Stars client. Split Hold'em was PokerStars' take on Double Flop Hold'em, a game where two boards are dealt and the pot is split between the best hand of each board. 
According to Severin Rasset, Director of Poker Innovation and Operations, "It is a real pleasure to offer this second temporary variant to our players. The possibility to see all folded cards will introduce some fascinating strategic adjustments to the traditional and well-loved NL Hold'em game." According to current information, Showtime was made live on the Belgian PokerStars client but the rollout yesterday was for all the platforms across the global network. 
Strategically the way Showtime is as a variant will likely encourage players to make more aggressive bluffs. During a hand, players will able able to use information from folded hands to make better decisions on future streets by accounting for dead cards when counting outs or assigning ranges to their opponents. As the game progresses, Showtime Hold'em players will be able to glean more information from their opponents.
The afore-mentioned Split Hold'em was a take on Double Flop Hold'em, a game where two boards are dealt and the pot is split between the best hand of each board. Gutshot had recently posted a story about another cash game innovation called Fusion from PokerStars, which going by the name, the name suggests a combination of two poker games, like Hold'em and Omaha. However this variant is yet to be rolled out and will likely also have a limited run like the previous other variants.
Stay tuned to GutshotMagazine.com for more such updates from the online poker world.
---
---
Comments