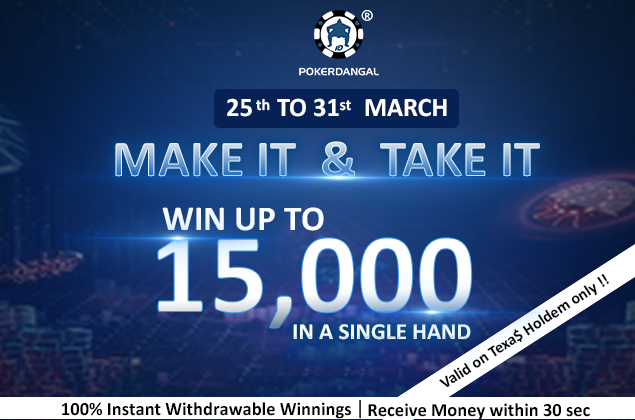 Promotion
---
PokerDangal launches 'Make It & Take It'
With the rapid spread of Coronavirus leading to force shut down of public and private world, the poker players are quarantining by grinding online! Suddenly, there has been a surge of players along with incredible offers in the virtual arena and PokerDangal found the right time to launch 'Make It & Take It'!
PokerDangal is hugely popular for its occasional promos and if you are its regular player, you would definitely know the various offerings. And here it is once again with 'Make It & Take It' that scheduled to kick off on 25 March 2020, the week-long offering players a chance to win up to INR 15,000 bonus in a single hand in its Texas Hold'em table.
The best part about the upcoming program is that it is valid for all stakes player of Texas Hold'em cash tables. The platform has hidden plenty of surprise elements too, for example, if you are dealt with pocket Kings you are assured INR 200 but if you are dealt with pocket Aces then you are guaranteed INR 500. And if you go further making three of a kind, straight, flush, fullhouse, four of a kind, straightflush, royal flush, you can keep adding more prizes.
You can win:
Dealt Pocket Kings i.e KK – INR 200
Dealt Pocket Aces i.e AA – INR 500
Three of a Kind – 10% of table's maximum Buy in.
Straight – 15% of table's maximum Buy in.
Flush – 20% of table's maximum Buy in.
Fullhouse – 30% of table's maximum Buy in.
Four of a Kind – 50% of table's maximum Buy in.
Straight Flush – 100% of table's maximum Buy in.
Royal Flush – INR 15,000 Flat irrespective of table stakes.
However, there are certain terms and condition that you must keep in mind.
The player has to make combination with both dealt cards
Prizes are not valid if the showdown does not take place.
Prizes will not be valid for heads-up hand
Prizes will be in the form of real cash bonus which cannot be withdrawn but can be used to play cash games.
Players can claim these bonuses only twice in a day
These prizes will be awarded within 48 hours and only valid across Texas Hold'em cash game tables. However, PokerDangal is well-known for shooting incredible ideas, as it was only a few weeks back that it came up with a cash game promo, the Dangal Reward Program which assured the first one to reach 60,000 dangal points, a trip to Las Vegas. The 21-day long promo was won by Abhishek Jaiswal aka 'Pokershark' crossing the 60,000-point milestone to win the grand prize of INR 3 Lakhs worth Vegas package!
So, what are you waiting for? Make the best of yor lockdown days registering on PokerDangal and earn amazing prizes! Also, don't forget to keep reading GutshotMagazine.com for the latest updates on poker industry and gaming around the world.
Don't have an account on PokerDangal? You can join their platform and be the next player to win an international poker trip or a mega flagship tournament. You can sign-up to PokerDangal HERE.
---
---
Comments