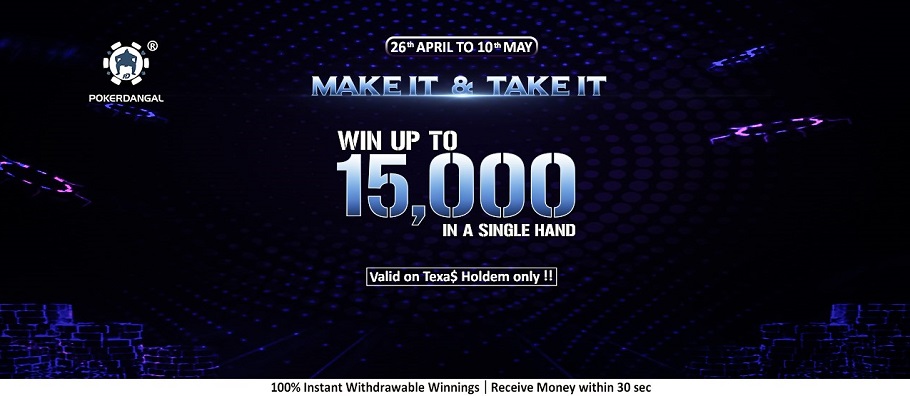 Poker
---
PokerDangal is back with 'Make It & Take It'!
As the citizens are self-quarantining themselves at home to prevent the spread of harmful COVID-19, online poker in India is seeing an uptick in the number of users on their platforms and a surge in the number of players spending hours grinding online. It is always good to know that poker platforms across the country are keeping their user base happy by making the most of the given situation.
Captivating the interest of the poker fanatics, PokerDangal is back with cash game promo 'Make It & Take It' due to the public demand. Another edition of the series is currently underway to continue till 10 May. The 15-day long offering assures that the players can win up to INR 15,000 in a single hand in its Texas Hold'em table.
Coming to the best part, the ongoing program is valid across all stakes of Texas Hold'em cash tables. Undoubtedly, the poker enthusiasts enjoyed the previous edition as there are hidden surprises everywhere! Players will get a bonus each time they make a combination. For example, if you are dealt with three of a kind you are assured 10% of table's minimum buy-in. In case you have straight, you will have 15% of the minimum buy-in and the percentage goes higher each time. There is 100% of table's minimum buy-in in case you have a straight flush. But all eyes will be on royal flush as you can hit INR 15k flat irrespective of the table stakes!
Three of a Kind – 10% of table's minimum buy in.
Straight – 15% of table's minimum buy in.
Flush – 15% of table's minimum buy in.
Fullhouse – 20% of table's minimum buy in.
Four of a Kind – 50% of table's minimum buy in.
Straight Flush – 100% of table's minimum buy in.
Royal Flush – INR 15,000 Flat irrespective of table stakes.
However, there are certain terms you need to keep in mind:
Players need to make combination with both dealt cards
Prizes are not valid if the showdown does not take place.
Prizes will not be valid for heads-up hand
Prizes will be in the form of real cash bonus which cannot be withdrawn but can be used to play cash games.
Players can claim these bonuses only twice in a day.
These prizes will be awarded within 48 hours to player's poker chip balance. So, make the most of the coming month on PokerDangal and sign up quickly to claim amazing offers! For more updates on online poker in the country, keep reading GutshotMagazine.com and stay tuned!


---
---
More News
---
Comments