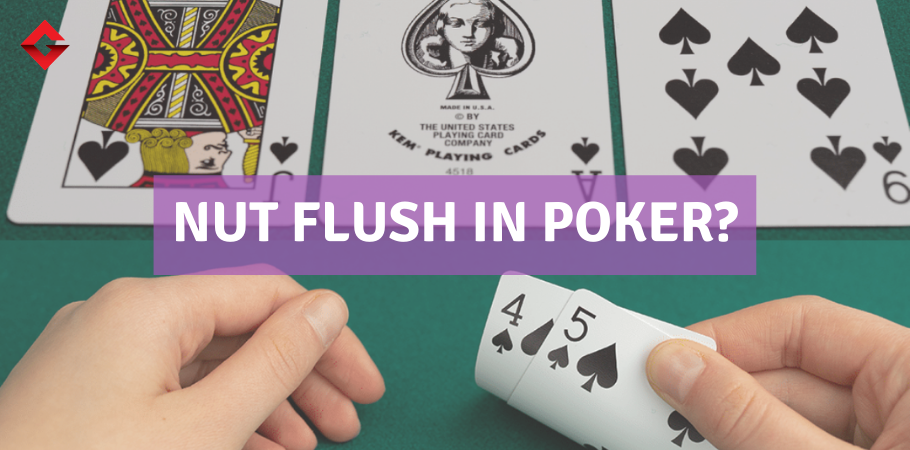 Poker
Poker Dictionary – Nut Flush

by Manthra Koliyer
Posted on 17 Mar, 2021
Hello poker players, let us take a moment to learn a new poker term today. If you are new to this industry you will probably feel overwhelmed by the number of terms used. It is important for newbies to get a hang of these terms so that you know what exactly is going on. Today we present the term called 'Nut Flush.' This term used to describe a card that gives you the best possible flush. Is that all? No. There is much more to it.
The term Nut Flush describes the best flush card while 'Nut Flush Draw' is used to describe the act of drawing the strongest flush. When a player has a Nut Flush they are in a better position as there are high chances of them winning. A player who has this hand must play aggressively but there is a catch to this. This hand is not the best in the world.
Hence, an aggressive player with Nut Flush as a hand must only play aggressively until they have better fold equity. Fold equity in poker refers to a concept when a poker player has a short stack in no-limit hold 'em tournament and is expecting to gain when the opponent folds.
In a situation where a player has a Nut Flush and is dependent on the fold equity, they must avoid aggressive gameplay. Playing passively could help a player in placing more bets. Let's see an example of a Nut Flush. The board cards are revealed as Q♥️ A ♥️ 2 ♥️ 2 ♥️5 ♥️. If your opponent has 7 ♥️6 ♥️ and you have K ♥️J ♥️ then you win the hand.
Want to learn how to slow play a Nut Flush? Watch this video:
This is just one poker term in the sea of terms used in the poker community. For more such articles about poker terms, keep reading GutshotMagazine.com. Follow us on Facebook, Instagram, and Telegram. 

---
---
---
More News
---
Comments