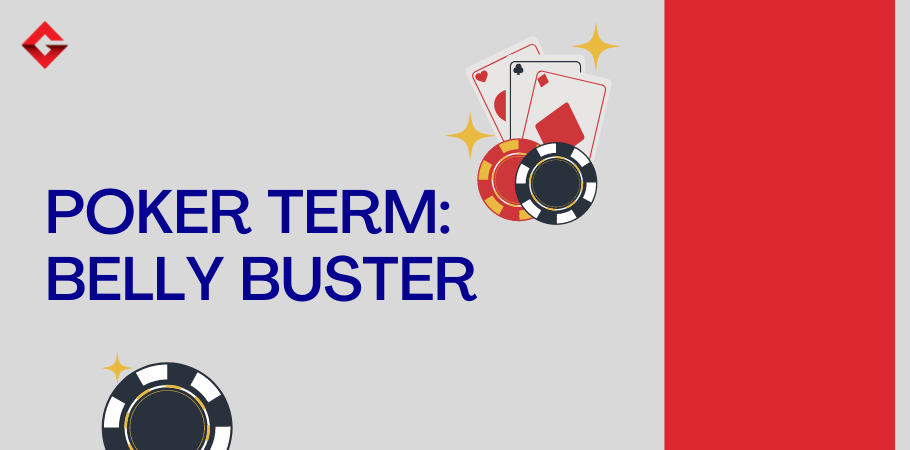 Poker
Poker Dictionary – Belly Buster

by Manthra Koliyer
Posted on 22 Mar, 2021
The poker industry uses a diverse set of terms to describe every move and every hand on the poker table. Even celebrity names such as Dolly Parton, Barbara Hutton, and several others are used to describe poker moves or hands. This Monday, we're going to look at yet another poker term called 'Belly Buster.'
What is a belly buster?
This term feels quite strange and looks like a misfit in the poker dictionary? Relax! Belly Buster is very much a part of the poker world. The term belly buster is used in Hold'em or Omaha to describe a hand where a player has an inside straight draw. The term belly buster is also known by the nickname 'Gutshot.'
ALSO READ: Poker Dictionary – Cranberry
Let's take an example of a belly buster.
If a player has 4,5,7,8 then he/she only requires a 6 to complete their straight, it is known as a belly buster. The value of a straight draw can vary according to the cards that a player is dealt with and the draw available. The value differs mainly because most of the draws have different probabilities. Straight draws are especially valued because of the cards that make a straight and the number of natural outs available.
A straight draw can either be a Gutshot, a Double belly buster, or a double Gutshot. A double belly buster is valued more than a belly buster which has only one draw. This is because, in a double belly buster, the chances of getting a straight draw are comparatively higher.
Let's take an example of a Double belly buster. The board is revealed as K, A,7,8 and you are dealt 10, J. If the river card turns out to be a Q or 9, you can form two straights. While in a belly buster, there's only one option to form a straight, a double belly buster gives you two options which directly increases the chances of winning.
To learn more about such poker terms, you can take a look at our poker dictionary. For similar articles, keep reading GutshotMagazine.com, for more updates. Follow us on Facebook, Instagram, and Telegram.

---
---
---
More News
---
Comments