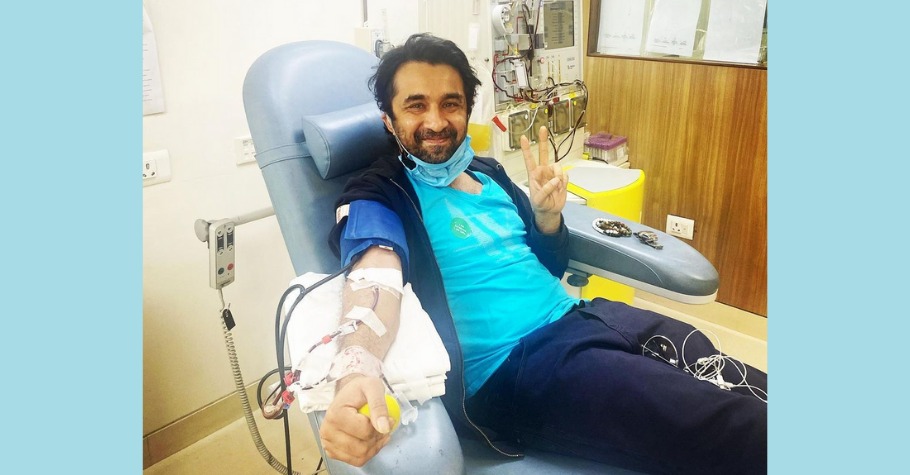 India
---
Siddhanth Kapoor Donates Plasma, Encourages Other Eligibles To Do So Too
The year 2020 saw a change that no one anticipated. Little did everyone know the whole world would be in shambles without knowing for certain when things would return to normalcy. Due to COVID-19, millions of deaths have taken place globally, especially in India where many have come together to contribute towards helping the afflicted. Politicians, leaders, businessmen, and celebrities have donated huge amounts to hospitals and isolation units. Bollywood actor Siddhanth Kapoor also recently contributed towards helping society by donating plasma post a successful defeat against the COVID-19 virus.
Kapoor happily flashed a victory sign in a picture he posted on his Instagram handle, post-donation. Many applauded Kapoor's gesture by commenting in the comments section on the post. He also urged eligible people to not hold back from donating plasma. Kapoor's message reads, "Donated plasma today! Please come ahead and donate it if you are eligible to! Please! Please! Thank you, Dr. Joyce and the Reliance Hospital. Come forward and help as much, it's not painful at all."
View this post on Instagram
ALSO READ: Siddhanth Kapoor and Runner1 share spoils in Spartan's TGIF
Just recently, Gutshot reached out to Siddhanth Kapoor, regarding his views on donating plasma and he sent out a message to all saying, "I urge everyone who's eligible to donate plasma to come and do it when they naturally have their antibodies. It's not a painful experience at all. You should definitely go out there and help out as much as you can." Apart from being an actor, an Assistant Director, and a DJ, Kapoor is also a passionate poker player.
Right from grinding on Indian poker platforms and playing in the World Poker Tour (WPT) to taking home titles and wins, Kapoor has been an avid player in the game till date. Shipping a WPT title, participating in India Poker Championship (IPC), and World Series Of Poker (WSOP) while hustling on many Indian poker websites, Kapoor's love for playing poker has continued to grow.
For Kapoor, winning big or small doesn't matter as long as he can continue playing the game. . When asked what inspired him to play poker, he said it was the Hollywood cult poker film 'Rounders' that introduced him to the mind sport.. Right from small events to taking flights to big tournaments, Kapoor not only developed a love for the game but also became a pro and has won many tournaments so far.

Apart from being a man of many talents, Siddhanth is also humane, helpful, and a contributor towards society; like his recent action of donating plasma. His sister Shraddha Kapoor also applauded his gesture and urged more people to follow in her brother's footsteps. She posted a photo of Kapoor on her Instagram handle along with the caption: "My bro Siddhanth Kapoor just donated plasma. Urge all those who are eligible to please do the same please."

---
---
More News
---
Comments