What is a Poker Sign Up Bonus?
Poker, a timeless card game of strategy and skill, has captured the hearts and minds of players worldwide for generations. With the advent of online poker, the game's popularity has soared to new heights, making it easier than ever for enthusiasts to indulge in their passion. If you're considering joining the online poker tables, you're in for an exciting journey. However, before you take your seat, there's an essential aspect you should be aware of: Poker sign-up bonuses.
In the highly competitive world of online poker, poker sign-up bonuses have become a key tool to attract and retain players. These bonuses can significantly boost your bankroll and provide you with an excellent head start in your poker journey. In this comprehensive guide, we'll explore what poker sign-up bonuses are, how they work, and strategies to maximize their benefits.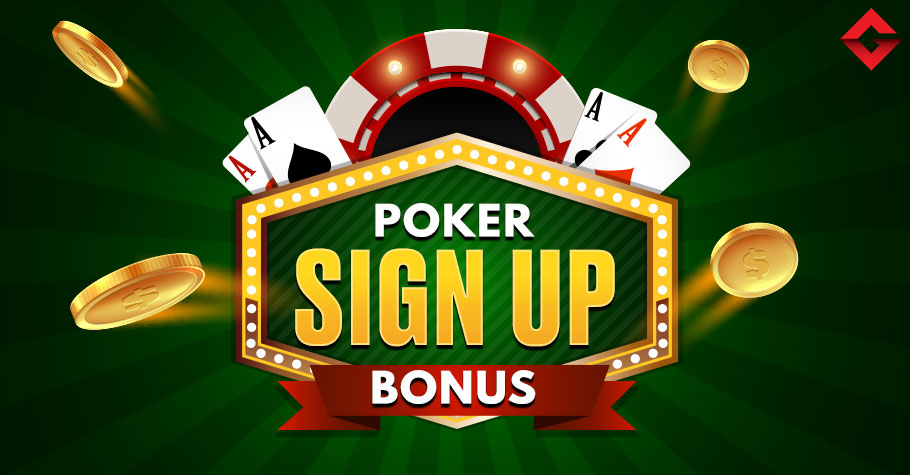 Significance of Poker Sign-Up Bonuses
A poker sign up bonus, also known as a welcome bonus or a new player bonus, is an incentive offered by online poker rooms to entice new players to join their platform. These bonuses come in various forms and sizes, but they all share a common goal: to provide players with extra value when they create an account and make their initial deposit.
Types of poker sign up bonus
Match Deposit Bonus: This bonus matches a percentage of your initial deposit, usually ranging from 100% to 200%. For example, if you deposit $100 and the poker room offers a 100% matched bonus, you'll receive an additional $100 in bonus funds.
No Deposit Bonus: Some poker rooms offer a small amount of poker sign up bonus funds or free tournament tickets simply for registering an account, without requiring an initial deposit.
Free Tournament Tickets: Many poker rooms provide new players with tickets to freeroll tournaments, where you can compete for real money prizes without risking your own funds.
Cashback Bonus: Cashback bonuses in online poker return a portion of your losses over a specific period, giving you a second chance to recoup some of your losses.
Reload Bonus: These bonuses are offered to existing players when they make subsequent deposits. While not strictly a poker sign-up bonus, they serve a similar purpose in retaining players.
Now that you understand the basics of poker sign-up bonuses let's delve into some strategies to make the most of them.
Best poker websites with sign up bonuses
Maximizing Your Poker Sign-Up Bonus
Read the Terms and Conditions: Before you rush to claim a sign-up bonus, carefully read the terms and conditions. Pay attention to wagering requirements, time limits, and any restrictions on games and stakes. Understanding these terms will help you make informed decisions and avoid unpleasant surprises later.
Choose the Right Bonus: Not all poker sign up bonuses are created equal. Consider your playing style and bankroll when selecting a bonus. If you're a casual player, a no deposit bonus or free tournament tickets might be ideal. For more serious players, a match deposit bonus can provide a significant boost to your bankroll.
Bankroll Management: Proper bankroll management is crucial when using a sign-up bonus. Set a budget for your poker play, and don't be tempted to deposit more just to maximize the bonus. Remember that poker is a game of skill, and responsible play should always come first.
Play Your Best Game: To meet wagering requirements and convert your bonus funds into real money, focus on playing your best poker. Avoid reckless decisions and stick to your strategy. Winning consistently will not only boost your bankroll but also improve your poker skills.
Use Your Tournament Tickets Wisely: If your poker sign up bonus includes tournament tickets, use them strategically. Participate in tournaments with reasonable buy-ins that match your skill level. Freeroll tournaments are an excellent way to gain experience and potentially win cash prizes without risking your own funds.
Clear the Bonus Efficiently: To clear a match deposit bonus, you'll need to accumulate a certain number of loyalty points or rake hands. Play at tables and stakes that allow you to earn these points efficiently. Some poker rooms also offer bonus boosters or multipliers to expedite the process.
Track Your Progress: Keep a close eye on your progress toward clearing the bonus. Most poker rooms provide a bonus tracker or dashboard where you can monitor your status. Knowing how close you are to unlocking the bonus will help you plan your play.
Time Management: Be aware of the bonus expiration date. Some bonuses have strict time limits for clearing them. Plan your poker sessions accordingly to make the most of the bonus period.
Explore Loyalty Programs: In addition to poker sign up bonuses, many online poker rooms offer loyalty programs that reward consistent play. Take advantage of these programs to earn additional perks, such as cashback, tournament tickets, or merchandise.
Stay Informed: Keep an eye on promotions and special offers from your chosen poker room. Reload bonuses, special tournaments, and seasonal promotions can provide ongoing value even after you've claimed your poker sign up bonus.
Conclusion on poker signup bonus
Poker sign-up bonuses are valuable tools that can enhance your online poker experience. By understanding the different types of bonuses, reading the terms and conditions carefully, and adopting smart strategies, you can make the most of these incentives. Remember that poker is ultimately a game of skill, and while bonuses can provide a boost, your success at the tables depends on your knowledge, strategy, and discipline.
So, go ahead, claim that bonus, and embark on your poker journey with confidence and skill. May the cards be ever in your favour and for all poker signup bonuses in India, see our listing here!