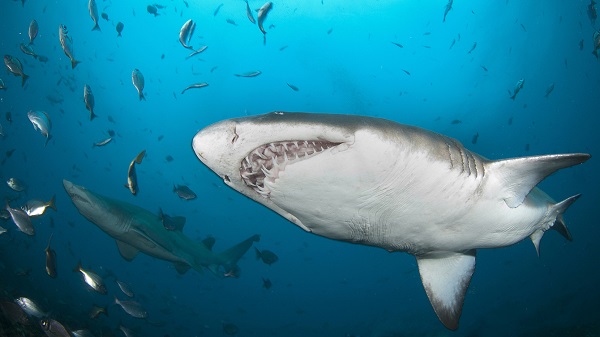 Poker
---
Poker Shark or Poker Fish, You decide.
A POKER SHARK is someone who can quickly study and evaluate their opponents and detect their patterns and physical tells that they posses. Not only that, they also understand the risks and ratios of combinations. They have a planned strategy, as they are in the game to win and not for the small battles. A poker shark will fold on a good hand with a short stack early in the game reason being, they don't have a monster hand that will guarantee their survival. They will wait until the right time to strike, circle and let time pass. Poker is not a game of chance alone, it is a game of skill, strategy and style.
"There is a time and place for everything" is one of the oldest sayings and nowhere does it hold truer than at the table. Not all sharks are attacking and biting all the time. Sometimes a poker shark swims peacefully and behaves more like a POKER FISH. This is one way that can help you study your opponents, learn the tells and formulate your strategy. To develop a set of style that makes you predictable is one of the worst things you can do as a player. Throughout the game, shake it up and swim with the little fishes mid-stride to throw off the confidence of those who think they have you figured out.
As you already know, you can never play poker if you do not a strategy. You must a new and modified strategy to play as playing without a game plan or strategy is just like going to fish without a net.
Once you have a planned strategy, as a player you can use it anytime when you need it. Instead of making use of the common strategies already developed by famous players, you should also create a custom strategy because only having a strategy is never enough. It is necessary to consider your strengths and weaknesses while modifying or developing your strategies as those give you the best and compatible poker strategy. You should be able to detect the various poker strategies of your opponents being a shark at the poker table. Also, learn to group the opponents into their corresponding classes. Beating opponents can be difficult like for instance, controlling, trickster, erratic and wild players have their own strategies.
It is not easy to predict erratic players because they are always different styles. Hence, being an unpredictable player could contribute immensely to your success at the table!
Check out our online poker rooms section, where you can read reviews on the biggest and best poker rooms in the country, while also taking advantage of their bonuses and promotions. Check out these top poker rooms HERE.
---
---
Comments