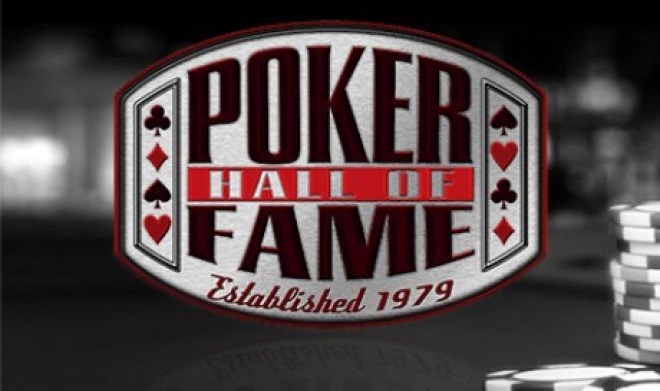 Poker
---
Poker Hall of Fame 2018 Nominees Out
One of the biggest honours which can be bestowed on a poker player to be inducted into the Poker Hall of Fame (PHOF). Established in 1979, the PHOF was acquired by Harrah's Entertainment along with the World Series of Poker in 2004. Though the Hall of Fame is virtual in nature, its membership includes poker's most influential players and other important contributors to the game. There are 28 living members, and 54 members have been bestowed the honour of being a Poker Hall of Famer. Traditionally the PHOF elects one or two members annually.
After a public nomination process, and a vetting of nominations by the PHOF Governing Council, a list of 10 names have been finalised for the 2018 Poker Hall of Fame. These names will now be discussed and voted on by current 28-member Hall of Famers along with an 18-person blue-ribbon panel of media members all of whom together will determine as to who joins this exclusive club. 
Here's the list of the finalists for this year:-
Chris Bjorin
David Chiu
Mori Eskandani
Bruno Fitoussi
John Hennigan
Mike Matusow
Chris Moneymaker
David Oppenheim
Matt Savage
Huckleberry Seed
There are eight names from the above which have featured from previous year's list and the two new names added are John Hennigan and David Oppenheim. The criteria they will consider in their vote are as follows:
A player must have played poker against acknowledged top competition
Be a minimum of 40 years old at time of nomination
Played for high stakes
Played consistently well, gaining the respect of peers
Stood the test of time
Or, for non-players, contributed to the overall growth and success of the game of poker, with indelible positive and lasting results.
The 2018 Class of the Poker Hall of Fame will be inducted as part of the World Series of Poker Main Event final table festivities in Las Vegas on 13 July. 
Here's a look at a short bio of the 2018 finalists:-
CHRIS BJORIN
Bjorin, a 70-year-old Swedish-born poker player who now resides in London, England, has earned more than $5.7 million playing poker in his distinguished career.  The two-time WSOP gold bracelet winner sits seventh on the all-time WSOP cash list with 92 and ranks fifth all-time in WSOP Main Event cashes with seven.  A model of consistency, Bjorin has cashed for six-figures in 19 different calendar years.  He sits second on Sweden's all-time money list.  He has cashed five times during the 2018 WSOP. 
DAVID CHIU
Born in China, David Chiu moved to the United States when he was an 18 year old exchange student.  Originally a restaurateur in Colorado, Chiu first started in poker as a dealer before transitioning into one of the most successful tournament players in poker history.  The 57-year-old is a five-time WSOP gold bracelet winner with wins in Limit Hold'em, Seven Card Stud, and Omaha Eight or Better and cashes in 74 WSOP events.  Chiu's most recent bracelet victory came in 2013 at a stacked $2,500 Stud final table where he defeated the likes of Michael Mizrachi, Frank Kassela and Scott Seiver to earn his fifth bracelet. Chiu's success extends beyond the WSOP though, and also includes a memorable victory over Gus Hansen in the 2008 WPT World Championship.  That win earned Chiu an impressive $3.3 million and, over the course of his career, Chiu has raked in more than $8 million in career tournament earnings since he first started playing tournaments back in 1996.
MORI ESKANDANI
You may not know the name, but you definitely know the work.  Eskandani, 62, is the man in charge of Poker Productions, the poker television production company that has produced many of the game's most noteworthy television content. The current producer of World Series of Poker telecasts for ESPN, Eskandani also is responsible for Poker After Dark, High Stakes Poker, the National Heads-Up Championship and plenty more poker content.  Eskandani was also a noted high stakes cash game player upon moving to Las Vegas in the 1980's.  While he may be too busy these days to get many hands at the table in, it's certain he's left his mark on poker for the various television productions he's produced. 
BRUNO FITOUSSI
Perhaps no one is more influential in French poker circles than Fitoussi, 59, who turned his passion for poker into a successful playing career and several other poker-related business interests.  He introduced Texas Hold'em into France in 1995 at the Aviation Club de France, Paris' most famous gaming club.  He has more than $2.8 million in career poker winnings, ranking 12th all-time on France's list.  "The King" won the inaugural World Heads Up Poker Championship in 2001, defeating Amarillo Slim.  His first recorded cash was in 1991.  He was the runner-up in the WSOP $50,000 Poker Players Championship in 2007, securing his largest cash, for $1,278,720 and showing he was capable of playing all poker's major variants well.  But Fitoussi's mark on the game in large part comes from getting poker on television in France and his participation and commentary in several poker shows over the years. France truly became a poker market in part due to Fitoussi's activities to develop the game in his home country.
JOHN HENNIGAN
Known as "the World" Hennigan, 48, has proven his tournament chops over the past two decades, amassing more than $8 million in winnings, while playing exclusively in the United States – primarily in Las Vegas and Los Angeles.  He is a five-time WSOP gold bracelet winner, where he's had most of his success, with 40 career cashes and more than $5.5 million in winnings.  His bracelets have come in Limit, Seven Card Stud Hi-Lo, H.O.R.S.E., 2-7 Lowball and of course his biggest victory, the 2014 Poker Players Championship where he won $1,517,767.   This shows Hennigan's all-around game is in fine shape, and he continues to make deep runs and stake his claim as one of the best players on the Circuit today.  At the 2018 WSOP, he already has a first, a second (in the Poker Players Championship) and two seventh place finishes among nine cashes thus far. 
MIKE MATUSOW
Mike "The Mouth" Matusow has plenty to talk about when it comes to his poker accomplishments.  The 50-year-old is a four-time bracelet winner with more than $9.4 million in career tournament earnings.  A poker dealer turned poker pro, Matusow has final tabled the WSOP Main Event twice in 2001 and 2005, made 15 other WSOP final tables, and appeared at five WPT final tables.  Never one to bite his tongue, Matusow developed a reputation of being a tough player and a tough talker, as he frequently speaks freely at the tables.  The Mouth is a four-time WSOP gold bracelet winner and has also won the NBC Heads Up Championship. 
CHRIS MONEYMAKER
"This is beyond fairy tale," said Norman Chad. "It's inconceivable!"  That was in 2003 and he was talking about an accountant from Tennessee who was playing in his first live poker tournament after winning his entry into the event in an online satellite for $39.  But it wasn't just any event.  It was the world championship of poker, the 2003 WSOP Main Event, where first place was $2.5 million and ESPN cameras were everywhere.  It's often said that poker is divided into two eras, pre-Moneymaker, and post-Moneymaker. And that's all because 42-year-old Chris Moneymaker was able to capture the crown in 2003 at age 27.  With hole cards being shown on ESPN for the first time, viewers at home were enamored by the "Aww shucks Accountant" who bluffed and bullied back at the pros on that fateful 2003 run.  What followed Chris' victory was a Tonight Show appearance, wide media coverage and a boom poker had never seen before, aptly now called the "Moneymaker effect."  It's inconceivable to find someone's first live cash in poker come with a victory and world championship, but that is the case with Chris.  He's been juggling family and poker ever since, serving as one of the sport's greatest ambassadors and cashing in tournaments every year since 2003.  He has now amassed $3.7 million in earnings, cashing 81 different times on four different continents.  Suffice to say, Chris' victory that day changed the course of poker history.
DAVID OPPENHEIM
A Los Angeles cash game pro, Oppenheim, 45 is considered one of the most feared cash game players in the game.  While his tournament career shows $1,875,228 in career winnings, including his most notable moment in the 2010 WSOP Poker Players Championship where he finished third for $603,348.  David's career spans a quarter-century, in which he has gained proficiency in all the mixed games and continues to build upon his reputation as one of the savviest pros on the felt. 
MATT SAVAGE
When you think of non-players in poker, perhaps there is no more well-known figure than tournament director Matt Savage.  Known for his player-friendly, feet on the floor style, Savage, 49, has directed tournaments all over the globe and for all different tournament series and casino companies and handled his duties with aplomb and style.  One of the inaugural founders of the Tournament Directors Association, Savage has tirelessly advocated for standardizing poker tournament rules and has been one of the foremost innovators in terms of tournament offerings and formats. The San Jose, California native is the current tournament director at the Bay 101 Casino in San Jose as well as the Commerce Casino in Los Angeles, in addition to being the Executive Tour Director of the World Poker Tour.  Savage has had a front row seat to the incredible growth poker has undergone this century and has been one of the most influential men in helping the game grow and evolve to what it is today. 
HUCKLEBERRY SEED
It isn't just Huckleberry Seed's tall frame that helps him stand out among his competition at the table.  The California native and Caltech alum is a four-time bracelet winner with $7.6 million in career tournament earnings.  There is truly nothing Seed, 49,  can't play at the tables, as his varied list of results include bracelets in Razz and PLO, a victory in the NBC Heads-Up Championship, two final table appearances in the $50K Poker Players Championship, a win in the WSOP Tournament of Champions in 2010, and, of course, winning the WSOP Main Event in 1996.  Since Seed first started playing tournament poker back in 1990, he has posted six-figures worth of results in 22 different years.


---
---
Comments