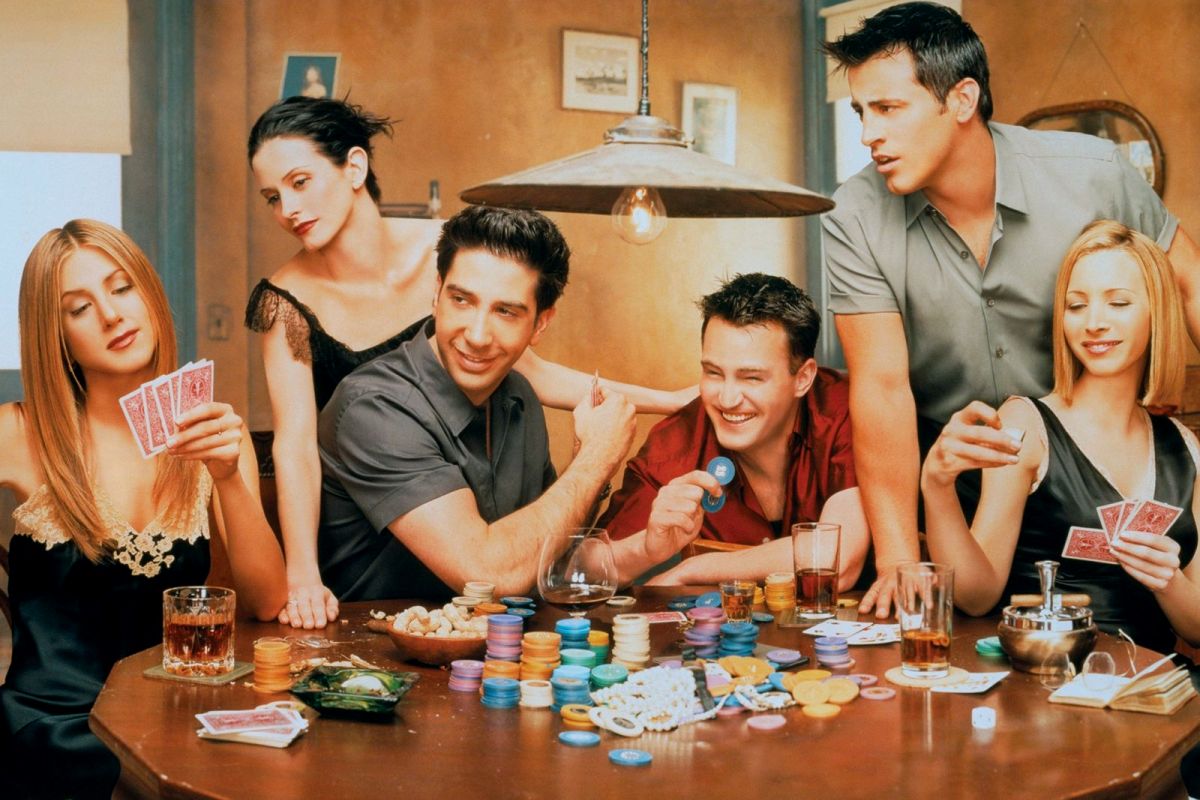 Poker
---
Poker and F.R.I.E.N.D.S
Poker being a popular game among its admirers and players has made a special place in the hearts and heads of the people by helping people find passion for their lives and making them wealthy through teaching hard work and persistence while learning and practicing the game.
With its big list of successful Poker players, Poker has been constantly earning fame and has also proven to be one of the best games in the world to learn about life and its happenings which reminds us of another amazing source of knowledge, fun and wisdom to its audience, the American sitcom F.R.I.E.N.D.S and who in the world of imperfect people seeking for fun and entertainment doesn't remember the show and its hilarious episodes? Taking here from a zone of TV series and their close relation with Poker, we feel peppy reminiscing the time when F.R.I.E.N.D.S played Poker!
The episode is called 'The one with all the poker' where the girls, Rachel, Monica and Phoebe are eager to learn Poker from the guys although losing consistently in the game; that is when they call for Iris, Monica and Ross's aunt who apparently has unbeatable Poker skills and agrees to come down to Monica's home to give the girl's a piece of mind. The girls learn and gradually improve with the lessons from Iris and go on to play the game with even more enthusiasm in the hope of winning the game from the boys Joey, Chandler and Ross.
Meanwhile, Rachel had rolled out her professional resume for a proper job other than her then existing job of a waitress and gets called for an interview at the fifth avenue, Saks. In the elevation of the game, Ross plays extreme hard hands on Rachel to deny the claim by Joey and Chandler about his evolving affectionate feelings for Rachel, but its perhaps Rachel who wins the hand in the game with the Poker lessons given by Iris taking advantage over Ross's aggression in the game.
Although, Ross is about to fold, Rachel reminds him of his comment on being a bad guy during Poker and Ross sits throughout the rest of the hand while Rachel makes everyone else fold by raising the bets over the limit. Just as the bets keep rising, making Rachel the full house winner, Ross accepts the defeat just because it made Rachel happy momentarily after suffering the pain of being rejected by the job.


Check out our online poker rooms section, where you can read reviews on the biggest and best poker rooms in the country, while also taking advantage of their bonuses and promotions. Check out these top poker rooms HERE.
---
---
Comments