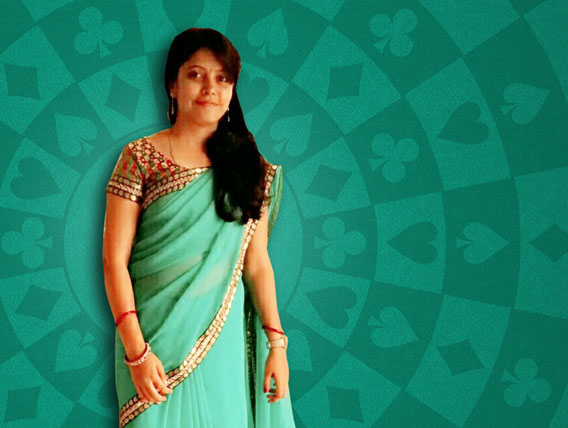 Poker
---
Play poker like Sweta Priya
Recently The Spartan Poker had hosted a giant 10L GTD Freeroll where maximum number of players across the country had come and played with all poker knowledge and dedication. The tournament had a guarantee of INR 10 lakh, out of which INR 2 lakh was guaranteed for 1st place. It was Sweta Priya from a small village in Bihar who knocked down everyone to claim the first place prize of INR 2 lakh. GutshotMagazine.com got a chance to talk with Sweta Priya where in the interview her excitement towards the game as a sport was reflected. Poker enthusiast Priya is a daughter, sister, wife and a mother of a 1.5-year old kid. Yes! who says girls can't play poker?
Childhood
If you are good in mathematics, you are good in poker, but if you are good in the subject since childhood you are a beast. Priya was a bright student in Science and Mathematics where her father played a great role to make her perfect. She was the single female child from her school to go to secondary school from a class of 88. She then went to a boarding school from Standard 6 to 12, where she mastered in both Mathematics and Science. She knew these two subjects will be her future so she did her graduation in bachelor's of computer application (BCA).
Introduction to Poker
This young lady from Samastipur, Bihar was introduced to poker by her younger brother and some of her friends one year back. Since then she started playing small tourneys online with her brother, once she started playing and understanding the game there was no looking back. From the last one year, she is playing poker in most small tournaments and decided to play the 10L GTD Freeroll which is her biggest score till date. She plays most of the tournaments of Freezeout format and even if the tournaments are in re-entry or re-buy + add-on tournaments, she plays thinking it's a freezeout tournament.
Favourite Game Formats
Her most favourite website to play online poker is The Spartan Poker and also Mad Over Poker and PokerBaazi. She always prefers tournaments over cash tables as she finds Knockout and DeepStack tournaments to play online poker so that she can make heavy stacks in the initial levels of the tournament. She loves to play a tournament Zippy on The Spartan Poker and this is the tournament she never misses to play on a daily basis. She is a No-Limit Texas Hold'em player and also plays Pot-Limit Omaha and if this is not enough, she also plays Open Face Chinese Poker (OFC).
10L GTD Freeroll – Preparations
The day Freeroll was hosted on The Spartan Poker, Priya was all set to play the biggest tournament of her career in poker. She completed all her house chores before the tournament, also cooked food so that there is no disturbance while playing. During the tournament, she was also making food for her kid and feeding him. She also said, "Sometimes when there are juicy tournaments and action on The Spartan Poker, I make chapattis and then play poker. Because I don't want to miss the tournaments."
With this she plays poker at least for 2 hours on daily basis along with taking care of her house and also school where she also takes private tuitions at home. She uses all strength and strategies to make her students pass with good numbers. A true Indian lady who can manage multiple tasks at a time, by doing her chores on daily basis and pusuing her dreams is the only passion one must have in life.
---
---
Comments