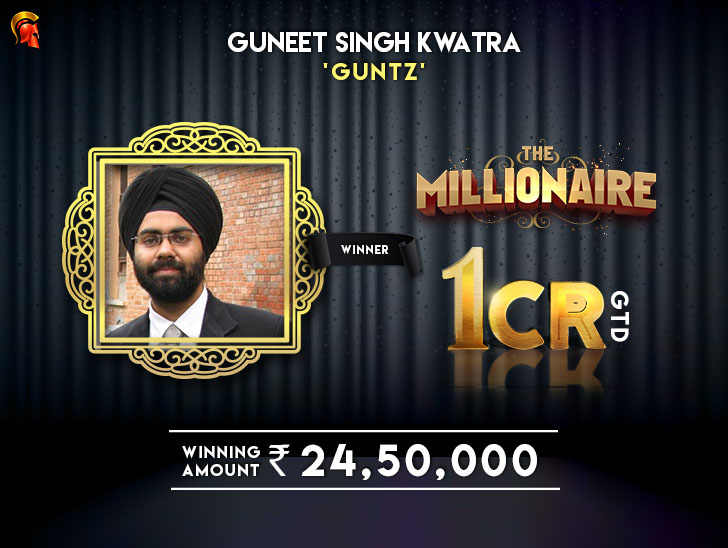 Poker
---
One-on-One with Spartan Millionaire Guneet Kwatra
The biggest online tournament of the country i.e. The Millionaire took place this past Sunday at The Spartan Poker and saw Guneet 'guntz' Kwatra taking down the title for a colossal payday of INR 24,50,000 outlasting 1821 entries including Anurag 'AbbDangalHoga' Srivastava in heads-up battle. 25 year old Srivastav who collected INR 14,70,000 for his finish said, "It was a great experience to play the biggest monthly tournament in Indian poker! It was a fun FT and I did get lucky in a very crucial spot. I was working for Morgan Stanley till December last year and had to quit because of some health issues. I was a part of AlphaGrinders (poker stable) already and decided to take up poker seriously from January onwards. I'm just lucky to have a score as big as this so early in my career, but it's just the beginning."
Coming back to the player who got the biggest cookies, Gutshot was able to speak to the champion Kwatra via email. Kwatra, who is from Jalandhar, is an MBA from MDI University, Gurgaon and has worked in many start-ups in his career. Presently working with yet another start up in the Garden City of Bangalore, he shares his poker journey and plans for the future in poker and his life:-
Congratulations Guneet! Please tell us how did you start on your poker journey?
I got introduced to the game during college, where we'd play recreationally. Later, I moved to Bangalore where I picked up on the game a bit more, playing some live poker. Also started watching some internet content around that time, which helped me understand the nuances a bit better.
When did you start playing poker for real money?
I started grinding live weekend tourneys in Bangalore a couple of years back. Online, it started with micro-stakes at PokerStars and then later started grinding tourneys on Indian sites.
Tell us about your start in live poker tournaments.
Again, this was in Bangalore with the weekend tourneys. Luckily, I managed to get decent results in the beginning which was also due to positive variance, but it just helped with the confidence to play and learn more. Have also attended a few DPT's in Goa and managed to the final table one of the Main Events. Tournaments are high variance by nature and you could go for months without getting a decent score, but there's no better feeling as a poker player than running deep in a tournament.
What's your game mix like?
I majorly grind tournaments on Indian sites as of now. Though the volume is the key to beat variance in tournament poker, it sometimes gets a bit restricted for me, as I don't play full-time. However, I try not to miss Sundays or the major ones.
Describe your journey through The Millionaire.
Grinding a deep-field tournament like The Millionaire is a lot of fun, especially with the deep blind-structure. I was able to maintain a near average stack for the initial levels but busted my 1st bullet with my flopped set of Jacks getting cracked by Aces when he turned a set (even the Milly win has a bad-beat story hahaha). I had around 25 BBs when I fired the 2nd bullet and was focused on playing some solid short-stack poker. Luckily, I managed to build a playable stack and was just focused on picking good spots to accumulate chips. I had a comfortable stack with around 300 left but played a couple of spots incorrectly just before the bubble and was left with less than 20 BBs around the bubble. Post-bubble I managed to win a flip (JJ>AK), and then a few good pots later, won a massive hand (KK>AK), which made me a top-10 stack with around 100 left. Post-that, it was majorly about picking soft spots, taking low-variance lines and applying pressure whenever possible. With the final 2 tables left, I was around 7/16 and in a key hand, I bluff-caught one of the chipleaders who took a bet-bet-bet line, on an A high board with a missed flush draw on the river. That made me a top-3 stack, though I lost a few small pots to enter the FT as 6/8.
As the middle stack on the FT, I had to play a bit of a waiting game while the short stacks were around. There was an early bust-out on the table, and I was able to win many small non-showdown pots to accumulate chips. A few more bust-outs later, I was the CL by a slight margin with 4 remaining. It was shallow by then, and when 'Flameboy' got busted in 4th, I'd a good enough chip-lead. I was lucky to bust Niva (AQ>KK), who was the middle-stack with 3 remaining and I had a 4:1 chip lead when heads-up started. Heads-up was over in a few hands, the final hand is when I jammed Jh 5h on As 5s4s in a limped pot pre, and Anurag called with Ks 2x, and my handheld. It took some time to sink in but it was quite a journey and a very satisfactory end. Congratulations to the other Final-Tablists for an amazing run as well!
Any turning points in the tournament.
Once I was a top-10 stack with around 100 left, I thought had a decent chance to make it to the FT. But, I was trying not to get too ahead of myself and just tried to play good poker, making minimal mistakes and tried to analyze all available info while making decisions.
What was the reaction of your friends and family?
The congratulatory messages are still pouring in. The support and good wishes are always very important.
What are your plans for the live and online space?
To be able to put in a decent amount of volume, with a balance between structured learning and playing. The online fields/guarantees/structures are getting better and better. Would want to play live on some international stops, probably in Asia apart from DPT's in India, but nothing's planned yet. And then WSOP, someday hopefully 😀
Your feedback on The Spartan Poker.
I think the growth of TheSpartanPoker is synonymous with the growth of Indian poker and with the growth in awareness regarding the game, field-sizes, and corporate-interest, the next few years should be the breakout ones for Indian poker. Spartan has always been at the forefront and continues to do so, with some amazing high-value promotions and tournaments. Apart from the Millionaire, SSS and IOPC are the series all Indian poker players look forward to. Hope that it continues to get better!
So, you are a Millionaire now, what do you plan to do with this money?
Haven't really planned yet, though a fair share of this will go back to my poker bankroll and some of it might go into some crypto-currency investments.
---
---
Comments