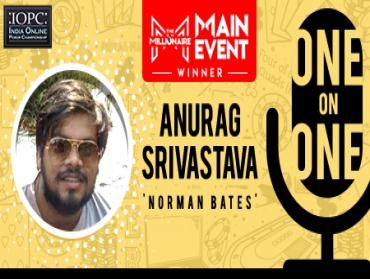 Poker
---
One-on-One: India's biggest online poker winner, Anurag Srivastava
Weeks before the India Online Poker Championship (IOPC) began, there was plenty of anticipation among poker players across the country. In fact, quite a few cancelled travel plans because of the amazing value on offer. And why not?! There was a total of INR 20.5+ Crore given away to players during that series.
One of the highlights of the series was the IOPC Millionaire Main Event which boasted an INR 3+ Crore guarantee, an amount never seen before in a single online poker tournament in India. The guarantee was smashed with 3,490 entries taking part and it's never easy to navigate through such a large field, something which Delhi's Anurag Srivastava manged a few nights back on Spartan Poker.
The 27-year old has always been a part of major tournaments on Spartan Poker. A big Alfred Hitchcock fan, the player was just re-watching 1960 mystery/slasher film Psycho one day which prompted him to name himself 'Norman Bates' on Spartan. That username has won quite a few titles on the platform in the past, but none bigger than the IOPC Millionaire Main Event title!
Deals are not uncommon on the final tables of such high-value tournaments, but Srivastava went on to get an outright win, beating Wilson Yomso aka 'PokerBadger' in heads-up to bank INR 59+ Lakh. Talking about not making a deal on the FT, he told us, "I was feeling really focused and confident on the final table and was luckily on the positive side of variance on the day."
We caught up with the player to get a deeper understanding of how he felt while playing that final table on the night of 9th February 2020 and how he went on to become the biggest winner in online poker in India yet, after taking 5 stacks to Day 2 of the tournament. Keep reading for our complete chat with the player…
Hi Anurag, what are the emotions running through you when you're on such a massive final table?
There were big pay jumps on the final table, but I was trying to not let the amount affect my play throughout and didn't really feel any pressure in later stages. I was just trying to stay calm and focussed and managed to do so. But yes, I was thrilled with the win and was not able to sleep for the entire next day even after a 16-hr grind in this tournament.
How does it feel to be India's biggest ever online poker winner? How did your family react?
I was just really happy to be on the positive side of variance on such a big day, and I hope the Indian poker industry continues to grow bigger and bigger, and we get to see a lot more tournaments with such big scores for the winners. For now, I'm just grateful to be on the list of one of the biggest scores in India. A lot of it comes from the support that my family has always given me and also from the guidance of my coaches. Family support is very important in any sport and my dad was actually up till morning in his room, railing me through the entire night. Everyone was happy. I instantly got a lot of texts from friends who were railing me and it's their support that matters the most.
Your feedback on Spartan Poker and IOPC in general?
IOPC is a great series; it's the biggest series we have in India. It does come with really high variance and I was actually having a disappointing series before the final day on Sunday. Overall, happy that it ended on a high on Spartan Poker.
If you had to advise someone on how to play such high-value tournaments, what would you say?
There are far better players and coaches out there to guide players on how to go about this.
Most pros re-invest big scores into poker. How will you invest your winnings?
No plans to make any big purchases or anything yet. I just hope to continue to help my family and that's it.
It was a great victory for Srivastava, who goes down into the history books, beating talented players like Wilson Yomso, Sanket Arora, Sandeep Varma, Kanchan Sharma and Sriharsha Doddapaneni in the final stages. On a parting note, Srivastava added, "This big score is just an anomaly, and all I need to do is work more on my game and get back to the regular schedule."
It's not every day that players can walk away with such massive prize money in online poker, but whenever they do, you can find all the updates on GutshotMagazine.com, so stay tuned.
– With inputs from Dwayne Fernandes, Gutshot Editorial.
Don't have an account on Spartan Poker? Check out their review page here, and don't miss out on their bonuses, promotions, and guarantee-smashing tournaments. Sign-up now.
---
---
Comments