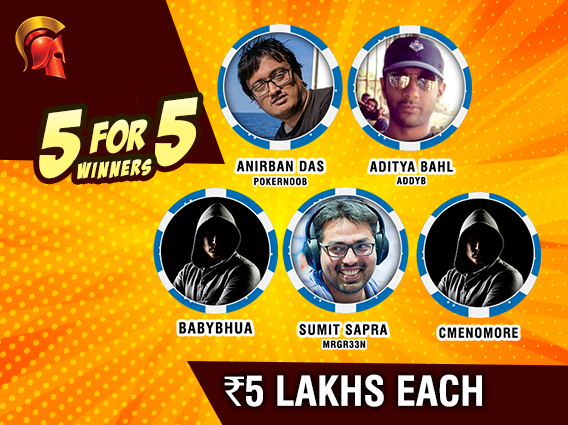 Poker
---
November's 5 For 5 crowns 5 winners on Spartan!
The Spartan Poker launched a brand-new online poker tournament offering a few months back and called it '5 For 5'. For those who don't know about this tournament, it literally means 5 each for the top 5 players. The tournament is halted when it reaches 5-handed play, with each of these players receiving prizes of INR 5 lakh.
After two successful editions, the third edition of this tournament took place on Sunday, 18th November, and five more players were awarded massive cash prizes of INR 5 lakh each. These winners were Anirban Das aka 'pokernoob', Sumit Sapra aka 'mrgr33n', Aditya Bahl aka 'addyb', 'Babybhua' and 'CmeNOmore'.
The tournament has a buy-in of INR 5,500 and it usually takes place on the third Sunday of every month. This time, there was a massive field of 643 entries that joined the tournament, taking the prize pool past INR 35 lakh and eventually, the top 50 places were paid out INR 10,255 each.
The tournament began at 6pm and it turned out to be a fairly long grind that ended at 3:37am on Monday morning, and 'Laughing Buddha' was the last player to be eliminated. He was the shortest stack among the final 6 players and he shoved with Ad 4s, getting calls from Babybhua and CmeNOmore. At the showdown, Laughing Buddha only had a high card to boast about, while Babybhua completed a straight.
At this point, Babybhua was the biggest stack in 5-way play but the tournament ended with all the 5 survivors taking away an equal prize of INR 5 lakh each. Laughing Buddha missed out on the massive pay-jump, taking away the 6th place prize of INR 2,29,872, which was still a decent pay-out.
Gutshot caught up with a couple of the winners. One of them was Anirban Das, who is a regular winner on Spartan and other online platforms. He said, "It was good to finally get back to winning ways 🙂 I enjoyed the FT because I already had a big stack by then, so was a lot calmer than most FTs because I had 85 BB deep, with several shorter stacks and top 5 being paid the same amount."
We also spoke to Aditya Bahl, who was the shortest stacked among the final five, but was an equal winner nonetheless. He said, "The tournament was a great experience. A serious, serious grind, especially because I was short stacked on the FT. It was a very different dynamic because one has to play aggressive at the beginning and then once one has a stack, one must lock it as the other players become super, super tight. The FT dynamics were rather different as 4 of the players had over 50 BBs and the rest of the players had under 20. Because of these high value tourneys, Sundays are the new Mondays."
As for Sumit Sapra, he added another title to his overflowing trophy cabinet. He said, "5 For 5 was pretty different from playing a regular tournament where you're trying to accumulate all of the chips as here there's no additional benefit to finishing first, as long as you're in the top 5. So, it was a sort of balancing act between being aggressive and also protecting your stack enough so as to stay in the top 5. It was an interesting dynamic when 7 people were left as there were 2 short stacks, and everyone was just trying to outlast them."
For more updates on Spartan's signature tournaments and other tournaments offerings from across the country, keep reading GutshotMagazine.com.


Don't have an account on The Spartan Poker? Check out their review page here, and don't miss out on their bonuses, promotions, and guarantee-smashing tournaments. Sign-up now.
---
---
Comments