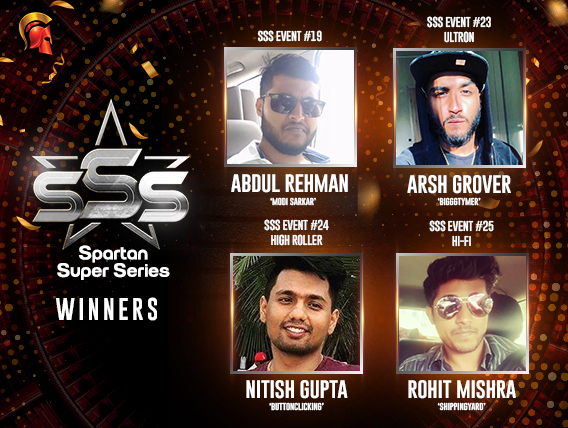 Poker
---
Nitish Gupta wins High Roller on SSS Day 4
Spartan Poker is hosting Spartan Super Series (SSS) INR 5+ Crore GTD, a weeklong tournament series that is closer to its end. Yesterday wrapped up 7 successful events and it was Event #24 High Roller that displayed the highest guarantee of INR 60 Lakhs along with a huge INR 27,500 buy-in! And now, let's have a quick look at SSS Day 4…
SSS Event #19 INR 70 Lakhs GTD
SSS Day 4 commenced with the lowest buy-in and guarantee. Attracting a pretty good field of 455 entries with each one paying INR 165. The top 28 places finished in the money after receiving a slice from the prize pool. However, the first winner of the day was Abdul Rehman aka 'modi sarkar'.
In level 31, Rehman with 1.4 million chips held 4s 4d up against '09091' who had 183k chips with Kc Tc. The table saw the entire stack of both players in the middle and the board ran 7s 4h 9s 7c 9c. That's when Rehman hit a full house while his opponent with two pairs of Nines and Sevens ended up in the second position. Finally, Rehman bags the winner's amount of INR 14,805 along with the title.
SSS Event #20 INR Afternoon Showdown INR 5 Lakhs GTD
The second tournament saw the top 20 places being paid a portion from the prize pool, however, the largest chunk was seized by 'one_of_a_kind' who defeated online crusher Vikranth Ved aka 'borntrouble' in heads-up. The overall event observed an increase in the guarantee as well as the buy-in which reached INR 2,200 yet enticing 214 players.
In level 32, Ved holding Kh Ks played against 'one_of_a_kind' having Ts Js and raises 80k from the blind. The former bets 69k on flop 9s 9d 8c for his two pairs while the latter re-raise and both players put their entire stack in the middle. With a turn and river Qd Qh, 'one_of_a_kind' shows his straight over Ved's two pairs of Kings and Queens.
SSS Event #21 Afternoon Hi-Fi INR 3 Lakhs GTD
SSS Day 2 Event #10 winner and an anonymous player 'vn2016' once again powered through a field of 226 entries to take down the Afternoon Hi-Fi after railing out 'FunkeyFox' in heads-up. The overall tournament had a buy-in of INR 1,100 and the top 21 players received a min-cash of INR 3,750.
With blinds at 7,000/14,000 ante 1,750 in level 36 of the tournament, 'vn2016' (Kc Ad) carried 1.13 million chips up against 'FunkeyFox' (Td 9d) with 562k chips. Both players go all-in and the former eventually finds his trip Kings on the board of Ks Kd 3c Qc 5d. Thus, pushing away 'FunkeyFox' in the runner-up position.
SSS Event #22 INR 2 Lakhs GTD
A total number of 231 players joined for a buy-in of INR 770 but only 23 players could walk away with a paycheck of min-cash INR 2,320. Outlasting the field was 'Kushanna'Empire' emerging triumphantly after beating 'TymTravel' in heads-up to bag the title.
It was an interesting final hand in level 32 of the tournament, 'Kushanna'Empire' playing against 'TymTravel'. The board itself opened trip Jacks while both players held King kicker and the next best card was Queen on flop. Ultimately, the players decide to cut a deal after splitting the pot. With 'Kushanna'Empire' carrying the largest stack of 1 million took away the first-place prize money pushing opponent 'TymTravel' in the runner-up position.
SSS Event #23 Ultron INR 25 Lakhs GTD
Breaking previous week's record, the late-night featured tournament of Thursday observed a field of 603 entries, each of whom chipped in INR 4,400 buy-in. The prize pool was distributed among the top 55 places for a min-cash of INR 12,250. Striking a heads-up deal, Arsh Grover aka 'BigggTymeR' was announced the official winner of the event after sending the runner-up from Event #20 (read above) Vikranth Ved into the second position. To know more about the tournament read here.
SSS Event #24 High Roller INR 60 Lakhs GTD
Every SSS day ends with the 6th event but yesterday came with an added surprise. High Roller showed the highest guarantee of INR 60 Lakhs attracting 238 players registering for a buy-in of INR 27,500. The prize pool was split among the top 31 places for a min-cash of INR 52,800. Claiming the day and bagging the enormous prize money was online grinder Nitish Gupta aka 'buttonclicking'.
Level 50 of the event saw three players, Neel Joshi aka 'Worm33' with 4.5 million chips, Gupta with 4.2 million chips and Sajal Gupta aka 'GoMuckYourself' with 3.1 million chips. Joshi folds pre-flop holding Qh 2c while the other two check until turn Kc 6c 6h 5h. Finally, Nitish finds a pair for his Ten with Th on the river and shows his two pairs of TT66 over Sajal's single pair, collecting 802k from the pot. In the end, the players settle for a 3-way deal, with Nitish shooting up his chip stack triumphs the night sending Joshi away to the second position.
SSS Event #25 Hi-F INR 8 Lakhs GTD
The SSS Day 4 ended with the seventh and last tournament being Hi-Fi INR 8 Lakhs GTD. A total of 346 players registered themselves for a buy-in of INR 2,200. And before the tournament ended, the top 30 places finished in the money. It was a well-known online reg Rohit Mishra aka 'ShippingYard' who emerged triumphantly defeating Vishal Tulsyan aka 'Tokio999' in heads-up. Mishra found his victory card on flop Kh 4s Js while turn and river 8c 7d made no substantial difference. Thus, concluding the day with his higher pair of King over Tulsyan's pair of Jacks.
For latest updates on live and online poker tournaments keep reading GutshotMagazine.com and stay tuned!
Check out our online poker rooms section, where you can read reviews on the biggest and best poker rooms in the country, while also taking advantage of their bonuses and promotions. Check out these top poker rooms HERE.
---
---
Comments