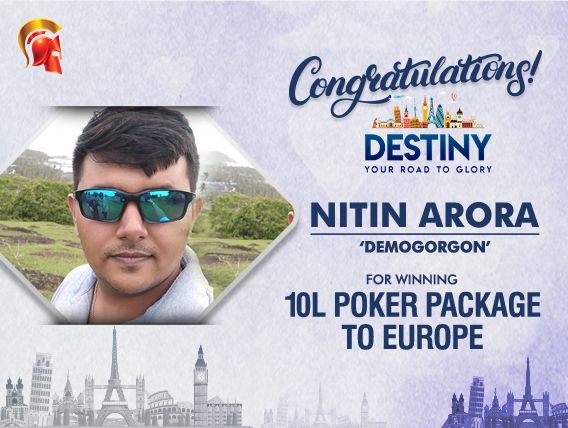 India
---
Nitin Arora wins Destiny Europe Poker Package
We've come to the end of a tournament series that has lasted 10 long weeks on The Spartan Poker. Every Wednesday, one Destiny winner was crowned from hundreds of players, and after the end of 10 Wednesdays, these winners were all set to play in the grand finale of Destiny 5.0!
Before the tournament could begin, Gutshot put together a piece, profiling the 10 participants of the Destiny SnG Finale 5.0. These players were ready to fight for an INR 10 Lakh package trip to play poker in a tournament series in Europe. The SnG began at 6:30pm last evening and concluded just under 4 hours later.
All the finalists had INR 1 lakh deducted from their tournament winnings, as an entry to this finale. They battled it out and it was all over by Level #22 of the SnG. with the blinds running at 1,000/2,000 – 250, as Nitin Arora aka 'Demogorgon' shipped the tournament and won himself an INR 10 lakh poker package to Europe!
He beat Ratul Steves aka 'Atriohm' in heads-up, after gaining a lead of over 2:1 against him. The final hand was an exciting one, marking a great end to the Destiny series. Steves was playing with pocket Kings while Arora had 8d Qh in the final hand, and Steves hit a set of Kings as the flop opened Kc Td 9h. However, Jc on the turn gave Arora a straight and the 5h on the river completed the win for him.
Gutshot caught up with Arora after this big victory. He spoke about the tournament experience and the final hand, saying, "It was a great final table, with almost everyone tough to play against. Phanindra Akkina, Abhinav Iyer, Ratul Steves, Anant Purohit, Siddhu are amongst the best, so I was certainly an underdog before the tournament started. The final hand itself was a sick one. Steves had a top set and I completed my straight on turn. I think I played it perfectly by checking 2 streaks and inducing him to put it in on river."
Talking about his game mix and his future in the game, he said, "My current focus is basically on MTTs, but I am trying to develop as a PLO cash game player as well. Looking forward to the WPT Vietnam and WPT India tournaments."
Keep reading GutshotMagazine.com for more updates from the world of poker.

---
---
Comments