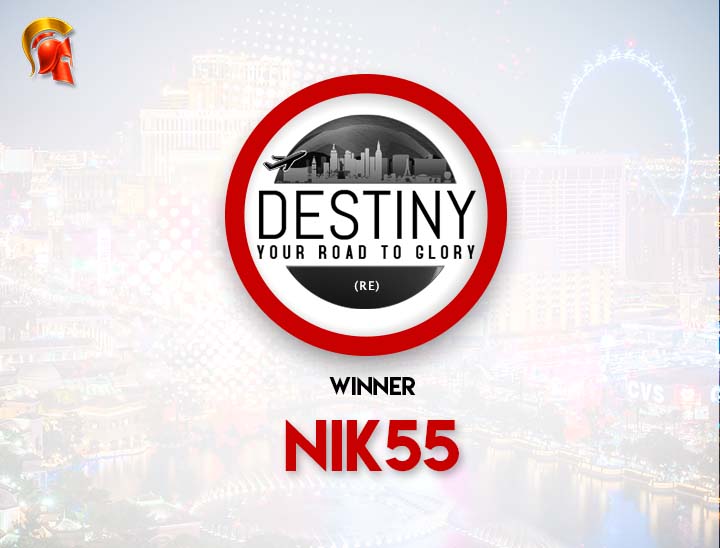 Poker
---
'nik55' is the seventh Destiny winner on Spartan
The fourth edition of Destiny series saw 'nik55' claiming the Destiny tournament last night outlasting 468 entries for INR 5,20,100 and a ticket to the Destiny SnG Finale ticket worth INR 1,00,000. 'nik55' defeated the first ever Destination: Vegas! winner Akshit Madan who plays under the moniker 'alwaysgud' in the heads-up battle. Madan collected INR 3,66,100.
The winner was announced after a 7-hour grind in the Level #40 with blinds running 50,000-100,000-10,000. The last hand saw 'nik55' holding 8d 7d and 'alwaysgud' had Jd 9h. The hand saw a raise and re-raise match between both the heads-up opponents. The board ran Kd Qs 5c Td Ad which gave a straight, Ten to Ace to 'alwaysgud' but 'nik55's 8d 7d made a flush, Ace high which eliminated 'alwaysgud' at second place. 'nik55' was announced as the seventh Destiny winner of the series.
Speaking with Gutshot, 'nik55' said, "Playing on TheSpartanPoker is always good as the structure of the tournaments is way better than any other site. In the Destiny tournament, I started in a very aggressive way with almost 3-4 rebuys. There was a point in the tournament where I got a triple up and then there was no looking back. At some stage, I lost my focus and lost some chips but came back strongly. In one of the hands in the tournament I remember was with 25BB and 'Killer66' raised and I re-raised with pocket Kings. Well, he went all-in with pocket nines, fortunately, Kings held up! That was the time where I doubled up! Finally, I was happy to win the Destiny tournament and hope to do well in Finale!"
Other notables who made in the money were Bollywood actor Shakti Kapoor's son Siddhant Kapoor a.k.a 'bullzeye' who came fourth in the tournament for INR 1,47,420, the recent Quickie Series Leaderboard winner Chiraag 'Drunkenf1st' Patel making 11th place in the tournament for INR 28,080, Play Max leaderboard winner Tanay 'gurupoker' Hargunaney made a 12th place finish for INR 28,080. Hargunaney will fly to Vegas as he has won the return tickets to Vegas from TheSpartaPoker for topping the cash game promo Play Max recently.
---
---
Comments