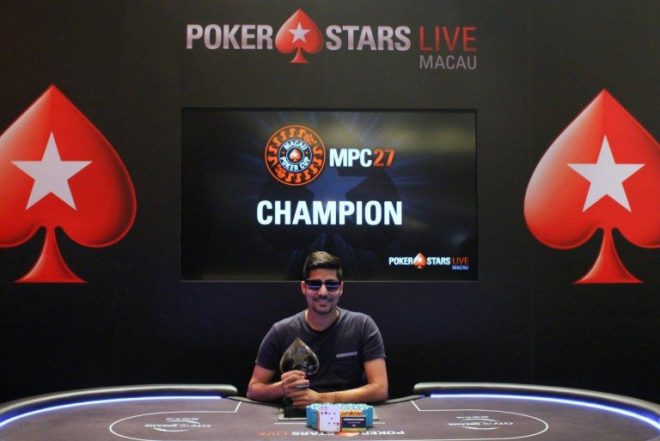 Poker
---
MPC 27: Nishant Sharma wins Event 10 for HK$ 65,990
GraphicThe heat of the ongoing Macau Poker Cup 27 has been fired up higher by the large Indian contingent which continues to make multiple final tables and scoring titles as well. In our previous report, we mentioned Paawan Basnsal shipping Event 5 for HK$ 75,000 and he has made one more deep finish in Event 9 taking runner-up place. But keeping the Indian flag flying high is Nishant Sharma a.k.a 'DoJingBULLETS' who has scored himself a trophy by winning Event 10 for HK$ 65,990 (after a headsup deal).
Here is a recap from Event 7 – Event 10 at MPC 27:-
Event 7: HK$ 5,000 PLO (Single Re-entry) 
56 players participated in this event to make a prizepool of HK$ 244,440. The eventual winner was Hong Kong based Philip Anthony Muscarello to outlast these entries for HK$ 80,700. He defeated Gerald Huk Cher Goh who took home HK$ 51,300 for his second place finish.
Event 8: $1,500 NLH (Single Re-entry) 
A total of 134 entries came together for this event to create a prizepool of HK$ 175,473. Taiwan's Chen An Lin defeated Japan's Yasuharu Kawamoto in heads-up battle to win this title. Lin took home HK$ 45,600 while his second place finisher Kawamoto collected HK$ 30,700. Two Indian players in this series has made three final tables and the first one is Ronak Vyas who took 6th place in this event for HK$ 10,500. The second Indian is Nathan Rao who also cashed in this event at 8th place for HK$ 7,000.
Gutshot spoke to Vyas on his tournament experience and he said, "My experience is playing live  tournament in Macau always wonderful, as am playing more cash normally in Macau and India and do travel frequently for cash games and some time tourney. Last ACOP also I did final table in 2.5k and finished 4th and also did final table in APT Macau July month played last event HK$ 1,100 and finished 4th."
"This time I just played 3 event 6k NLH  finished 6th, 1.5k re-entry and finished 6th and today I played 5k knockout and finished 8th all three final tabled and ITM. And as per live tournament these are my best results as I play less tournament's, but after these results I have decided to focus more on live tournaments. And I don't play much online, as I have my business, so don't get much time to play online," he added.
Event 9: $5,000 Knockout 
This event drew a total of 104 entries to generate a prizepool of HK$ 349,960 where the heads-up players made a deal to alter the prize payouts from 1st-2nd place. It was China's Mian Wei to ship the title defeating Indian player Paawan Bansal in the final round. Wei took HK$ 84,076 for his win and Bansal took home HK$ 71,624. Bansal took down the Event 5 for HK$75,000. In the Event 9 Vyas took 8th place for HK$ 15,800.
Event 10: $3,000 NLH 
Spartan Destiny winner Nishant Sharma emerged victorious in this event outlasting 120 entries who made a prizepool of HK$ 314,280. While Sharma made a deal in the heads-up with the opponent Malaysia based Ming Ken Thoo. Sharma collected HK$ 65,900 and Thoo took HK$ 74,000 for his runner-up finish.
---
---
Comments