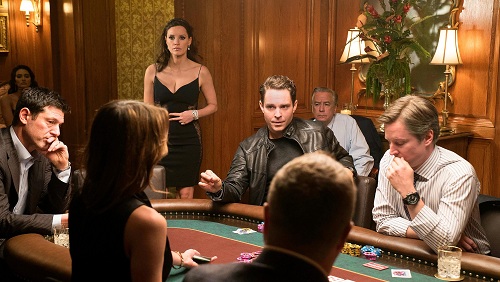 Poker
---
Molly's Game Movie Review
There haven't been too many movies around the game of poker but in the recent times 'Molly's Game' caught the poker playing public's fancy in a big way. Not only because of the subject matter but also because of its heavy weight starcast and the fact that this was Oscar winning screenwriter Aaron Sorkin's (The West Wing, Moneyball, The Social Network, etc) debut as director.
Coming from a family of professional skiers, Molly Bloom herself was an Olympic level skier, ranked at one time as the third best woman skier in North America. Growing up in Colorado, Bloom then moved to LA in 2003 to find work as a cocktail waitress and was very soon approached to host high-stakes poker games for wealthy individuals.
From running games for someone else to registering her own company called Molly Bloom Inc., she was soon hosting poker games for Hollywood stars, sports individuals and other celebrities. After running these games for nearly a decade, Bloom was arrested in 2013, charged with being a part of a $100 million money laundering and sports betting operation.
Later, she authored a book called Molly's Game: From Hollywood's Elite to Wall Street's Billionaire Boys Club, My High-Stakes Adventure in the World of Underground Poker, which was soon adapted into a movie called Molly's Game, the feature directorial debut for Aaron Sorkin. The movie released in USA on Christmas Day (25 December 2017).
The movie shows how injuries restrict Molly Bloom, played by Jessica Chastain, from competing again and how she soon became the queen of underground poker games in Los Angeles & New York, until she was busted by the FBI. The movie then shifts into flashback mode with Bloom hiring a lawyer, Charlie Jaffey, played by Idris Elba, for her legal defence procedures.
Agents were hesitant to put up actors to audition for this film as high profile Hollywood actors like Tobey Maguire, Ben Affleck, Macaulay Culkin & Leonardo DiCaprio were all a regular part of Bloom's games. There was also the shocking revelation of Bloom once seeing a player lose $100 million in a single day and still being able to settle the debt the next day. Was this the biggest ever loss in poker history?
The film is currently receiving a lot of positive reviews, including a 7.5 rating on IMDb and an 87% rating on Rotten Tomatoes. Chastain's performance was one of the talking points of the film and you wouldn't want to miss this film that includes drama, crime, drugs, action and all the positives and negatives in the life of Molly Bloom. Here's what she said about herself, "At first it was exciting, but at the end I was in ruins. I lost myself. I let greed and power become my gods."
A must watch, don't you think? 
The official trailer:
---
---
Comments