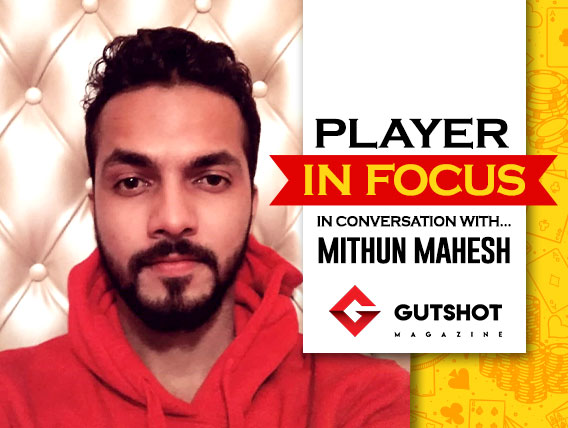 Poker
---
Mithun Mahesh talks about low-high stakes poker growth
Did you ace your math and probability lectures in college? Are you among those thousands of people in India who are looking to dive deeper into the game of poker? Think you have the skill-set, but are not sure from where to begin? Need help in deciding from what stakes to begin your poker journey? If your answer to any of these questions is 'YES', then you have arrived at the right place.
Before we get into the crux of the matter, let's remember that poker isn't a game where you just put in money and expect to withdraw funds in multiples of your investment. Just like in any other sport, hours and weeks of hard-work and perseverance needs to be invested as well, if you wish to be successful.
We at Gutshot Magazine may not all be poker experts, so we decided to catch up with one of the experts in the circuit, Mithun Mahesh. If you look at his online record on Spartan Poker, you will see why we're calling him an expert. The 25-year old hailing from the Maharashtrian town of Ratnagiri has quite a few big wins and is almost always in the money when it comes to the major offerings on the platform.
But for all you new entrants in the scene, don't be intimidated. Around a year back, Mahesh was pretty much one of you, playing smaller stakes and not having the greatest knowledge of the game. However, he worked hard and is now always a top contender to win tournaments on all major online poker platforms.
He was introduced to the sport back in 2009 when he was browsing the 'card games' section on his mobile. Unlike most others, he did NOT get introduced to poker by Zynga. Having completed his BE in Electrical Engineering, Mahesh worked in a steel plant for around 3 years before he decided to take a chance on poker as a full-time profession. Now, it has been barely 7 months since he turned poker pro!
On Spartan Poker, he plays under the handle 'Intuitionnn', and is today never too far away from a big win, his most recent being the IOPC Mega Stack title in January, where he won the top prize of INR 5+ Lakh. Keep reading for our complete interview with Mithun Mahesh, who is a prime example of the ideal growth from playing smallest stakes to being among the top names in high-value tournaments…
Hi Mithun. Tell us when was the first time you believed that there's more to poker than just playing for fun and making a few extra bucks?
"I wasn't aware about the Indian Poker scenario or any poker sites. I used to play it as a fun card game among friends earlier. As soon as I came to know about the online sites, it became all about making those essential 'few bucks', starting at Rs.0.5/1 NL Hold'em and the occasional Rs.100 buy-in tournaments."
Talk us through your early days in the game of poker…
"I had a critical financial situation, hence I started by playing freerolls and micro-stakes. I didn't know about the technical aspects of the game, as it was all feel-play back then. I also had bankroll discipline issues, so I would up my stakes immediately after winning, hence hitting that 0-mark quite often and starting over again and again. So, it was something like, win a freeroll (Rs.300), sit in 0.5/1, and keep moving till 3/6. If I managed to make a bankroll above 1k, I'd register into a tournament as a reward. If I went broke, repeat the process. This was a completely wrong approach and I see starters do it often nowadays. Ambition is a good thing, but only when used wisely."
How did the change happen? When did you decide to make the move to poker pro?
"After realizing my mistakes and meanwhile falling in love with MTTs, I found some books related to MTT poker and started studying the basic concepts. The effort was fruitful, as I was winning quite regularly in Rs.100-500 buy-in tournaments. This was around one and a half year ago. Then, I needed a laptop for multi-tabling, and I had heard about Little Big Series on Spartan Poker which had Rs.50,000 for the leaderboard winner. This series was within my range and hence I decided to give it a shot for the sake of a new laptop. I applied for 5 days leave from my job and started preparations. I managed to win a few tournaments including the LBS Main-Event for 100k as well as the LBS Leaderboard for 50k."
"However, I over-evaluated myself after this victory, which obviously cost me since I moved to higher stakes. I took a few months off, locking that bankroll, studied seriously with the limited resources I had. Again, this was fruitful. I went on a heater, managing to get some big scores. I further got some top-quality resources to study from. It was then that I realized how much I needed to study more and how the game of poker actually works. Since I was doing a commissioning project then and had to stay at work for more than 10 hours a day, I had no time to study poker, which really bothered me. I made a risky move to quit my job and go full-time, just because I had enough study-material and an 800k bankroll (which I made during my heater), which also happened to be my liferoll. I asked my parents for a 6-month time frame, which they approved immediately. However, I would definitely advice everyone NOT to make such high-risk moves."


How did you stumble upon PokerGuru Staking?
"A few months after my move to professional poker, I managed to qualify for Chennai Sharks in the inaugural Global Poker League (now airing on Colors Infinity on television), where I met Vikram 'Lungi' Kumar, who was managing the team. I had never met or spoken to a poker player before this. Fortunately, it all went well, he selected me in his team and gave me the opportunity to play under PokerGuru Staking, formerly known as 'AceJack', which changed my life/approach/game altogether. Being part of PokerGuru gives me freedom to play without any worry. I get a rich environment where I can grow exponentially."
Name a few people who you credit for helping you become a better poker player.
"My parents have always supported me through my poker ambitions. Vikram Kumar, who I call my Godfather in Poker, and Kartik 'TheInternetKid' Ved for believing in me and helping me grow. And of course, my coach Aditya 'Intervention' Agarwal, who is indisputably the Father of Indian Poker."
What have you learnt the most on your journey from low-stakes to high-stakes? Both, in poker and off the felts.
"I have been able to tame my mind during this journey, so it has definitely impacted me spiritually. I started living mindfully and I'm more process-oriented now. It helps significantly off the felts as well. Whenever I have a discussion with parents or anyone else, I think in an optimal way and am more logical. Obviously, it secures me financially as well. It helps me support my family and achieve the basic materialistic comfort without any worry."
When can we expect you to be more active in the live circuit in Goa/Sikkim and possibly abroad?
"I am working on my game for the same right now. Once my coaches think I'm ready, I'll be there. I definitely prefer live poker. I think my overall skillset favours live play. However, I won't transcend into it until I develop a sound mathematical foundation and online poker is the best way to do so for now."
Tell us about Mithun Mahesh off the tables…
"Off the table right now, it's all-out poker. But otherwise, I love to be in nature, meditating. I read books, explore my mind. We have a beach nearby, so I chill there sometimes. That's what I do most of the times and once in a way, to comply with social norms, I go party too."
Realistically speaking, how quick do you think one can move from being a freeroll player to a serious highroller?
"If you work on the mental aspects of the game, keep learning daily, put in enough of volume, follow proper bankroll management, and get a good coach or stable, I think even one year's time would be enough to start playing the highest stakes."
For all those thousands of players getting into the game, what message do you have with respect to 'starting from the bottom'?
"Firstly, stop cribbing about your bad beats or stop feeling sorry for sucking someone out. It's all part of the game. Just evaluate whether you played the hand right or not. Secondly, if you don't work on your game, there is no way you can make it. Do not get caught up in or around people who chant 'I'm unlucky, otherwise I would've been printing money' or 'RNG is rigged'. Poker is a mathematical game with variance involved, so work on your edges and it'll pay off in the long run. Remember, it's a process. Even the elite poker players are constantly studying even after making millions. Lastly, do not get trapped into the illusion of hope and '#ApnaTimeAyega'. Chances are that you'll be stagnant forever. Instead, keep growing. Push yourself, take risks, fall, rise again and be more like '#ApnaTimeApunKhudLaayega'.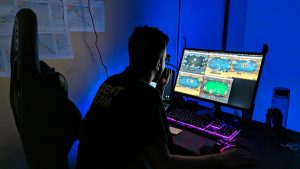 We thank Mahesh for taking time out to explain the reasons behind his growth and giving insights into how he has managed to soak in so much of poker knowledge in such little time. For similar tips and tricks from the top pros on how to get better at the game of poker, keep following GutshotMagazine.com.
-Dwayne Fernandes, Gutshot Editorial


Don't have an account on Spartan Poker? Check out their review page here, and don't miss out on their bonuses, promotions, and guarantee-smashing tournaments. Sign-up now.
---
---
Comments