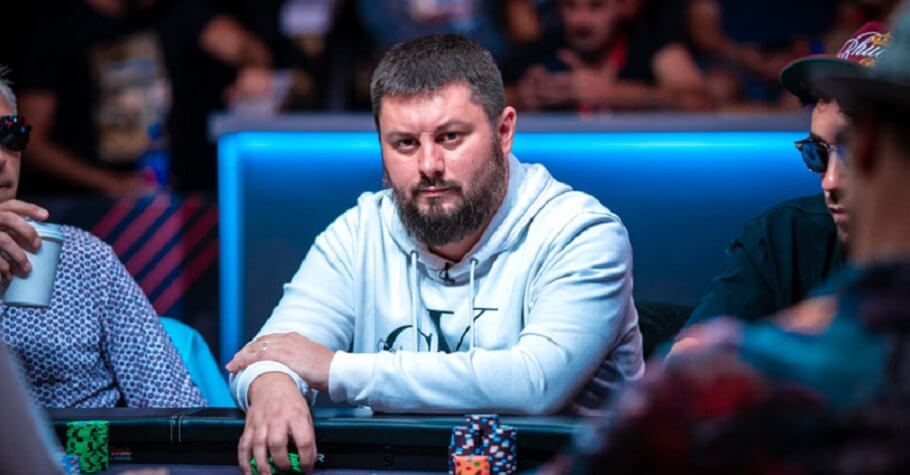 Poker
---
Matija Dobric – All About This WSOP 2022 Main Event Contender
Through multiple flights and a buzzing total field of 8,663 entries, some top poker players have managed to survive through to the business stages of the 2022 World Series of Poker (WSOP) Main Event. The event is the biggest on the annual poker calendar and this year is no different. As we boil down to the final few contenders in the WSOP 2022 Main Event, we're going to talk about potential winners. Here, we're going to shed some light on Matija Dobric.
There's obviously not a lot of information available on most of these players, as only three past WSOP bracelet winners were in the mix when the tournament boiled down to the final 25 contenders. We've been religiously following some of their progress through the WSOP 2022 Main Event, and among them was the lone female player in the pack, USA's Efthymia Litsou.
Another player we've looked at so far as a potential winner is Day 6 chip leader Jeffrey Farnes, also someone with barely any experience at this stage, and just about $181k in live tournament cashes prior to this event. And finally, we're thinking a strong contender could be Karim Rebei, who shot to fame because of a bluff against him by Alejandro Lococo a couple of days ago, but he's been holding his own since then.
So who is Matija Dobric?
Coming back to the person we're going to look at in this article, Matija Dobric was the chip leader midway through Day 7 of the WSOP 2022 Main Event, and at the time of us writing this. The Croatian poker player has only two prior cashes in the ongoing WSOP 2022 series, one for finishing 388th in Event #18 and another for finishing 176th in Millionaire Maker, with the cumulative cashes from these tournaments being less than $10,000.
His career live tournament cashes are only $239,167 as per his Hendon Mob profile, with most of them coming from a single tournament itself, getting the largest cash of his career of $198,550 for finishing 32nd in the WSOP 2021 Main Event. So, while we may not know a whole lot about this player, the one thing we do know is that he loves to save his best for this prestigious annual poker event. He's definitely found his niche!
He loves the big stage and we saw that last year itself. However, he's gone on to better his performance from WSOP 2021 as well, currently among the top 20 contenders in the WSOP 2022 Main Event, and with a hefty chip stack as well. He held 69 million in chips at the time of us writing this, nearly 3x of what the ongoing average stack was at the time.
He wasn't chip leader at the end of any of the days so far but he's managed to grow perfectly through the event. He was 86th in chips at the end of Day 4 with a stack of 1.8 million; he then chipped up to a stack of 8.4 million and ended 11th in chips at the end of Day 5; we witnessed his biggest rise on Day 6 where he ended with a stack of 29.5 million and ended sixth among the chip leaders. Here's one of his top hands which saw him scooping up a big pot on Day 5: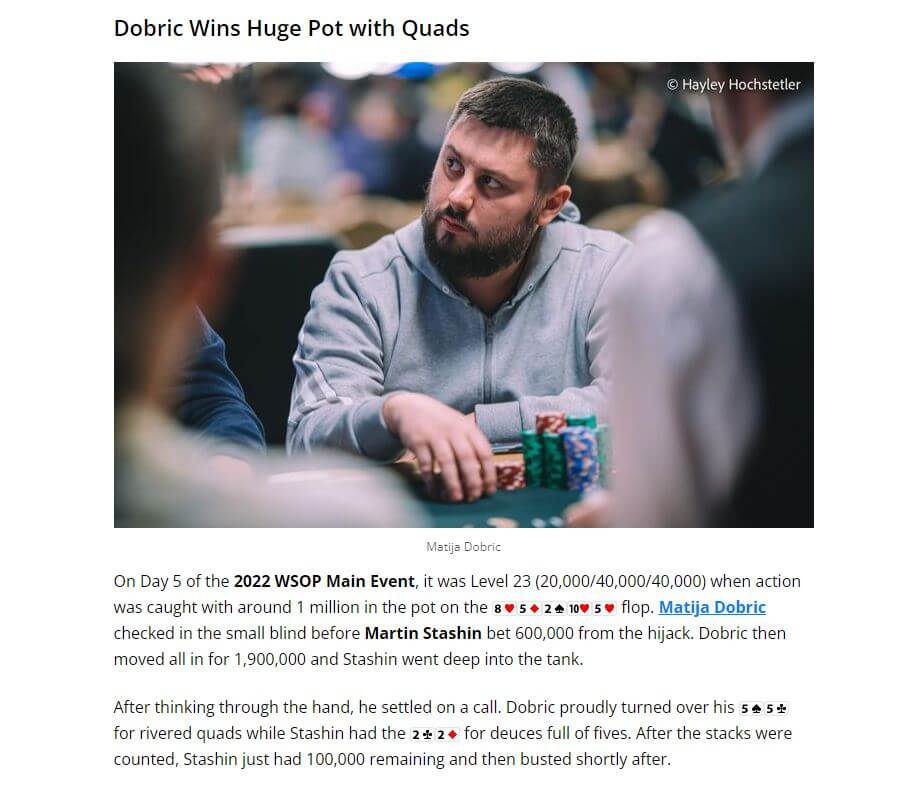 Litsou is the only female so she's a crowd favourite while people are loving the game Rebei is playing as well. It basically means that Matija Dobric may not have the biggest rail as we move into the final two tables of the WSOP 2022 Main Event. However, his strategy has been working for him so far and we'd love to see how much further he can take himself in this tournament.
Even if he busts right away, the minimum prize that he's going to take home is $323,100 for 20th place and that'll be the grandest return in his poker career either way. However, he's not come so far to throw away his lead and will have eyes only on the $10,000,000 top prize and the title of world poker champion!
Image credits: Spenser Sembrat / PokerNews
For more updates on his journey through the WSOP 2022 Main Event, stay tuned to GutshotMagazine.com…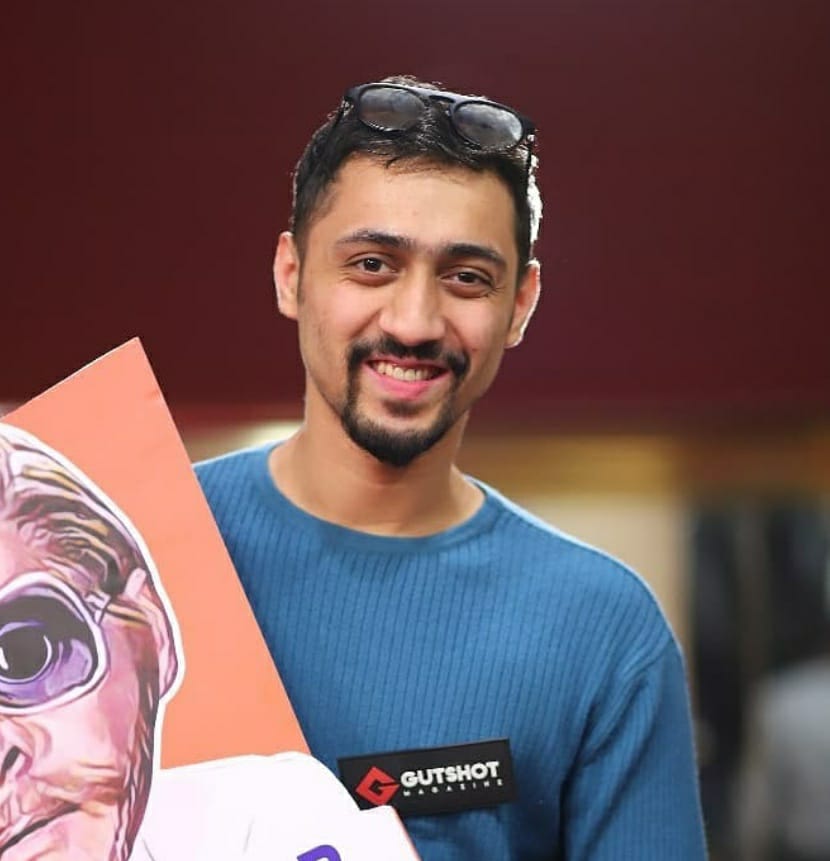 A graduate in Business Management, Dwayne began his career as a content writer for a virtual sports betting company and then for Gutshot too. Now, he heads marketing and business operations at Gutshot and while he's no expert in poker, he enjoys the occasional weekend home games. He was introduced to the industry in 2017 and has made quite a few friends along the way. Outside of poker, he is an avid cricket and sports fan, loves his bikes and of course, a good party! If you want to reach out to him for partnerships and collaborations, feel free to send a message at dwayne@gutshotmagazine.com.
---
---
Comments