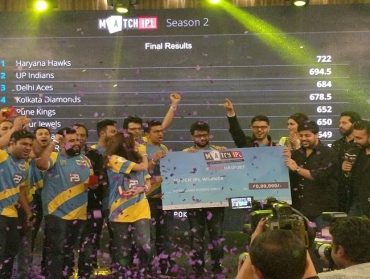 Sports
---
Match IPL 2: Haryana Hawks Win Title and 40 lakh, UP Indians Runners-up
The second edition of the MIPL (Match Indian Poker League) concluded on Saturday, 31st March, and debutant team Haryana Hawks was declared as champions. It was their first time at the MIPL and they walked away with the winner's cheque of INR 40 lakh, followed by UP Indians that finished second, and Delhi Aces that finished third.
The grand final of the season was a one-day event, held at the Hotel Hindustan International in Kolkata, after live and online qualifiers took place over the last few weeks. After 156 hands and 4 sessions of intense poker at the venue, the Hawks were crowned champions. They were 7th after Round 1 but held the lead from Round 2 onwards. Along with the prize money, they have won a chance to represent Team India at the Match Poker Asia Nations Cup.
The Haryana Hawks was sponsored by Indian poker website, PokerBaazi, and its co-owner/captain was Jagdeep Singh. Jagdeep is a PLO expert and was also a part of the Mumbai All-Stars who won the first edition of the Match IPL and went on to play at the Poker Nations Cup. Other members of this winning team include Amit Varma, Pratibha Arya, Prabhat Kiran, Kalyan Chakravarthy, Keshav Chadha, Sabyasachi Chakraborty & Naman Agrawal (online qualifier).
Gutshot had a word with Jagdeep after this win. Here's what he had to say:
"Winning the title 2nd time in a row felt absolutely surreal! It was a nerve-wracking affair especially the delay before the final result was announced. Having said that, we were much more confident of the result this time because we had an excellent line-up. Something which is highlighted by the fact that 3 out of top 5 players were from our team. All team members contributed a great deal towards this win, which saw us jump from 7th to 1st spot by the end of session 2 and never leaving the lead post that. A big shout-out to Pratibha Arya for her consistent performance which saw her becoming Player of the League and Prabhat Mukherjee for being the second best player of the league.
I am really excited about the MIPL initiative, which is the reason why I bought my own team for this season. It's fantastic how they have converted an individual sport into a team sport. Its very exciting and something the viewers will truly enjoy when it comes on TV later this month. Also, this format eliminates luck by a great deal which is something other poker leagues have failed to replicate."
The first runner's-up cheque of INR 25 lakh went to UP Indians, another team that was making its first appearance at the Match IPL. The Indians, led by poker pro Abhishek Jalan, were sponsored by another leading Indian poker website – The Spartan Poker. The team consisted of Abhishek Jalan (captain), Anita Hassanandani Reddy, Prashant Jain, Prateek Mishra, Neeraj Kumar, Ragesh Mishra, Abhishek Garg, Ashish Munot and Arsh Grover.
In third place came Delhi Aces, taking home a cheque of INR 20 lakh. The team consisted of Ankur Sachdeva, Avadh Shah, Rohit Behal, Kunal Chandra, Devesh Thapar, Raghav Singh, Simrit Tiwana, and Niharika Bindra. The 4th and final prize of INR 15 lakh went to the Kolkata Diamonds!
Final results:
Haryana Hawks – 722 points (INR 40 lakh)
UP Indians – 694.5 points (INR 25 lakh)
Delhi Aces – 684 points (INR 20 lakh)
Kolkata Diamonds – 678.5 points (INR 15 lakh)
Pune Kings – 652 points
After all the excitement in the second season of the Match Indian Poker League, all eyes will be on the Match Poker Asia Nations Cup. If you missed the action at Kolkata, tune in to MTV on 12th and 13th April at 10pm for the broadcast, and keep following GutshotMagazine.com for all poker-related updates!
---
---
Comments