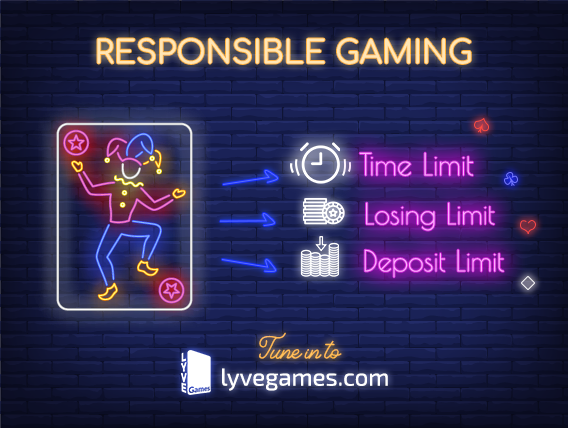 Poker
---
Lyve Games: A beginning to responsible gaming
Online money games require extreme mental discipline and a steady game plan. One has to consider playing with ice water in the vein as online fortunes are prone to wild swings. A player could face both worlds, either a bad beat or a huge bankroll soar and yet should not let either of them cloud his decisions.
The vulnerability in online money games lies in the fact that a player is susceptible to be playing more hands per hour than they would in a casino. While this could be excellent if one is a winning player, it could take one further down if the player has been losing hands. Online platforms offer ease in access and on-the-go gaming experience, a player would find it difficult to resist the lure of the game.
LYVE Games as an online platform aims to create a secure environment for its users. It identifies gaming obsession as a matter of concern and is devoted to providing a framework that creates awareness amongst its users. The platform has a feature, 'Responsible Gaming' that is specially designed to tackle obsessive gaming practices.
Since online poker involves real money, it is of utmost importance to ensure that a minor is not accessing the poker table. The platform thus requires its users to provide their PAN card details to testify for their age. If any underage player attempts to register and create an account at LYVE Games, the platform considers it a violation of its policies and thereby blocks the account.
The platform also identifies obsession amongst players. Thus, it insists its users to set a healthy limit to 'Deposit', 'Time' & 'Loss'. If they cross any of these set limits, the system prompts an auto-warning to alert them.
Tips to protect money while playing poker:
A system logged in to any money gaming account should not be left unattended and the password for such accounts should not be auto-saved.
Mandatory use of child lock on shared systems.
Using bankroll strategy while playing poker.
Avoiding playing money games while in any physical or emotional situation.
About Lyve Games:
LYVE Games is an online gaming platform, which is built on a unique approach, driven by strong player-centric policies and superior customer relationship management. The core objective is to create a seamless platform where players feel safe, confident and enjoy the gaming experience. The company takes stringent measures to provide a safe gaming environment and create awareness about responsible gaming. Players can plan and set their daily and monthly limits before they start playing.
So, for the latest updates on poker news and tournaments around the world, keep reading GutshotMagazine.com and stay tuned!
Check out our online poker rooms section, where you can read reviews on the biggest and best poker rooms in the country, while also taking advantage of their bonuses and promotions. Check out these top poker rooms HERE.
---
---
Comments