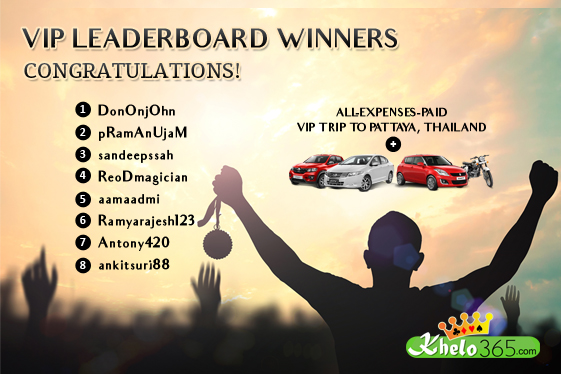 Poker
---
Khelo365 VIP Leaderboard ends, winners announced
The famous Khelo365 VIP race has come to an end, after two competitive months of online poker playing the winners have been revealed. Anyone who knows anything about the Indian poker scene knows that Khelo365 is known as the 'Party People' when it comes to online poker. Their extravagant events attract people from all over India to play on their site in the hopes of winning a spot to one of their VIP events.
This year, they are bringing the party back to Pattaya, Thailand – the Sin City capital of Asia. And if the videos of their previous events are anything to go by, you can be sure that the VIP guests of Khelo365 will be having the absolute time of their lives, on a trip filled with excitement, fun, and pleasure!
So, without further ado, here are the top 8 finishers on Khelo365's leaderboard who will all join Khelo365's 'Never Say Never Again' New Year's VIP party –
?
Congratulations to these players; to be able to conquer such a tremendous task are nothing short of insane poker prowess.
These sharks have more than earned their spot on the VIP trip and we wish nothing but the best of luck to these players!
We highly suggest each and every one of you to visit their site at Khelo365.com and start playing immediately. Khelo365, by far, offers the 'best bang for your buck' when it comes to value for your money.
---
---
Comments