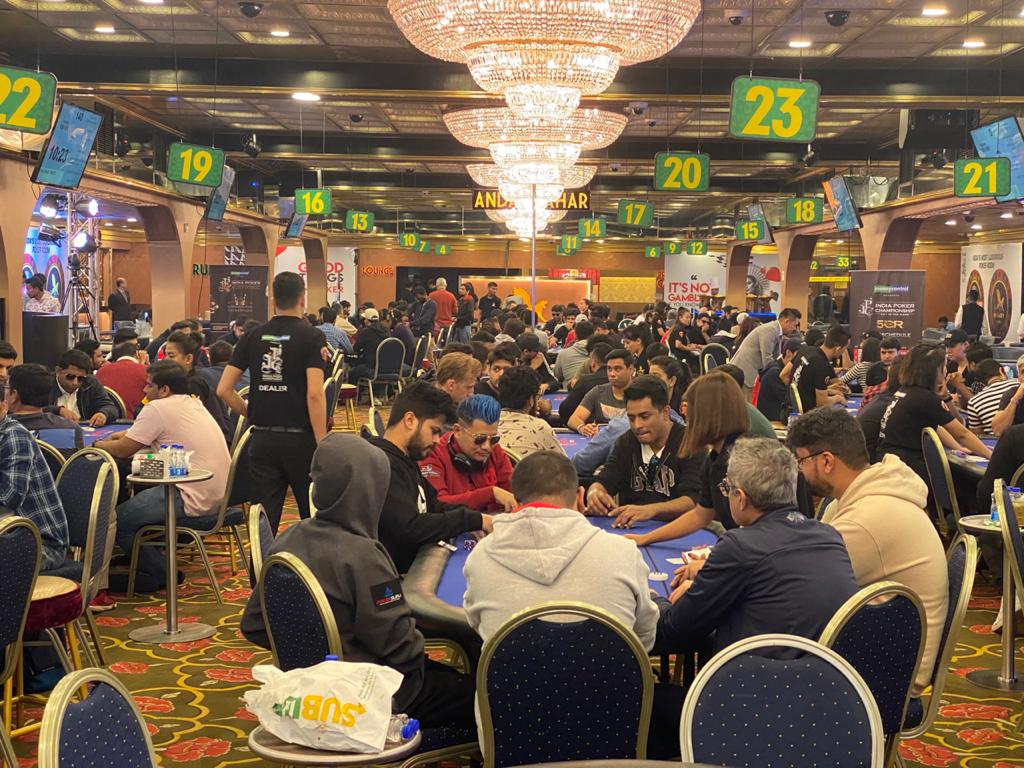 Poker
---
IPC Jan 2020: 10k Kickoff Coverage
7:50pm: The IPC 10k Kickoff Event has a new winner and it's Vinod Megalmani. Read our complete summary of the tournament here.
7:30pm: Patrick Liang was looking good until a few minutes ago where his stack was crippled by the defending champ Siddharth Mundada. After getting short, it wasn't too long before he busted in 3rd place for a decent payday of INR 3,04,600. Now, it's time for heads-up between Vinod Megalmani and Mundada, who won this tournament in September 2019 as well. At heads-up, Mundada has 3.2 million chips against Megalmani's 1.5 million.
7:05pm: Another one bites the dust! In fact, another two. 
The first one to head out was Ankit Bhansali who ended his good run in 5th place, losing to Patrick Liang with AJ vs KQ, the latter spiking a queen on the flop. He collected INR 1,46,800 from the tournament prize pool. Next to go was Vikram Mishra who lost with KQ against Vinod Megalmani's pocket Nines. Mishra spiked a King on the flop but Megalmani was lucky enough to complete a set on the turn! He collected INR 1,90,200 for finishing 4th.
Last Lady Standing, Deepanshi Tomar:
6:40pm: Few more eliminations on the Final Table. Nimit Patel finishes in 8th Place after losing to Patrick Liang, the only overseas player in the tournament right now. The next to go was Ashwin Atrish who was sent out by Vinod Megalmani after a 3-way pot which also saw Aditya Kesharwani being crippled. Soon later, Kesharwani himself hit the rail, finishing in 6th place for INR 1,21,600, losing to defending champion Siddharth Mundada. 
5:45pm: Akash Shekhar is the first to leave the FT. He finishes in 9th palce for INR 67,300 after losing AJ vs AK after both players hit a pair on the board but Shekhar lost with lower kicker.  
Final Table SET!
4:55pm: Final Table chip counts: 
Aditya Kesharwani – 1.2 million
Siddharth Mundada – 760,000
Vinod Megalmani – 665,000
Ankit Bhansali – 580,000
Ashwani Atrish – 375,000
Patrick Liang – 295,000
Nimit Patel – 245,000
Vikram Mishra – 200,000
Akash Shekhar – xxxx
Image credits: PokerGuru
4:25pm: The eliminations have continued at lightning speed and before we knew it, the final table of 9 players has been formed. The final few eliminations were those of Shashwat Agarwal (14th), Pratibh Saluja (13th), Deepanshi Tomar (12th), Avinash Dixit (11th) and Rachit Pathak (10th) and overnight chip leader Aditya Kesharwani still holds the lead with 1.2 million chips.  
16th Jan, 3:45pm: We've resumed with Day 2 of the 10k Kickoff Event and in just about 45 minutes of play, we've already had a number of eliminations starting with Pradeep Pathak and Gaurav Sood who went out in 22nd and 21st place respectively. Following them were Dinesh Bathija, Ujjwal Jindal, Debashis Mishra, Manveer Singh and Prashant Bhutoria. Just 15 players are left in the running and the current payout slab is at INR 48,400 for 15th place. Stay tuned for all updates…
2:45am: That's it. It's a wrap on Day 1 of the 10k Kickoff Event in Goa. At the end of Level 18, we have 22 players still in play from the original field of 315 entries. In the lead is Aditya Kesharwani, who as a massive stack right now. Having held the lead right from the first break of the day, Vinod Megalmani would've been disappointed to lose the lead and he ultimately ended third in chips. 
1:40am: The bubble bursts on Atul Jaiswal and mind you, in quite spectacular fashion. Kunal Patni managed a double knockout when hand-to-hand play was underway, knocking out both Jaiswal and Vinod Hegde, winning with Kings against Jaiswal's 99 and Hedge's QT.
1:10am: We're close to the money bubble right now. 37 people finish in the money and players are playing tight at this point of time. Vinod Megalmani is still in the lead with 441k chips and in fact, there's no one really close to him with the next best being Nimit Patel who has 304k in chips.  
12:05am: The total prize pool created was of INR 30.55 Lakh and from the field, only the top 37 positions will be paid with a min-cash of INR 18,900. All however, will be looking at claiming the top prize of INR 6,73,600!
#ICYMI: The third edition of the India Poker Championship (IPC) Awards took place last night on the deck of the Big Daddy Casino where the top players in India were felicitated and the event was graced by quite a few celebrities as well. While the party went on till late, we have Richard Haridasoham, Aditya Wadhwani and Abhishek Goindi in attendance today at the 10k Kickoff Event. Watch them speaking with IPC Director and co-founder, Peter Abraham:
11:20pm: Around 117 players are still left in the field and Megalmani continues to grow his stack. IPC also announced the 'Last Woman Standing' contest and the two women in the field right now are Deepanshi Tomar and Kanchan Sharma. 
10:15pm: The dinner break was announced and after taking a quick run across the room, it seems like Vinod Megalmani is the chip leader with a stack of 151,000 chips at the moment. Ganesh Prasad is the closest with 91,000 so Megalmani is enjoying a big lead right now. Pranay Chawla and Sahil Mahboobani were among some of the notable bustouts. 
9:15pm: Registrations shut and we had a total of 315 entries in all, with less than 190 left in the field at the moment. Comedian Suresh Menon also took a crack at the tournament before busting and then heading over to do a slot of guest commentary in the booth. Apart from him, bracelet winner Abhinav Iyer also busted early while Aditya Sushant, Ashish Munot, Myron Pereira, Mayank Agarwal and others also found the exit. 
9:00pm: Like we said, there are quite a few IPC first-timers in the poker room at the moment. One of them is Naman Khettry who has been playing poker for years, but hasn't ever made it to an IPC event. He has now and seems excited about this first tournament. Take a look at what he had to say:
8:30pm: It's break time and we have 300+ entries in the field right now. Many known names are still in but some others busted soon like IPC Director Rajeev Kanjani and others like Siddhanth Kapoor, Bharat Kumar, Anita Hassanandani have already busted from the tournament. 
7:05pm: The number has zoomed past 260 entries and Level 3 is currently underway with the blinds at 200-300-300. Registration will stay open till the end of Level 6 of the tournament and quite a few known names are already seated at the tables. A quick walk across and we saw the likes of Madhav Gupta, Ashish Munot, Ankit Wadhawan, Ashish Ahuja, Sahil Mahboobani, Rajat Sharma, Aditya Sushant, and others on the tables. Quite a few celebrities are also in the house including Anita Hassanandani, Karan Patel, Shruti Sinha, Basheer Ali and others.  
6:05pm: The fun and excitement has begun in Goa where another edition of the prestigious India Poker Championship just kicked off a few minutes ago. The series begins with the 10k Kickoff Event and the tournament floor is filling up, having already crossed 100 players, with long lines visible at the registration desk. The last edition of this tournament saw a record-breaking field of 437 entries and we're expecting a similar number this time too. 
---
---
Comments