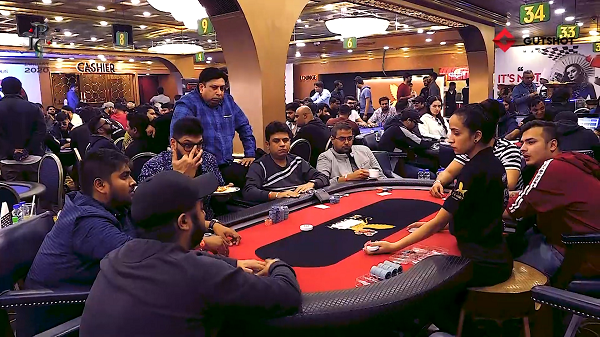 Poker
---
IPC Jan 2020: 100k Highroller Coverage
1:25am: Anmol Srivats is the 100k Highroller champion, ending heads-up in a single hand. You can read all about this victory here.
1:10am: And we're heads-up!
Raag Fernandes will curse his luck today. Being dealt Kings, he hit a fullhouse on the 4K4 flop and another 4 opened on the turn. On the river, Anmol Srivats shoved all-in and Raag called for the rest of his 5 million chips, only to discover that Srivats had that fourth 4 and quads sent Raag packing in this 100k Highroller, finishing in 3rd place for a massive prize of INR 37 Lakh (3-way deal)! Remember, Fernandes was the overnight chip leader in the HR!
12:45am: Harshad Barve is the next to go. Back to back eliminations and we're down to just 3 players in the 100k Highroller as Barve takes 4th place for a prize of INR 12,70,100. He was all-in with A6 against Zarvan Tumboli's A4 and unluckily for Barve, Tumboli spiked a 4 on the flop itself, which was enough for him to win the pot and send Barve out of the running! In the bustout interview, Barve surprisingly said, "I played live after approximately 6 years." 
18th Jan, 12:30am: There's a bust and it's Sahil Agarwal, who was 2/5 in chips when we checked an hour back. He walks away in 5th place for a prize of INR 9,80,800 for this run. 
11:35pm: Final 5 players last chip count check:
10:55pm: We have another bust out on the final table and this time, it's Vivek Rughani who shoved with the rest of his 2.1 million chips with AJ, only to get a call from Raag Fernandes who had AK. The board bricked and Rughani busted in 7th place for INR 6.92 Lakh. Soon later, 2-time IPC champion Kanishka Samant hit the rail in 6th place for INR 8,12,800. Massive pay jumps from here on. 
10:10pm: It took a really long time before the first victim fell off the final table. It was Akash Shekhar who got busted in 9th place first by Sahil Agarwal, bagging a prize of INR 5.18 Lakh. Just one hand later, Anish Patra hit the rail and once again, it was Agarwal who caused the damage. Agarwal hit a flush and Patra exited in 8th place for INR 6.04 Lakh.
8:50pm: Chip counts before the FT
Anmol Srivats – 7.75 million
Raag Fernandes – 5.79 million
Harshad Barve – 3.84 million
Zarvan Tumboli – 3.23 million
Sahil Agarwal – 2.78 million
Vivek Rughani – 2.38 million
Akash Shekhar – 2.03 million
Anish Patra – 1.96 million
Kanishka Samant – 1.73 million
8:30pm: Goonjan Mall unfortunately ended a brilliant run in 10th place, bubbling the final table and collecting a prize of INR 4.46 Lakh. From here, the prizes are going to keep jumping. Coming to the hand, Goonjan was up against Anmol Mehta's AJ and the former hit an Ace on the turn which was enough to take down the pot. The 9-handed final table is all set to begin now.  
8:10pm: It was Gaurav Sood who busted in 11th place and Vaibhav Sharma in 12th place, both winning INR 4.46 Lakh each.
8:05pm: The final 10 players are left in the 100k Highroller and the intensity is rising by the minute. A small break is on and we'll update you recent eliminations soon. In the meantime, take a look at what Vaibhav Temani had to say about playing in his first ever live poker tournament, having registered to the 50k Main Event:
7:10pm: Some more eliminations including last IPC Main Event's runner-up Ayush Garg:
17th – Ayush Garg – INR 3.12 Lakh
16th – J Raju – INR 3.12 Lakh
15th – Joey Saha – INR 3.76 Lakh
14th – Anil Adiani – INR 3.76 Lakh
13th – Vaibhav Sharma – INR 4.46 Lakh
6:40pm: More players head out and the prizes are slowly increasing. Somashekhar KM left the tournament floor in 18th place for INR 3,12,700, while Sriharsha Doddapaneni busted his stack just before, finishing 19th for INR 2,29,500 and Anuj Yadav also ended up hitting the rail, busting in 20th place for INR 2,29,500.
Simultaneously, the 50k Main Event has also kicked off with Day 1A:
6:10pm: Apoorva Goel gets knocked out in 22nd place. Rajat Sharma follows him out in 21st place. They get INR 1.88 Lakh and INR 2.29 Lakh in prizes respectively.
5:15pm: Bubble has burst. Only 24 players are left and all are in the money! The 25th place player Nadeem Basha is going to walk away with nothing but a free sky diving package from Sky High India. We're down to the final 3 tables now. Immediately after the bubble burst, we had a couple of quick eliminations. Siddarth Singhvi (23rd) and Prem Amarnani (24th) were sent out, both by Anish Patra. 
4:55pm: Still waiting for the bubble to burst. Remember, the final 24 players are paid a min-cash of INR 1.88 Lakh while the bubble boy will walk away empty handed. 
4:25pm: Hand to hand is taking place as we speak since 25 players are in play and we're awaiting the bubble to burst, with Nathan Rao being one of the last to bust in 26th place, and Devang Yadav busting before him. Currently, Goonjan Mall, Zarvan Tumboli, Sriharsha D, Gaurav Sood and others are seated at the featured table. 
4:05pm: Arsh Grover was eliminated at one table while Sahil Mahboobani hit the rail and exited the featured table. Mahboobai was one of the chip leaders at the end of Day 1 and it was unfortunate he had to head out in 29th place. Few more bustouts and the money bubble will be reached. 
3:25pm: The last celebrity is out of the running as Raj Kundra busted to Vaibhav Sharma. Short stacked at the first break, Kundra shoved with KQ with 190k that was all he had left. Vaibhav called with A4 and the former was ahead on the 9 Q 4 flop but Vaibhav went ahead with 8 A opening on the turn and river. 
Image courtesy: PokerGuru
2:30pm: We're left with about 44 players in the running at the moment and some of the known names to hit the rail included PokerStars Team Pro Muskan Sethi, last night`s 10k Kickoff runner-up Siddharth Mundada, Ankit Ahuja, Vikram Reddy, Rajeev Kanjani and some few others. Around 5 players have stack above a million chips each!
1:55pm: It's the end of the journey for WSOP bracelet winner Aditya Sushant who busted with A4 against Sahil Agarwal's A9 on a bricked board. The first 45 minutes saw quite a few eliminations which included Sanjay Kumar, Ankit Bhansali, defending champion Pranay Chawla, Abhishek Goindi, Mani Singh, Siddhanth Kapoor and Roshan Rodrigues. By the looks of it, we might reach the bubble soon!
1pm: All set for Day 2? Well, the players surely are as they're all pouring in one by one. Remember, 58 hit the tables but only 24 of them will be paid today!
3:15am: Don't ask us how but Jai Saha manages to always top the charts when there's a Highroller of other major tournament in India or even overseas. Currently, he's second in chips as 58 players bag to resume on Day 2. In the lead is Raag Fernandes who takes 1.3 million chips forward. Top 10 chip counts:
Raag Fernandes – 1,356,000
Jai Saha – 1,277,000
Nathan Rao – 994,000
Sahil Mahboobani – 942,000
Nitin Gupta – 929,000
Rahul Byrraju – 915,000
Prem Amarnani – 884,000
Rajat Sharma – 864,000
Ayush Garg – 855,000
Sriharsha Doddapaneni – 814,000
2:10am: From the field of 210 entries that registered to the 100k Highroller, only 24 will be paid, with the min-cash at INR 1.88 Lakh. With a massive INR 2.03 Crore prize pool, there will be a whopping INR 51.61 Lakh top prize reserved for the last man standing in this tournament. See the top 10 payouts here:
1st – INR 51,61,900
2nd – INR 35,21,200
3rd -INR 20,87,900
4th – INR 12,70,100
5th – INR 9,80,000
6th – INR 8,12,800
7th – INR 6,92,600
8th – INR 6,04,000
9th – INR 5,18,200
10th – INR 4,46,100
1:35am: Kunal Khemu has busted one level before the end of day's play. Anita and Raj Kundra have also dropped their stacks towards the end of day. Some of the chip leaders when we last checked included Sahil Mahboobani, Nathan Rao, Gaurav Sood and others.
17th Jan, 12:50:am: We've arrived at 210 entries and have gone ahead to beat that IPC record of the Highroller. Around the field, Anita Hassanandani and Kunal Khemu were having fun at the featured table, chipping up every now and then. IPC Director Rajeev Kanjani also worked his way up, busting Siddarth Singhvi with AQ vs AJ recently at Table 12. However, Singhvi quickly re-entered the tournament. 
11:55pm: The count has crossed 200! Just around 8 entries until we create a record-breaking IPC Highroller field. 
10:50pm: Another break has been called for and all the celebs in the house seem to have decent or good stacks. In fact, we just overheard Anita Hassanandani saying that's she's one of the chip leaders at the moment. 191 entries is the latest count with 16 left to break last time's record!
#ICYMI: We caught up with the winner of the 10k Kickoff Event, Vinod Megalmani:
9:40pm: We have some chip counts for you post the dinner break:
Goonjan Mal – 420,000
Sahil Mahboobani – 325,000
Abhishek Goindi – 292,000
Anuj Yadav – 292,000
Abhishek Jalan – 278,000
Rahul Byrraju – 255,000
Rajat Sharma – 245,000
Raj Kundra – 230,000
Nadeem Basha – 202,000
Ranjit Negi – 195,000
8:50pm: Who knew that the guarantee would be passed so soon? At the end of Level 4, we had 152 entries in the event and quite a few celebrities have come in too, like Anita Hassanandani, Kunal Khemu, Karan Patel, Siddhanth Kapoor, Shruti Sinha, Baseer Ali and Raj Kundra. 55 entries are still needed to equal last Highroller's record of 207 entries, and the registration period is on till the start of Level 10.
7:15pm: Quite a few regulars and notables in the field so far. Some of them include Goonjan Mall, Vaibhav Sharma, Adda52 Pro Kunal Patni, Vidwath Shetty, Deepak Bothra, Rajat Sharma, Siddharth Singhvi, Sriharsha Doddapaneni, Mayank Agarwal, Rajeev Kanjani, Manoj Pentakota, Madhav Gupta, Laksh Pal Singh, Nadeem Basha, Ashish Ahuja, Gokul Raj, Ashish Munot, last edition's Main Event champion Raj Talwar, bracelet winner Abhinav Iyer, Phanindra Akkina, Vivek Rughani, Kavish Kukreja, Zarvan Tumboli, Sahil Agarwal and others…
6:00pm: It's been a busy day today at the India Poker Championship. On one hand, we have the 10k Kickoff Event taking place which is currently playing out the final table. On the other hand, we have the 100k Highroller just kicking off. There's a massive difference in the two fields, the latter including all of India's top pros who are here to cash big and probably take home a prestigious IPC trophy as well. Keep watching this page for updates from the 100k Highroller!
---
---
Comments