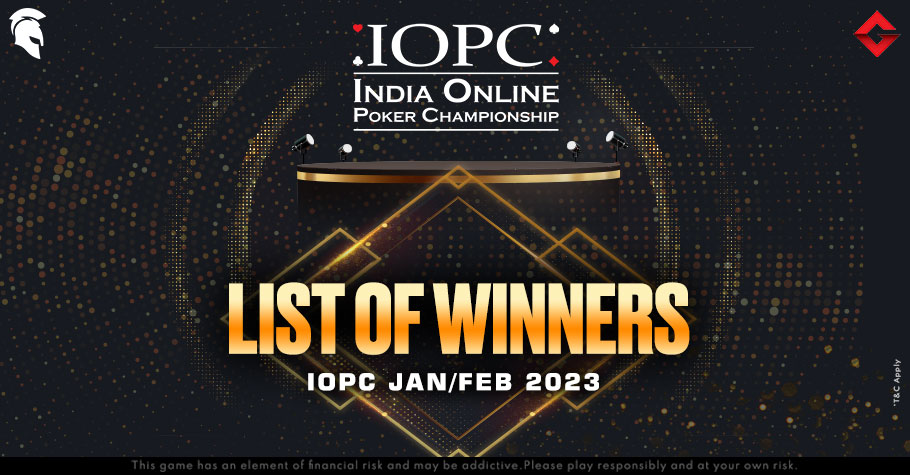 Poker
---
IOPC Jan 2023 Winners List
Day 18
IOPC #134 (8 Lakh GTD) – Utkarsh Vaish – ₹1,69,240

IOPC #135 Monster Stack (₹8 Lakh GTD) – Shagun Jain – ₹1,78,130

IOPC #136 Sunday Prime (₹70 Lakh GTD) – Md Asraf Ali – ₹16,52,259

IOPC #137 All Rounder SNG (₹6 Lakh GTD) – Vikas Yadav – ₹3,00,000IOPC 

IOPC #138 Sunday High (₹40 Lakh GTD) – Abhinav Iyer – ₹14,61,460

IOPC #139 Value Millionaire (₹50 Lakh GTD) – 'Likita Nuther' – ₹8,71,484

IOPC #140 Value Mine (₹35 Lakh GTD) – 'driller' – ₹4,12,928

IOPC #141 The Crown (Main Event) (₹5 Crore GTD) – Aditya Agarwal – ₹57,73,214

IOPC #142 (₹15 Lakh GTD) – Bhanu Prakash – ₹3,02,485
Day 17
IOPC #126 (₹3.50 Lakh GTD) – Vikhyat Ahlawat  – ₹85,402

IOPC #127 (₹5.50  GTD) –  Saurabh Rohila – ₹1,28,340

IOPC #128 (₹3.50 Lakh GTD) – 'pvis' – ₹70,455

IOPC #129 (₹6 Lakh GTD) – Sandeep Varma – ₹1,20,277

IOPC #130 Saturday Prime (₹35 Lakh GTD) – 'Aksh29' – ₹7,01,555

IOPC #131 PLO High Roller (₹45 Lakh GTD -6 Max) – Umesh Ramakrishna – ₹10,46,250

IOPC #132 Saturday Spotlight (₹13 Lakh GTD) – Karan Kapur – ₹2,98,275

IOPC #133 PKO (₹6.50 Lakh GTD) – Vinay Verma – ₹74,841
Day 16
IOPC #118 (₹3.50 Lakh GTD) – Aditya Sushant – ₹78,713

IOPC #119 (₹7 Lakh GTD) – Areyann Gurbaxani – ₹1,43,457

IOPC #120 (₹4 Lakh GTD) – Cherag Batliwalla – ₹85,600

IOPC #121 (₹4 Lakh GTD) – Sanjay Mohan – ₹1,08,470

IOPC #122 Friday Prime (₹60 Lakh GTD – Vishal Ojha – ₹10,23,645

IOPC #123 Friday High (₹40 Lakh GTD -6 Max) – Aditya Singh – ₹7,15,293

IOPC #124 Friday Spotlight – Triple Chance (₹20 Lakh GTD) – 'TeenTakle1212' – ₹2,84,464

IOPC #125 All Rounder (₹11 Lakh GTD) – 'stAtisticiAn' – ₹2,12,300
Day 15
IOPC #110 (₹4.50 Lakh GTD) – 'Prometheue' – ₹87,262
IOPC #111 (₹5.50 Lakh GTD) – Shrey Baj – ₹1,10,275
IOPC #112 (₹4.50 Lakh GTD) – 'HIGH FREQUENCY' – ₹87,705
IOPC #113 Triple Chance (₹6 Lakh GTD) – Amol Nakhwa – ₹1,63,959
IOPC #114 Thursday Prime (₹40 Lakh GTD) – Aditya Singh – ₹8,71,226
IOPC #115 Mega High Roller (₹1 Crore GTD -6 Max) – Anmol Srivats – ₹53,35,000
IOPC #116 Thursday Spotlight (₹20 Lakh GTD) – Nikhil Jain – ₹4,18,617
IOPC #117 All Rounder (₹11 Lakh GTD) – Pravin Jain – ₹1,56,768
Day 14
IOPC #102 (₹4 Lakh GTD) – Madhav Singh – ₹63,019

IOPC #103 PKO (₹6.50 Lak GTD) – Habil Jiruwala – ₹69,924

IOPC #104 (₹4.50 Lak GTD) – Arsh Grover – ₹91,213

IOPC #105 PLO4 Card (₹4 Lakh GTD) – 'OMGdabangg2' – ₹56,872

IOPC #106 Wednesday Prime (₹50 Lakh GTD) – Sashank Chakravarthy- ₹8,02,604

IOPC #107 Wednesday High (₹30 Lakh GTD -6 Max) – Mahesh S – ₹8,99,775

IOPC #108 Wednesday Spotlight (₹15 Lakh GTD) – 'Sagar97706' – ₹3,72,823

IOPC #109 All Rounder (₹11 Lakh GTD – PKO) – Varun Bansal – ₹95,584
Day 13
IOPC #94 Triple Chance (₹3.50 Lakh GTD) – Rakesh Nizare – ₹97,079

IOPC #95 (₹6.50 Lakh GTD) – Neeraj Sattawat – ₹1,51,063

IOPC #96 (₹4.50 Lakh GTD) – 'KAKAROT98$' – ₹96,224

IOPC #97 Triple Chance (₹6 Lakh GTD) – Clinton Tavares – ₹1,62,676

IOPC #98 Tuesday Prime (₹40 Lakh GTD) – 'Blinddaddy' – ₹7,98,576

IOPC #99 Tuesday High (₹25 Lakh GTD -6 Max) – Ashit Sharma – ₹7,97,355

IOPC #100 Tuesday Spotlight (₹16 Lakh GTD) – Aditya Singh – ₹3,08,449

IOPC #101 All Rounder (₹11 Lakh GTD- Boost) – Shivam Kumar Dubey – ₹1,75,751
Day 12
IOPC #87 R+A (₹3.50 Lakh GTD)

– Parag Shah – ₹72,881

IOPC #89 (₹4.50 Lakh GTD)

– Abhishek Sonu – ₹91,057 

IOPC #88 (₹7 Lakh GTD)

– Ravinder Singh – ₹1,48,050

IOPC #90 PKO (₹6.50 Lakh GTD) –

Vinay Rajpal – ₹59,437

IOPC #91 Monday Prime (₹35 Lakh GTD) –

Vishnu Khandelwal – ₹7,03,976.

IOPC #92 Monday Spotlight (₹17 Lakh GTD)

– Neeraj Tomar – ₹3,41,127 

IOPC #93 All Rounder (₹11 Lakh GTD- 6 Max) –

Mohit Mehta – ₹2,21,757
Day 11
IOPC #79 DST (9 Lakh GTD) – Shardul Parthasarathi – ₹1,68,196

IOPC #80 Monster Stack (8 Lakh GTD) – Parag Shah – ₹1,35,630

IOPC #81 IOPC Millionaire (1 Crore GTD – 6 Max) – Rahul Singroha – ₹16,64,745

IOPC #82 Sunday High (50 Lakh GTD -6 Max) – Shagun Jain – ₹15,39,792

IOPC #83 Sunday Spotlight (28 Lakh GTD) – 'TPARTNER26' – ₹5,18,821

IOPC #84 – 40 Lakh GTD – Wanderer Day 2 – Vinay Rajpal – ₹4,42,159

IOPC #85 – 2.50 Crore GTD – Beast Day 2 (6 Max) – 'APcomingsoon' – ₹46,27,875

IOPC #86 PKO (9.50 Lakh GTD) – Deepak Singh – ₹91,370
Day 10
IOPC #72 (₹4 Lakh GTD) –  'SMRV123456′ – ₹82,223

IOPC #73 PKO (₹6.50 Lakh GTD) – Clinton Tavaress – ₹86,616

IOPC #74 (₹3.50 Lakh GTD) – '3HitTaxi' – ₹70,175

IOPC #75 Triple Chance (₹7 Lakh GTD) – 'bloodring_banger' – ₹1,77,099

IOPC #76 Saturday Prime (₹35 Lakh GTD) – Harsh Dev – ₹4,47,160

IOPC #77 Saturday Spotlight (₹14 Lakh GTD) – Saurabh Rohila – ₹3,03,154

IOPC #78 (₹7.50 Lakh GTD) – Parag Shah – ₹1,51,119
Day 9
IOPC #65 (₹4 Lakh GTD) – Sawan Kumar – ₹81,363

IOPC #66 Monster Stack (₹8 Lakh GTD) – Manish Lakhotia – ₹1,61,961

IOPC #67 (₹4.50 Lakh GTD) – Moji Padu – ₹77,447

IOPC #68 (₹5 Lakh GTD) – Ashish Ahuja – ₹1,32,521

IOPC #69 Friday Prime (₹60 Lakh GTD) – Aditya Agarwal – ₹13,03,516

IOPC #70 Friday Spotlight – Triple Chance (₹20 Lakh GTD) – Avinash Kumar – ₹3,35,731

IOPC #71 All Rounder (₹11 Lakh GTD- 6 Max) – 'suman4456' – ₹2,21,636
Day 8
IOPC #57 PKO (₹5.50 Lakh GTD) – Akshay Vohra – ₹63,361

IOPC #58 (₹6.50 Lakh GTD) – Sumeet Rajpurohit – ₹1,18,158

IOPC #59 (₹4 Lakh GTD) – Sanjay Mohan – ₹89,361

IOPC #60 Monster Stack (₹8 Lakh GTD) – Vikas Yadav – ₹1,68,360

IOPC #61 Thursday Prime (₹40 Lakh GTD) – Snehil Aggarwal – ₹8,29,967

IOPC #62 Super High Roller (₹1.25 Crore GTD -6 Max) – Ashish Munot – ₹31,93,750

IOPC #63 Thursday Spotlight (₹20 Lakh GTD) – Ayush Arora – ₹4,20,064

IOPC #64 All Rounder Monster Stack (₹11 Lakh GTD) – Vikram Mishra – ₹2,12,740
Day 7
IOPC #49 R+A (₹4 Lakh GTD) – Abhijeet Kumar – ₹68,909
IOPC #50 (₹7.50 Lakh GTD) – Prabhas Sharma – ₹1,36,077
IOPC #51 (₹6.50 Lakh GTD) – Siddharth Kadel – ₹1,04,249
IOPC #52 (₹6 Lakh GTD) – 'chipUp124' – ₹1,46,916
IOPC #53 Wednesday Prime (₹50 Lakh GTD) – Dhiraj Lakhotia – ₹7,96,960
IOPC #54 Wednesday High (₹30 Lakh GTD -6 Max) – Rahul Singroha – ₹8,90,430
IOPC #55 Wednesday Spotlight (₹17 Lakh GTD) – Harsh Bubna – ₹3,03,857
IOPC #56 All Rounder Monster Stack (₹11 Lakh GTD) – Mahima Walia Das – ₹2,30,731
Day 6
IOPC #41 Triple Chance (₹5 Lakh GTD) – Dhaval Doshi – ₹1,34,022

IOPC #42 PKO (₹8 Lakh GTD) – 'KAKAROT98$' – ₹ 91,228

IOPC #43 (₹4.50 Lakh GTD) – 'shalvinCk' – ₹ 90,121

IOPC #44 PLO4 Card (₹5.50 Lakh GTD) – Kuttappan Assina – ₹ 1,13,719

IOPC #45 Tuesday Prime (₹40 Lakh GTD) – Samay Singh Modi – ₹ 6,74,093

IOPC #46 Tuesday High (₹25 Lakh GTD -6 Max) – Vinayak Bajaj  – ₹ 8,18,505

IOPC #47 Tuesday Spotlight (₹18 Lakh GTD) – Ujjwal Narwal – ₹3,75,112

IOPC #48 All Rounder (₹11 Lakh GTD- PKO) – Harsh Dev – ₹1,06,169
Day 5
IOPC #34 Triple Chance (₹5 Lakh GTD) – Vikram Mishra – ₹1,21,221

IOPC #35 (₹8 Lakh GTD) – Mohit Mehta – ₹1,68,780

IOPC #36 (₹5 Lakh GTD) – Snehil Aggarwal – ₹97,450

IOPC #37 (₹7 Lakh GTD) – Sumeet Rajpurohit – ₹1,66,530

IOPC #38 Monday Prime (₹40 Lakh GTD) – Gokul Raj  – ₹7,72,000

IOPC #39 Monday Spotlight (₹17 Lakh GTD) – Siddharth Kadel – ₹2,95,676

IOPC #40 All Rounder – Monster Stack (₹11 Lakh GTD) – Mohit Mehta – ₹1,86,598
Day 4
IOPC #24 (₹4.50 Lakh GTD) – Shreyas Mantri – ₹1,03,971
IOPC #25 (₹9 Lakh GTD) – Vinay B – 1,69,402
IOPC #26 Triple Chance (₹7.50 Lakh GTD) – Mahesh S – ₹1,99,192
IOPC #27 PLO6 Card (₹4 Lakh GTD) – Vinay Rajpal – ₹1,07,685
IOPC #28 Sunday Prime (₹65 Lakh GTD) – Rishabh Gupta ₹12,17,197
IOPC #29 Sunday High (₹50 Lakh GTD – 6 Max) – Aniket Waghmare – ₹17,31,008
IOPC #30 Sunday Spotlight (₹25 Lakh GTD) – Deepak Singh – ₹5,24,188
IOPC #31 – ₹2 Crore GTD – Blaze Day 2 – Dhaval Mudgal – ₹34,46,160
IOPC #32 – ₹30 Lakh GTD – D'Lite Day 2 – Pratik Kumbharjuvekar – ₹3,89,227
IOPC #33 (₹10 Lakh GTD) – Oustiner – ₹2,06,467
Day 3
IOPC #17 – ₹5 Lakh GTD  – 'MacMafia' – ₹82,704
IOPC #18 – ₹8.50 Lakh GTD – Buhr Advirkar – ₹2,02,104
IOPC #19 – Triple Chance – ₹4 Lakh GTD – Abhishek Agarwal – ₹1,20,047
IOPC #20 – Monster Stack – ₹9 Lakh GTD – Vinay Verma – ₹2,16,290
IOPC #21 – Saturday Prime – ₹35 Lakh GTD – Arjanveer Singh Chadha – ₹5,79,202
IOPC #22 – Saturday Spotlight – ₹15 Lakh GTD – 'Devilis007' – ₹3,52,471
IOPC #23 – ₹9.50 Lakh GTD – Bhanu Prakash – ₹1,90,595
Day 2
IOPC #10 – ₹8.50 Lakh GTD – Nandan Pugalia – ₹2,09,520
IOPC #11 – ₹5.50 Lakh GTD – Karan Radia – ₹1,22,847
IOPC #12 Deepstack – ₹8 Lakh GTD – Rohan Kumar – ₹1,88,819
IOPC #13 Friday Prime – ₹55 Lakh GTD – 'MysteriousWays' – ₹1,175,640
IOPC #14 High Roller ₹1 Crore GTD 6 Max – Aniket Waghmare – ₹20,22,745
IOPC #15 Friday Spotlight – Triple Chance – ₹20 Lakh GTD – Gopal Kumar Jha – ₹4,18,785
IOPC #16 All Rounder Deepstack – ₹11 Lakh GTD – Ravinder Singh – ₹2,04,957
Day 1
IOPC #1 – Launch Party – ₹20 Lakh GTD –

'Haywire910' – ₹2,68,821

IOPC #2 – ₹11 Lakh GTD –

Snehil Agarwal – ₹2,08,503

IOPC #3 – ₹6 Lakh GTD

–

Abhishek Sonu – ₹1,06,307

IOPC #4 – Monster Stack – ₹8 Lakh GTD –

Ujjwal Narwal – ₹2,15,341

IOPC #5 – Thursday Prime – ₹45 Lakh GTD – Kiran Ainala – ₹7,61,607

IOPC #6 – Thursday High – ₹35 Lakh GTD –

Dhruvin Kothari – ₹8,75,215

IOPC #7 – Thursday Spotlight – ₹20 Lakh GTD – Gopal Bajaj – ₹3,66,725

IOPC #8 – All Rounder Deepstack – ₹11 Lakh GTD – Vikas Yadav – ₹2,04,206
One of India's biggest and most anticipated online poker series, India Online Poker Championship (IOPC), is back with its 14th edition, and it is grander than ever before. Why do we say so? IOPC Jan/Feb 2023 has a humongous guarantee of ₹43 Crore, along with a leaderboard worth ₹1.5 Crore apart from the medallions and the ultimate diamond-studded gold crown. 
Running between 19th January to 5th February 2023, IOPC Jan/Feb 2023 is loaded with 142 action-packed events with high-value guarantees. Needless to say, this edition of IOPC is all set to witness the game of poker on the virtual felts in all its glory as the players put their best foot forward to have their names etched in the history of IOPC.
Having an IOPC title to one's name ain't an ordinary deal because one has to emerge victorious after battling and beating the best in business. Being an IOPC title holder is a mark of a skill and talent for any poker player, as one has to earn it! And those who win surely deserve their due credit. 
Hence, in this article, we will be listing down the names of players who clinch an IOPC title. The IOPC Jan/Feb 2023 winners list will be updated every day with the names of players who become IOPC champions and we shall have 142 winners to celebrate. 
So watch this space to stay updated with the daily list of winners as they add the prestigious IOPC titles to their credit along with the winning amount they take home. Similarly, you can also check out the daily IOPC Jan/Feb 2023 leaderboard rankings here.
For more news and updates, keep reading Gutshot Magazine. Follow us on Facebook, Instagram, Twitter, and Telegram.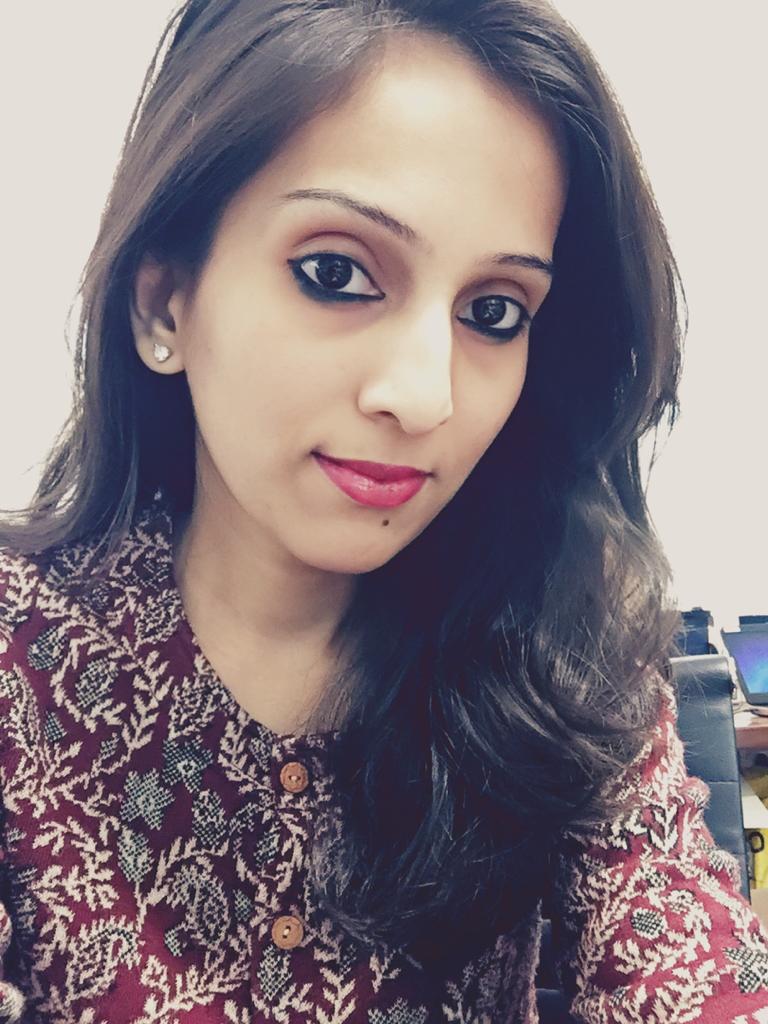 With a Masters Degree in Journalism and Communication, Mrinal Gujare currently is cruising through an exciting genre of writing and editing at Gutshot Magazine. Apart from being an Editor, Mrinal is an avid reader and a former contemporary dancer. She is also perennially hungry for intriguing scoops from across the globe. No holds barred is the rule Mrinal follows in life.
---
---
More News
---
Comments