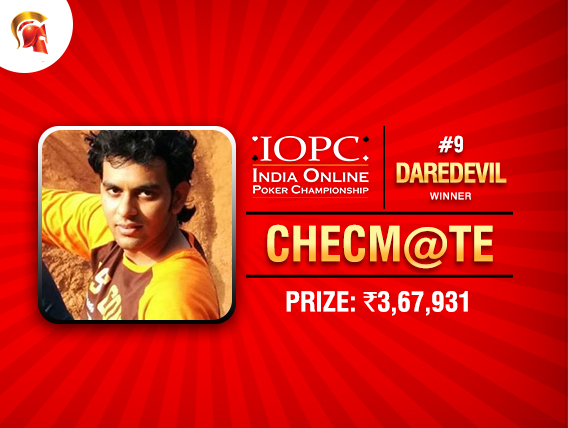 Poker
---
IOPC: Apratim Sharma tames Spartan DareDevil
The India Online Poker Championship (IOPC) at The Spartan Poker was on in full swing as the evening rolled around to the daily featured tournament in the DareDevil. Due to the IOPC, the added extra to this tournament was an increased guarantee from INR 11 Lakhs to 15 Lakhs. At the end of it all, it was was Apratim Sharma, playing as 'checm@te', who claimed the top spot and biggest share of the prizepool.
INR 15.82 Lakhs was collected in the prizepool when 159 entries took part in this event. 23 players got paid out with INR 23,357 being the min-cash for this featured tournament. Another familiar reg in Pulkit 'Championplayer' Goyal made the final table and in fact was knocked out in the second runner-up position when 'Crime_Master_Gogo' (Ad 9d) made a pair of Nines against Championplayer's Kc Ah on a board of 9c 6c 5s Th 7h which also led to him getting into heads-up against checm@te.
Heads-up went for a long while with neither player will to give an inch. checm@te though was starting to pull away and while Crime_Master_Gogo made a number of attempts to claw back the lead, it stayed primarily with checm@te. Eventually it came down to the final hand of the tournament with checm@te holding a 3 million chip lead to the 618k stack of Crime_Master_Gogo. Pocket Threes seemed like a very good hand in heads-up to move all in with and that's exactly what he did with 3d 3s. checm@te had decent holdings too in Ad 6d. It all flipped around on the turn card as the board 5h Qs 4s 6s Tc gave checm@te a bigger pair and thus the title and payday of INR 3,67,931. Despite the loss it was not too shabby a day for Crime_Master_Gogo as he took home INR 2,49,243 for the runner-up spot.
We asked Apratim Sharma to share any key hands from the tournament, "I amassed a massive chipstack at the beginning. One interesting hand in the early stages was – mid position opened, button called, I defenced the bb with T 7o, flop came Ax Tx Tx, and flop was checked around, turn was a 7x giving me full house, Turn was checked around as well. River was an inconsequential 3x, so the board was Ax Tx Tx 7x 3x. I decided to play it deceptively and checked the river as well, thinking this line would make the most money from Ax and then pick off any bluffs. Initial opener overbets the pot (~6ki5k), button calls and I shoved for ~27k. Initial opener tanks and then calls it off with Ax Jx. This hand made me top 3 stacks. However then lost a key hand vs another big stack with straight vs flush.  Then I grinded out and won couple of all-ins on the way to reach the final table. On the final table one eventful hand 5 handed was UTG player jammed for 12bb, cutoff flat calls with ~30bb stack, I was at the big blind looking at 'kk' and I naturally reshoved (pretty good spot :)). Cutoff player tanks for a while and folds. UTG player had Qs Js, and the board ran out clean giving me a big chip lead. Cutoff player wrote in the comments that he folded Tx Tx (but who knows?!)."
Sharma is very focused on what he want's to do next in poker, "Currently I just want to focus on IOPC, and meanwhile becoming better and better at the game everyday. May be in near future I would like to jump into good live games as well rather than only playing online."


---
---
Comments