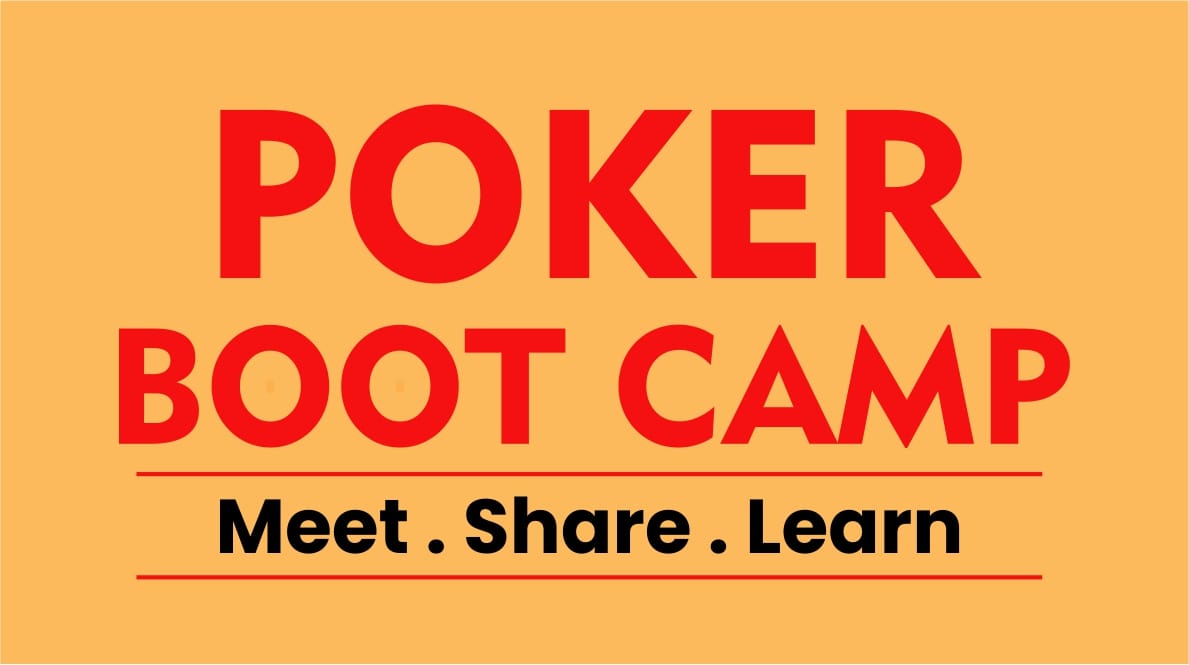 Poker
---
Introducing the Poker Boot Camp 2018
As you all know, poker is still in the growing stages in India. In a country like ours, where people consider poker as a luck game based and not a skill-based game, it is not easy to change people's perception about poker and still many people from the poker fraternity take initiatives to get the truth out to the people about the sport. Though online poker has been legalized in most of the states in India, we still must cover a lot of ground to complete the process.
Poker, being a skill-based game, has people constantly wanting to improve and learn about the game. Even new recreational players do not prefer getting into the game without proper knowledge of the game and most players already familiar with playing poker want to keep gaining knowledge and this is a never-ending process as everyone wants to win and proper knowledge and the want to improve are the key ingredients.
The Poker Boot Camp 2018 is an interactive and learning initiative started and organised by the infamous Firoz Khan aka 'Professor z4' and his friend Ankit Takle. It will be held in Lonavla on 12th, 13th and 14th October. Firoz, based in Mumbai, is a professional poker player and a professor for engineering course. He got introduced to poker by friends and started playing and finishing in top spots in micro SnGs in the initial stages and decided to gather knowledge about the sport. His journey continued by playing in poker circuits of Pune, Bangalore and Mumbai and later played MTTs after realising that pan India recognition lies with it. 
He also played for the team Goan Nuts, the team that topped the competition, in the second season of the Poker Sports League while Ankit Takle, based in Mumbai too, is a professional poker player and LLB Practicing Advocate and he played for the Gujarat Falcons and they finished second in the same league. Gutshot recently had a conversation with Firoz Khan about the upcoming Poker Boot Camp 2018 and he answered a few questions we had for him.
Q] What is this Boot Camp about and what the agenda of the initiative?
"Boot camp is an innovative interactive knowledge experience sharing platform for anyone who wants to understand the dynamics of Poker. The agenda of the Boot camp is to make players realize their mistakes, plug their leaks & improve on the overall outlook of Poker hence making them a better player."
Q] How much do the participants pay and what is the criteria for someone to be a part of this boot camp?
"The participation fees is Rs.15,000 which includes travel from Mumbai/Pune to Lonavala & back, stay in a private resort, all meals along with a player introduction party. Anyone and everyone who is willing to learn & has passion for the sport of Poker."
Q] What do the participants expect coming into this camp?
"Poker learning session relaxing two days and just taking about one thing you love the most – POKER! EAT-SLEEP-POKER-REPEAT"
Q] How did you come up with this idea?
"One of our friends, Rohit Pande, an upcoming poker player asked us for some guidance to prepare for the WPT India in November. He suggested we should do this over a weekend on the outskirts of Mumbai to impart seriousness to the whole concept. This idea grew larger as we thought to increase the number of participants for the entire session & The Boot camp slowly took shape. We got great support & appreciation from the senior players in the industry, so we launched the Idea to the entire poker community."
Q] How much footfall/ participants do you expect?
"The Boot camp is limited only to First 25 participants in its initial edition and the seats are fast filling. We would definitely want to increase the scope in our subsequent editions."
Q] Are any poker pros going to be a part of this camp?
" All participants share & learn together. Although some senior players will be joining us in Lonavala."
Q] As a player, how helpful will this camp to the participants?
"As mentioned above it is a interactive and sharing session. It will definitely improve you as a player in many ways. But at the end it is up to the participants as how much they are eager and passionate about learning."
Keep reading GutshotMagazine.com for more updates on the top poker initiatives across the country.
Check out our online poker rooms section, where you can read reviews on the biggest and best poker rooms in the country, while also taking advantage of their bonuses and promotions. Check out these top poker rooms HERE.
---
---
Comments