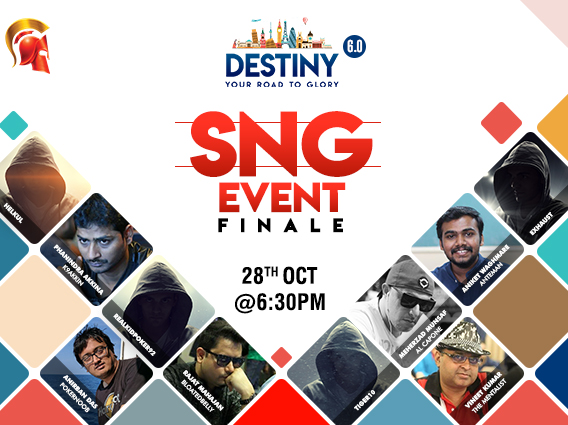 Poker
---
Introducing the Destiny 6.0 Finalists
Destiny is one of The Spartan Poker's most popular tournament offerings, which has a weekly tournament every Wednesday, and the finale offers a fully paid package trip to an international poker series. Destiny 6.0 is currently on and the Finale SnG is set to take place later today, with 10 winners ready to battle it out for the INR 10 lakh package trip to Europe.
Here's a look at the finalists:
1) 'Helkul'
This was the first tournament of Destiny 6.0 series and at the end of it all, it was 'Helkul' who took down the title after beating 462 entries and some of India's top pros. He was enjoying a good run at that point of time, also shipping the Triple Bubble tournament a couple of nights later. He won INR 5,12,150 plus an INR 1 lakh ticket in the Finale SnG.
2) Meherzad Munsaf
One of the veterans of the Indian poker industry, Meherzad Munsaf also called 'al capone' on Spartan was the winner of the second Destiny 6.0 tournament, beating a strong field of 504 entries. Incidentally, 'helkul' managed to reach heads-up once again, this time unable to take it down, losing to Munsaf. The latter won INR 5,67,800 excluding the INR 1 lakh ticket to the Finale.
3) Anirban Das
Anirban Das aka 'pokernoob' is an extremely well-known player in the online circuit, with plenty of wins to his name. This victory was once again out of a field of 504 entries, which led him to winning the prize amount as Munsaf did the previous week. Das continued his love affair with Destiny, with this in fact becoming not his first or second, but third Destiny victory on Spartan.
4) 'realkidpoker92'
This online grinder, whether male or female, we don't know, but what we do know is that the player stands a chance to fly to Europe, winning the fourth Destiny tournament of the series. 'realkidpoker92' beat 365 entries to win this edition, which was a much smaller field than the rest of the Destiny tournaments, but the winners will all start as equals today in the Finale.
5) Rajat Mahajan
Half the field was ready for the Finale SnG when Rajat Mahajan aka 'BloatedBelly' shipped the fifth tournament of Destiny 6.0. Here, he outlasted a field of 421 entries and was handsomely rewarded with INR 5,62,500 in tournament winnings in addition to his ticket to the Finale. Online and live pro Sumit Sapra also made a deep run, finishing 3rd in this tournament.
6) Vineet Kumar
Vineet Kumar aka 'The Mentalist' came out on top a field of 493 entries to win a prize of INR 5,62,500 plus the Finale ticket to become the 6th person to progress to the Finale SnG. Just prior to this, he also won the Cool Leaderboard and promised bigger wins, this delivering on that promise. He beat Sahil Mahboobani aka 'ImHighIShove' in heads-up.
7) 'Exhaust'
Here's another player who wished to keep his identity a secret. However, that may change if he manages to take down the Europe package Finale SnG. In the seventh tournament of the series, he outlasted 493 entries to win the prize of INR 5,62,500 plus the ticket to the Finale and will be excited to play amongst some top pros in the Finale.
8) Aniket Waghmare
This was an SSS-special Destiny tournament which meant a bigger field and bigger prizes on offer. Aniket Waghmare aka 'Anteman' won INR 5,81,050 plus his Finale ticket of INR 1 lakh, after he dominated a field of 514 entries on the night. He performed pretty well throughout that SSS series.
9) 'Tiger10'
465 entries registered to this, the ninth Destiny tournament of the series, where 'Tiger10' shipped the tournament for INR 5,62,500 plus his ticket to the Finale. This guy has been having a brilliant run in online poker, with plenty of wins on Spartan, including winning Daredevil last night.
10) Phanindra Akkina
This was the final tournament of the sixth edition of Destiny on Spartan. 400 entries took part when the tournament was contested a few days back, and Phanindra Akkina aka 'k9akkin' came out on top of the field to win INR 5,62,500 and his ticket to the Finale. He, like Anirban Das, has also won the Destiny in the past, making this the second time he makes the Finale and his second chance to win the Europe package trip.
Keep reading GutshotMagazine.com for an update on who wins the Destiny SnG Finale which takes place tonight at 6:30pm.


Don't have an account on The Spartan Poker? Don't miss out on their bonuses, promotions, and guarantee-smashing tournaments. Sign-up now by clicking HERE.
---
---
Comments