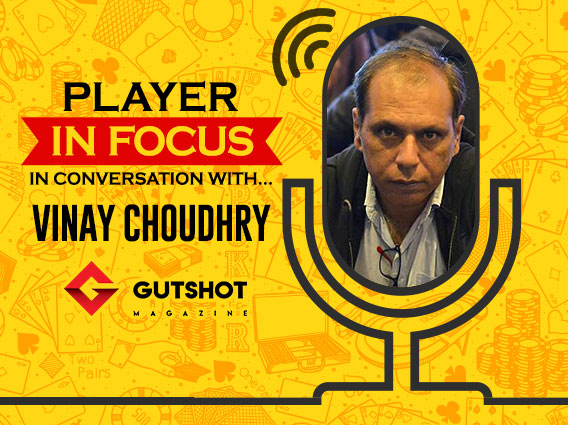 Poker
---
In Conversation with Vinay Choudhry aka 'Dhanraj Seth'
Poker is growing rapidly in the country and very often, we come across big tournament offerings by the biggest companies in India. Along with these tournaments of course, come big winners. One of these big winners is Vinay Choudhry, who has been having a brilliant run in online poker, most specifically on The Spartan Poker, where he was one of the heroes in the recently concluded Spartan Super Series (SSS).
In this one-on-one feature Gutshot will interview some of the big winners and regs of the circuit and get some insights on how they managed to get so good at the game. We decided, why not start with Choudhry? He cashed out in 16 of the 37 scheduled events in the SSS series that ran between 10-16 September, including 6 final tables and an amazing 3 titles!
We wanted to have a word with the player and get to know him better. 48-years old and married with two kids, the player grew up all over country as his father was in the Indian Air Force. He spent 10 years in Canada where he made his first trip to a casino in 2007, and that's how his poker journey began. After live, he shifted to online poker and also won many tourneys online on Full Tilt Poker and PokerStars. He returned to India in 2010 and was introduced to the Indian poker industry in 2016. 
Though he's had many victories in online poker, he spoke about the ones that stand out and the most memorable ones, including a 2-way deal in The Elite, the Bounty $22 on PokerStars.com, the recent wins in SSS (of course) and The Elite HR Final Table (5th place), recovering from 23/24.
We were very intrigued by the player's username 'Dhanraj Seth' and wanted to know the reason and the mystery behind it. He said, "A very strange coincidence led to the creation of this ID. While choosing the ID, I had in mind the fact that I want to be the villain of all poker stories but couldn't come up with a name. At that time, an old movie was running on TV, and the hero was addressing the villain as Dhanraj Seth. It just struck me because in old movies, Dhanraj Seth has always been the 'wealthy villain'."
Q. Tell us about your journey through the SSS, where you had a dream run and finished second on the Leaderboard?
"It was a dream start to this SSS, winning the inaugural event. Not only did that gave me immense confidence, but it also became my beacon in other tourneys whenever I was at sea and was losing my stack. When I look at it in hindsight, it all began with me shipping four tourneys in LBS which concluded just before SSS. After winning Event #1, it was Event #11, but I wasn't able to convert good starts into deep runs in majors.
Then came the Elite High Roller – perhaps my biggest single tourney score on any Indian poker site. I didn't set my sight on the leaderboard till the Elite HR. There was a healthy war up on the leaderboard, but on Saturday Sumit Sapra took a sizeable lead to leave us all fighting for the second spot more or below."
Q. What are the next tournaments you will be eyeing in online poker?
"I am looking forward to extending the winning streak to all major tourneys on The Spartan Poker and also on PokerBaazi. Winning The Millionaire and/or The MoneyMaker is every Indian poker player's aim. There are a couple of upcoming series also like PPL and the next SSS or IOPC. I hope to do well in them."
Q. Most players in the circuit are much younger than you. How is that working out for you?
"It's actually working out pretty well. First of all, the presence of younger guys makes me feel at least 10 years younger if not more. LOL. As I am competing with the best in the field, it works as an adrenaline booster for me, and keeps me on my toes. And these guys are doing fantastic. Look at Nishant Sharma for instance. How's that for an inspiration?"
Choudhry lives far away from the Indian cities that host live poker tournaments, so logistics are a killer for him when it comes to live poker. Having two growing kids also doesn't allow too much flexibility to move to these towns for good either. Even live cash games with friends is something that he plays once in a blue moon. Of course, he started his poker career playing live in Canada and he expressed how he's looking forward to find a way to increase his live poker playing in the coming months.
Q. What is your favourite online poker website(s). And why?
"The Spartan Poker – for the superb series they present and the value they give in terms of guarantees and regularity of their daily schedule. PokerBaazi too – for very good games and mostly for providing a feeling of a 'king' to players. I used to grind a lot, almost 10-12 tourneys on PokerStars.com before they shut the doors on Indian players. I hope Spartan and PokerBaazi will populate their schedule more."
Q. Do you have any poker strategy or motto in particular?
"Be it online or live, the only strategy that has worked for me is 'play the player' and I believe that is what poker is all about."
Q. Anything else you would like to add for our viewers?
"During my last two years of playing on the Indian circuit, I have associated with a very loving poker fraternity. I would like to thank them for all the love and affection. Especially Rajesh 'Bahu Bali' Shukla, Anant 'Pro' PS, Navdeep 'Psychonaut' Sahi, and Gireesh Naagpal, who have always stood by me, no matter what. Also, a big shout to Danish Shaikh who coached me for a few days, one of the best guys to go to for poker in our country."
Keep an eye out on GutshotMagazine.com for more in-depth interviews with the top poker players like Vinay Choudhry, as well as interviews with the top entities in the industry.
Check out our online poker rooms section, where you can read reviews on the biggest and best poker rooms in the country, while also taking advantage of their bonuses and promotions. Check out these top poker rooms HERE.
---
---
Comments