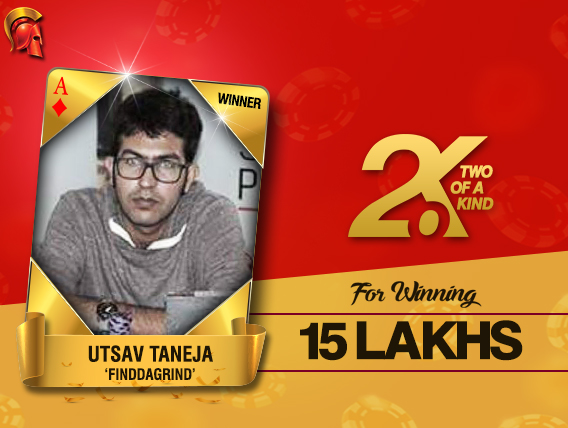 Poker
---
In conversation with October 2oK winner Utsav Taneja
Earlier, we spoke about October's Two of a Kind (2oK) tournament where two players in Sahil Rajwani and Utsav Taneja picked up the top prizes of INR 15 lakh each. Gutshot then caught up with both players individually to get to know more about their poker backgrounds and the tournament experience for each one.
We conducted an interview with Sahil Rajwani and then caught up with the other winner, Utsav Taneja. Taneja is 24-years old and has always inclined towards the subject which everyone doesn't like – Mathematics. He was interested in Statistics and Algebra in particular. Born and brought up in a small town of Kurukshetra, Haryana, he graduated from IIT Kanpur in the field of Aerospace Engineering. He began his corporate rat race as a data analyst for about 6 months but after graduation, he wasn't very happy with the job. It's a proud moment for him as he's pursuing the game of poker to be a master with getting family support being a short-term goal.
Talking about the start of this journey, he said, "I was introduced to the game back in 2008 when my brother started playing. The first time I actually played was in 2011 (first year of undergrad). We have a healthy community of poker players in IIT Kanpur and we host cash games and MTTs (~200 field size) on a regular basis. Within a month, I developed a strong affinity towards the game. We used to have long cash game sessions. They used to be very small buy-in games, but we would all play according to the best of our abilities because of our common motive of learning the game. It was only after I came to Gurgaon in 2016 that I started taking the game seriously."
"I played all low to mid stakes tournaments on Adda52 for about 3 months. I started playing live games in Gurgaon around August 2016. These live games were much softer in comparison to the online fields. I was crushing these live games on the limits of my bankroll. I was playing regularly but was not really working on my game during this period," he added.
"It was in May 2017 after talking to some of the people that I looked up to, that I decided to join a poker stable. I joined RunGood as a PLO player, sometime around mid-June. I started playing at 10/20 and I was really happy since the field was relatively easy and I was making decent profits with the basic game strategies. I was playing regularly for about 4 months. I decided to shift to playing poker tournaments particularly because of my inclination towards game theory and other mathematical aspects of the game. I got selected for Alpha Grinders (under Sharad Rao's coaching) in November 2017. I played with AG from Dec 1, 2017 – April 16, 2018 post which PokerStars.in came up and AG decided to shift focus to 6max NLHE cash games. My journey with AG made me realize that although I am not the smartest player on the tables but with dedication and hard work I can definitely climb the learning curve and start crushing the field in MTTs."
He spoke about his next experience with a poker stable. saying, "In June 2018, I joined AceJack (under Kartik Ved's coaching), as an MTT player and started grinding mid-stakes tournaments (ABI ~2000). It took about a couple of months initially to get a hang of the Indian field and opponent tendencies. I still struggle with maintaining composure in a lot of spots, it's an uphill task but definitely looking feasible at this point."
Talking about the Two of a Kind event, he said, "I deposited 20k with the 2oK deposit code for a free ticket to the tournament. I also played multiple 3 and 10 seat GTD satellites during the day but could not convert. I was 6 tabling at the start of the tournament. Like every other Sunday grind, variance was taking over my composure and within the first hour I was down to 2 tables and was not feeling my A game."
"I tripled up early in 2oK thanks for QQ > 99 & KK > TT within a couple of orbits. For the next couple of hours, I was just grinding, stealing a couple of pots here and there to maintain average stack. Then in the third hour of play, I got to see the positive side of variance when I cold-called an agro Bu's 3bet in SB with QQ and hit top set on the Q56r flop to stack off middle set (66) for a chip lead pot. From there, I just waited for the right spots and tried to apply pressure as the game closed into the money bubble."
"After ITM, I had an above average stack until the F3T where I got crippled after a couple of 3bet pots went against me post flop. I was amongst the bottom 5 stacks from 24 left to around 15 left when I got a double up bvb when sb jammed ~12bb effective into my bb and I called off A6o. From there, the ride to the final table was rather smooth as a couple of flips went my way. I even got lucky when I spiked a set of JJ vs KK in a pfai confrontation to get back to an above avg stack. I was running quite well on the final table as well in that I was running well, getting hands in the right spots."
He asked him about any turning points in the tournament, to which he said, "On F2T with around 12 left, I had a spot in which my will to survive took over optimal play when I nit cold called ATs in SB with a 20bb stack to a wide range CO open(32bb stack) only to get jammed by the BB. I felt crushed at this point because this was a spot I had rehearsed well previously. But as luck has it, a couple of orbits later, I had 20bb in SB and I got dealt ATs. This time, Bu(60bb stack) opened and I 3bet jammed 20bb to get called in BB(90bb stack) with 88 and spiked a T on the flop itself. This was another crucial hand at the start of the final table which boosted my confidence."
Q. What was the reaction of your friends and family?
"The tournament finished at 5:45 AM after about 11 hours and 45 minutes. As soon as it ended, I called up my closest poker friends to share the joy I got out of my biggest poker win till date. They were ecstatic too. I talked to my coach, Kartik, and mentor, Ashish Munot who themselves had deep runs in the BLT ME finishing 9th and 5th respectively the same night. I informed my parents and my brother, and they were also very happy for me."
Q. What are your future plans in the live and online space?
"Right now, I have only spent about 3-4 months in the MTT field and there is still a lot to learn for me. My plan is to keep working on my game and try to further understand the intricacies and nuances of the game and to put in as much volume as possible to slowly build a toll as well as my edge to move up in stakes. I don't have any plans for live space at this point, but I am planning to shift to Goa in the near future to try and get a better grasp of the live scene and decide whether it is the right time for me to start playing live events. I would be lying if I don't dream of one day getting a WSOP bracelet because that is what every MTT grinder has lived for the past 40 years or so."
Q. Your feedback on The Spartan Poker itself and their promotions.
"The Spartan Poker keeps introducing new tournaments and better promotions every month to help MTT grinders and I really appreciate the efforts that the team is putting in. Now, we have 3 major tournaments on 3 Sundays every month (Millionaire, 2oK, and 5 for 5) and also a lot of regular tournaments which helps the only problem I see in grinding tournaments day in day out, the volume."
Q. What do you plan to do with this money?
"I do not really have any plans right now apart from just grinding and building up a roll to move up to higher ABI's. Although, I will definitely treat myself and buy some presents for the people who are close to me."
On a parting note, Taneja added, "I would like to take up this space to express my gratitude towards my coaches and mentors (Kartik Ved, Sharad Rao, Ashish Munot and many more) who have been helping me improve towards becoming a smarter poker player and to lead a smarter life in general."
Keep reading GutshotMagazine.com for more updates on the top Indian poker tournaments and interviews with the top players.
Don't have an account on The Spartan Poker? Don't miss out on their bonuses, promotions, and guarantee-smashing tournaments. Sign-up now by clicking HERE.
---
---
Comments