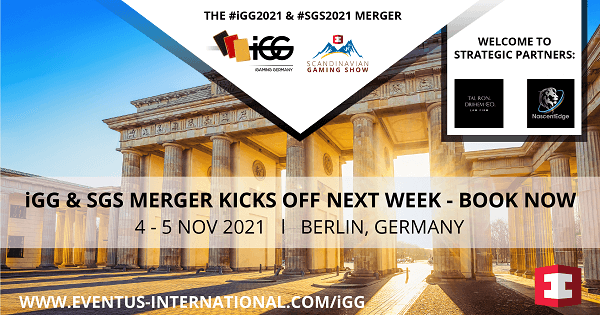 Business
---
Press Release: iGG & SGS Merger Kicks Off Next Week
The iGG (iGaming Germany) and SGS (Scandinavian Gaming Show) Merger event will be kicking off next week at the stunning Crowne Plaza Berlin – Potsdamer Platz in Berlin, Germany. Eventus International is looking forward to welcoming C-level gaming professionals from across Europe from 4 – 5 November 2021.
The inaugural iGaming Germany, kicking off alongside the well-established Scandinavian Gaming Show brand, promises to offer industry professionals the vital opportunity to gain insight from industry leaders across the gaming business and regulatory developments in the region.
The iGG & SGS Merger will provide a platform to facilitate thought-provoking discussions between regulators, operators, suppliers, global investors and market participants. Eventus International gathered a line-up of top gaming experts to share their insights and experiences.
Get ready to hear from speakers, such as:
Frank Herold, Member of the board, EMIRAT
Michael Auer, Director, Neccton
Dr. Joerg Hofmann, Senior Partner, Melchers
Dr. Holger Jakob, Head of Sports & Esports Law Practice Group, Melchers
David Deutsch, Global Digital Marketing Director, BBK Paris
Daniel Gruederich, CEO and Founder, Sportsbookcloud
AND MANY MORE!
Eventus International warmly welcomes Strategic Partner, Tal Ron., Drihem & Co., Law to the iGG & SGS Merger. Tal Ron, Drihem & Co., pride themselves in being exceptionally dedicated to their clients. They believe that it is extremely important to know their clients well. It is only then, that a lawyer can give his clients the best possible advice. 
This holds true for publicly-listed companies, just as it does for private individuals and young online entrepreneurs. There is no need for you to get lost in an extra-large law firm, passed around at random between lawyers who are not in the slightest familiar with the big picture in your case. At Tal Ron, Drihem & Co., they are not pencil-pushing form fillers.
Their legal team is fully versed in the history and all aspects of their client base inside and out. And as their clients all know, they are available 24 hours a day, 6 days a week, for professional advice, one-on-one attention and meetings in Tel Aviv and in every distant part of the world. That is why so many of their clients have been loyal to them for years.
Their firm, established in 2003 by award-winning lawyer and notary Tal Itzhak Ron (B.Sc., LL.B., and M.Sc. Computer Science), has been providing since its inception legal services for the biggest names in the iGaming, digital entertainment and financial technology industries. The firm advises exclusively more than 300 operators, platforms, acquiring banks, service providers and governing bodies in those sectors, offering creative, dedicated, highly responsive, legal, banking and compliance services, and is considered the first point of contact for innovative ventures setting up and wishing to optimize their operations. For more information, visit: https://rd-law.co.il/
Eventus International additionally welcomes NascentEdge as Strategic Partner to the iGG & SGS Merger. NascentEdge is a provider of dynamic face-to-face meeting platforms allowing their clients to expand into a predefined target audience and amplify their business exposure globally. For more information, visit their website today: https://www.nascentedge.com/
With only a few days to go until the iGG & SGS Merger, make sure to book your seat today! Tickets are limited, as well as space on the exhibition floor for exhibitors (due to COVID precautions) Book now before space is sold out: https://www.eventus-international.com/igg
iGG & SGS Merger Venue:
Take advantage of the special accommodation rate at the venue hotel, Crowne Plaza Berlin – Potsdamer Platz. This 4-star-Superior hotel in Berlin city centre features a gym and a wellness area, as well as bicycle rental facilities. It is a 10 minutes' walk from Potsdamer Platz and other sights are within close proximity. Book today before rooms are sold out! Contact the Eventus International team today for more information: info@eventus-international.com.
---
For more news and updates on coming promotions, keep reading Gutshot Magazine. If you are on social media, follow us on Facebook, Instagram, Twitter, and Telegram.

Techie | Marketer | Asst. VP @gutshotmagazine | Love Poker, Cricket, Snooker, Table Tennis, Chess | Gadget Geek | Foodie
---
---
Comments