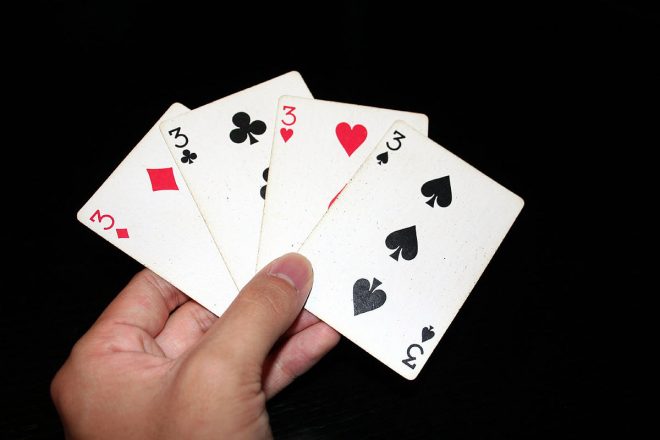 Rummy
---
How to Play Rummy Card Game – Rules & Guide
With numerous online poker rooms in India, there is no dearth of gaming sites for individuals who love playing poker. From the top online real money poker sites to online poker tournaments to a wide range of games in different variants, there are poker games aplenty to choose from based on individual skill-sets.
Those who are new to online poker can keep a tab on the current events by following the latest online poker news. However, when it comes to a particular poker game, it pays to have enough knowledge, especially if you are a beginner, in order to maximize your winning.
To this end, if you love the game of rummy and want to know the rules of how to play rummy online then this article is for you.
Is Playing Rummy Online Legal in India?
Yes, it is. Since rummy is a skilled-based game, it is excluded from the Indian laws that prohibit gambling & betting. However, while playing Rummy online is legal in most states of India, it is prohibited in Assam, Odisha, Nagaland, Sikkim and Telangana.
Some of the best poker sites in India, where you can play Rummy are;
So, now, let's get down to the basics of Rummy and the various rules of rummy to understand how to play rummy cards game online.
What is Rummy?
Although Indian Rummy has been derived from multiple sources, the most distinguished roots lie in Gin Rummy and 500 Rum which originated from the USA. There are many variations to it such as Traditional Rummy, Regular Rummy, Knock Rummy, Straight Rummy, but the most basic version is called Sai Rummy.
Rummy is a popular card game in India which requires skills as it can get challenging. It comes under the category of draw & discard card game. The Indian version includes 13 cards rummy game, wherein, the simple objective is to form Sets or Sequences while adhering to the said rummy rules. After the required sets have been formed, a player can reveal his hand, while the other players (opponents) count their points. (We'll take a look at Rummy points later in the article.)
Number of Rummy Cards
The no of cards in a deck is 52, which is a standard deck. While playing a game of rummy, the number of cards dealt per player is based on the number of players, playing a round of rummy. Generally, the game is played between 2-6 people. If the game is played by 2 people they pick up 10 cards each. If there are 3-4 people playing, they get 7 cards each. Finally, if there are 5-6 people playing, each person gets 6 cards each.
In the Indian Rummy version, each player is dealt 13 cards. So, if 3 or more individuals play cards rummy, then two 52-card decks are used. Starting in a clockwise order, each player deals, face down, one card at a time.
Rummy Game Rules – Objectives
As mentioned above, the objective of playing cards rummy is to make the most no. of combination cards (sets or sequences). A valid sequence includes 3 or more cards of the same suit A-2-3-4, these cards are based on the house – Hearts (red), Spades (black), Diamonds (red) and Clubs (black) – they belong to. Also, straight row of numbers – like Ace, 2, 3, 4 or Jack, King and Queen – that belongs to the same rank but of different suits is also considered to be a valid set. The combination can be made out of the cards from a discard pile or the deck itself.
How To Play Rummy
To understand how to play cards rummy, let's take the example of 4 players.
Each of them is handed out exactly 7 cards after which the first card from the deck is placed on the discard pile. ?
The person sitting on the left side of the dealer starts the game. He has the option to either pick a new card from the deck or pick the top card from the discarded pile.
The players turn can only come to an end when he picks a card and discards one from his own stack.
Once the player makes a meld of 3 or 4 cards he can lay it down to reveal. While this cycle carries on a player can also add a card to another player's meld as well.
Winner of the Game
This same cycle continues till one player finishes his entire pile. The winner gains the points based on the remaining cards of his opponents. The league is based on a pre-determined score. The game ends when that aim is achieved.
Rummy Points
All playing cards rank in the order of – Ace, 2, 3, 4, 5, 6, 7, 8, 9, 10, Jack, Queen and King. Each card in the game of rummy denotes a certain point, with Aces being worth 1 point, Faces (Jack, Queen and King) equals 10 points and other cards having their rank value, i.e. a 4 (of any house) is worth 4 points and a 7 is worth 7 points.
As mentioned above, a league is based on a pre-determined score. So, at the end of each hand, the remaining players count the points based on the unmatched cards remaining in their hand. The rummy game continues till the pre-determined score is reached, upon which the player with the lowest points wins the game.
Also, if a player is not happy with the cards he has been dealt and wants to skip the rummy round, he can do so. However, this will cost him 20 points. While the same increases to 40 points if he drops in between the game, i.e. before another player reveals his hand.
Going Rummy
If a player is able to meld all his cards by himself or with his opponents melds it is known as "going Rummy". In this case, he is awarded double the points of the total based off of his opponent's cards.
Check out our online poker rooms section, where you can read reviews on the biggest and best poker rooms in the country, while also taking advantage of their bonuses and promotions. Check out these top poker rooms HERE.
---
---
Comments