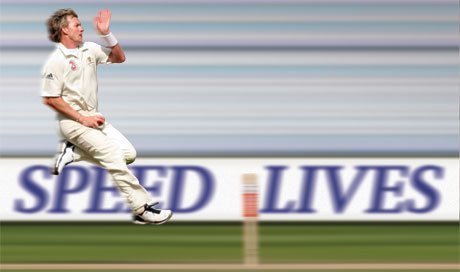 Gambling
---
How to become a good fast bowler
There are four steps: Refining Your Strength and Conditioning, Learning to concentrate on accuracy, Bowling Techniques, Appreciating the Game Community Q&A. The main component in a cricket team's success is a well trained fast bowler. These steps will help you become a skilled fast bowler.
Part 1 – Refining Your Strength and Conditioning
To generate the high speed on the ball you need broad shoulders and strong legs and arms. You can work on your broad shoulders by doing bench presses and shoulder presses. You can also use dumbbells to strengthen your arm muscles and do a lot of leg exercises to increase your leg strength.
Improve your stamina. Fast bowlers ten to bowl at really high speeds for many overs. This needs a lot of stamina. So to build your stamina run long distances and also do short sprints so it helps your stamina and your speed. This helps you with a nice burst for a short run up when bowling.
Improve your speed. Before focusing on aim, you must focus on increasing you bowling speed. You do not need to reach your maximum speed that you can bowl but gradually improve your speed until you feel comfortable with that speed.
Part 2 – Learning to concentrate on accuracy
Focus on the line you aim for. As you may have realized that raw speed won't do the trick. Fast bowlers keep changing their line and their length to confuse the batsmen. But the line you bowl it at should be middle stump to off stump and you shouldn't bowl down the leg side as most of those tend to be hit easily or tend to give them a wide.
Concentrate on your length. A really good fast bowler would usually pitch a ball of a good length and sometimes bowl a Yorker or a bouncer to puzzle the batsman. Don't bowl too short or too full as those are usually hit for boundaries. However, do not stick to the same length as a batsman will realize where you like to pitch it and would start playing attacking strokes according to where he feels the ball will bounce.
Part 3 – Bowling Practices
Use swing bowling and cut bowling. Fast bowlers have a habit of swing bowling or cut bowling the ball numerous times when they bowl. A cutter is used to shock the batsman after the ball bounces. A leg cutter is usually used to get the batsman caught behind or caught at slip. An off cutter is generally used to bowl the batter out or to get him an LBW. How a bowler swings usually defines him as a fast bowler. Swing the ball both in and out to surprise the batsman.
Make use of a good jump and a good shoulder swing speed. As you keep learning and becoming better you can make use of your wrist speed. The wrist speed is a vital part of fast bowling. Many bowlers use the shoulder swing well with regards to their jump.
Use the wrist thrust.  While your run-up, do not keep your wrist straight, and instead keep the wrist facing upwards. When you are releasing the ball, throw it with the help of your wrist. This helps the speed that you throw the ball to increase as it adds up the speed of your wrist to your existing speed.
Part 4 – Appreciate the Game
Enjoy the bowling session. Bowlers enjoy bowling and are at leisure when they bowl. They enjoy ripping one through the middle stump or even if they realized they bowled the perfect ball though it didn't get the batsmen out. What you need to remember is that you shouldn't let the intensity of the game take away your joy of bowling.
Always remain motivated even when you are feeling tired. Keep going as that's how you build your stamina. Never give up and remember good bowlers took their time to become good and get it right. Whenever you are bowling, bowl at your highest speed, and don't worry about the inconsistency. After a good amount of practice, your bowling speed would become consistent and you would start generating pace and you would start bowling in the right areas.
Keep reading GutshotMagazine.com for more 'Cricket Gyaan' articles. 

---
---
Comments