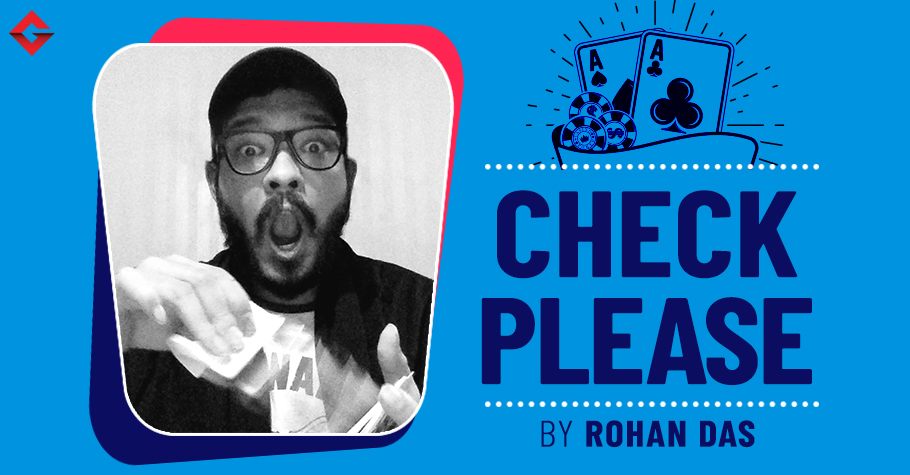 India
---
How Poker Happened (To Me) – Part III – Poker: The Networking Tool
If you haven't already, please do check out Part 1 and Part 2 of this series. These columns have been my version of the Kobe Bryant documentary 'Dear Basketball' and my own little thank you to this beautiful game that has been such a big part of my life.
Like I mentioned, it was my final year of college when my first tryst with the IPC and the Indian poker community happened. I had been doing live updates from Goa as well as writing regularly for Gutshot at this point, but in the Indian education system the final year of college also means it's placement season.
Let's face it, when you're that young you don't really have much to write about in your resume. Yes, you have your grades and maybe some extra-curriculars but that's pretty much  it. We were told to write about any internships we'd done or any summer jobs we'd had. Quite frankly, apart from the IPC, I had zilch. I was a pretty average student and had been on the organizing team for the college festival, but that's nearly every student who has participated in a festival.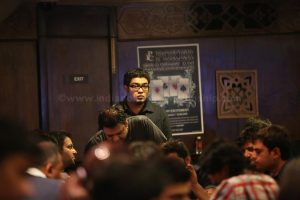 So of course, I wrote about my time with the IPC and Gutshot and my first-round interview was arguing the notion that 'poker is just gambling.' I must've been very convincing because I made it to the next round and got hired. When they made me the offer, one of the panel members told me, "We have a few poker players on the team as well, you'll really get along with them."
So, I join this company and a few months later, during my break, one of the senior members from the team comes up to me and says "You're that poker player, right?!" I was a little taken aback at the question but it turned out this was the person I'd been told about in my interview. He said that he had a group of friends that regularly met up to play and that he'd tell me the next time they were getting together.
As an afterthought, they also told me that I might know one of the people from the game because they've also been to Goa for poker. I asked them the name and guess what? It was one of the people that I'd hung out with during the IPC! It was a player that goes by the name of 'hiccup' online and is, to this day someone I love discussing hands with (even if we don't keep in touch that much).
After that first game, I became a regular at that table thanks to the Goa connection. And it was a fairly juicy game as well—I didn't have to touch my bank account for a few months and managed to fund a couple of holidays from that table as well.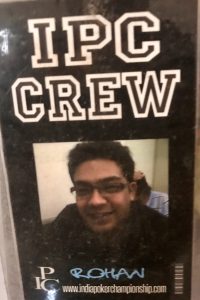 I also got to meet some Bollywood celebrities – nope I'm not going to drop names. But by far one of the coolest things that happened was that I got to reconnect with an old family friend after over a decade who happened to drop by one night.
Apart from the personal connection, I managed to create an incredible professional network as well. Around 2013 a lot of people had started moving to online poker and for a number of reasons there weren't any tournaments happening in Goa for a long time. Even the IPC had taken a hiatus for a while.
That was until 2015, when the IPC announced that they were making a comeback. It had been a while since I'd seen the inside of a poker room and the IPC had been so good to me that I just had to go. This time around though, I went to play. I figured that if I was going to play my first ever live poker tournament, the IPC was the place to pop that cherry.
Now remember I said that my first night on the job at IPC the event broke a record? My first time attending the tournament as a player was no different! Even though I got there early enough, there was already a waiting list and I was in the 40's—and the tournament hadn't even started yet.
By the time I got to my seat, Level 3 had already started and late registrations were still on till the end of the break after the next level. I didn't have a great start and only had about 9 big blinds by the time the break ended. I lasted just long enough through level 5 to hear that the final count was over 380 entries, which was yet another first in the Indian poker scene.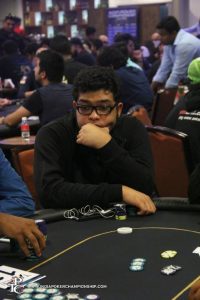 Soon after the announcement and after some creative play from me I moved all in with pocket Nines against my opponent's Ad 5d for a pot that would have more than tripled me up because of some pre-flop raises before I jammed. The flop comes Kh Qc 10s and my pair is still ahead. The turn 5s, still an 80% favorite. For newer players, in this situation the only cards that help my opponent are the 5's and Aces remaining in the deck. Any other card and I win the hand. Unfortunately, you need to be a 100% favorite to win and the river card was an Ace and I got knocked out of the tournament. I've lost plenty of hands after having been a favorite before the last card was dealt, but this one hurt especially hard and that's why I still remember it, a whole five years later.
One great thing did happen though during the break, though. I bumped into one of the regulars at the game that my colleague took me to. We were casually chatting and he remembered that I'd been around the Goa scene for a bit and asked if I would be interested in some freelance work for one of the biggest poker brands in the world.
Thanks to that one conversation with them I got to spend 3+ years working with this amazing company, both as a freelancer and as a full-time employee. I got to work with so many wonderful, talented people across various different teams and different countries, got to have my first international casino experience and even got to be around during the production of a poker based TV show as well, all because two people played in the same poker home-game and happened to bump into each other again at a tournament.
By now you should have gotten a sense of the general theme of this piece. I've gotten to experience a whole bunch of different things on both sides of the table so to speak, made some great friends through this game and honestly would not trade that in for anything. If any one of you are reading this, thank you.
I'd been away from poker and most other things for a variety of different reasons, but I am so glad to be back in the folds of this amazing fraternity. A few weeks ago, after a very long time, I even took part in an online poker tournament. But I've rambled on for long enough so I'll leave that story for another time 🙂
Cheers!
To keep following my column 'Check Please' and to read Part 3 of 'How Poker Happened (To Me)', stay tuned to GutshotMagazine.com.

---
About the author: Rohan Das is not now, nor has ever been a professional poker player, but has been associated with the Indian poker fraternity since 2011. He has a deep love for the game and is always encouraging new players to take up the sport. You can get in touch with him on Instagram @das.rohan
---
---
Comments