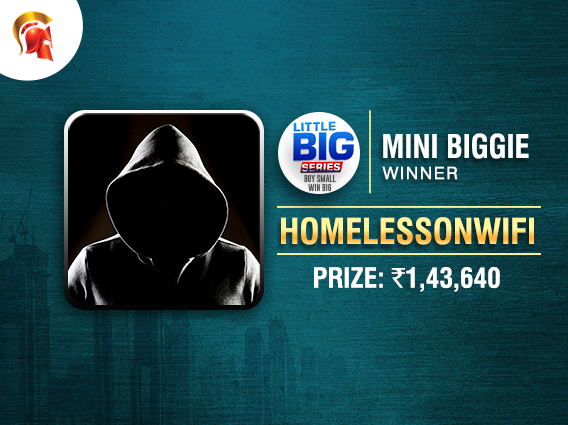 Poker
---
'HomelessOnWiFi' claims Mini Biggie at Little Big Series
The ongoing Little Big Series (LBS) at The Spartan Poker has been providing a ton of value for tournament players who want to 'Buy Small and Win Big' as the tagline of this series goes. And rightfully so as more than INR 30 Lakhs in guaranteed prizepools are up for grabs across the 18 event schedule in this LBS. Last night saw one of the bigger events on schedule take place in the form of the Mini Biggies, the highroller event of the series. A familiar name was the last man standing by the end of the 6 hour tournament and that name was 'HomelessOnWiFi' who claimed top honours and of course the biggest prize of the day. But before we take a look at that tournament's round-up, let's do a quick run through the other three tourneys scheduled on the day.
LBS Event #5 INR 220 PLO (40k GTD)
The day kicked off with a PLO tournament and at the end of late registration 103 participants took to the felts. 12 places were paid out with INR 900 being the min-cash. Headsup took place between 'SickRun' (124k) and 'Eminempunk' (920k) and ended in a preflop all-in when SickRun shoved with SickRun holding 7c Jh Qd Qh and Eminempunk made the call with 9c 7s 9h 8s. The board of 3h 9d 3s 8d 3c gave a full house to both players but Eminempunk's Nines Full was best giving him the title and INR 11,400 top prize while his opponent took home INR 7,400.
LBS Event #6 INR 440 (90k GTD)
This late afternoon tournament was one of two freezeouts on the day's schedule and it kicked off at 4:00 pm eventually closing with 172 players taking part. 24 places were paid out and the final two players who went to battle for the title were 'THALAIVA AR' and 'vngnc.d2' with the latter holding a 2:1 chip advantage when the final hand took place. A preflop raise and re-raise brought a flop of 2c Td 7s. vngnc.d2 (Kd 9h) decided to put his opponent, who checked, to the test by going all-in. THALAIVA AR (Ac Jh) decided to take a shot but the turn 8h and river 6h were unkind giving vngnc.d2 a straight and the title. vngnc.d2 won INR 18,400 while THALAIVA AR had to settle for INR 12,360. 
LBS Event #7 INR 3,300 (5 Lakhs GTD)
The big event of the day was of course the Mini Biggie, the highroller if you will, of this Little Big Series. It featured a sweet 5 Lakhs as guaranteed prizepool which brought 172 entries to play for the biggest share of the biggest buy-in event of the series. 15 players got paid out with INR 9,747 being the min-cash. A few familiar names making it to this final table including Anirban 'pokernoob' Das (8th for INR 16,672), Anant 'Pro' Purohit (6th for INR 25,650) and 'Exit the Matrix' (3rd for INR 61,560) who ran deep but fell short of going into heads-up for the title. That battle took place between another online reg in 'HomelessOnWiFi' who went up against another tourney reg in Siddhant 'bullzeye' Kapoor. 
HomelessOnWiFi (779k) was holding the lead when he eliminated Exit the Matrix in 3rd place with his pair of Aces being best against Exit the Matrix's pair of Jacks. That took HomelessOnWiFi past the 1.2 million chip mark against the 445k stack of bullzeye. No sooner did they get into heads-up, HomelessOnWiFi (Td 7d) took about half of bullzeye's (6d 2d) stack with a better kicker on a board of 9d Jd 9c 4c As. It didn't take took long for the final hand from there. bullzeye raised with 8s Jd and HomelessOnWiFi moved all in with Qc Ad. A call from bullzeye to see Qh 9h 9d Js 3s and the bad news of a better two pair exiting him from the tournament. HomelessOnWiFi won INR 1,43,640 and the title while bullzeye took the runner-up prize of INR 93,622.
LBS Event #8 INR 550 (1 Lakh GTD)
The final event of the day was also a freezeout tournament and saw 206 players take to the felts. 27 players got paid out a minimum amount of INR 1,030. 'Sattebaz' and 'pranjaljo' began heads-up with almost even stacks but the latter started to pull away gaining a lead about mid-way into their battle. A key hand happened towards the end which shifted the stacks into Sattebaz's favour. Following a preflop raise and 3-bet, both players saw a flop of 8d 9d Ts. Sattebaz holding Ah 5d decided to put pressure by moving all-in and with a double bellybuster straight draw pranjaljo (Jd 6s) was committed to making the call. Unfortunately for him the turn 8h and river 4h did not materialise a suitable card for him and that meant Sattebaz now had the lead. Two hands later the final hand took place on a pre-flop all-in with Sattebaz (Jh Kd) hitting a pair of Kings against pranjaljo (7c 9d) on a board of 5h Td Kh 4s Ad. Sattebaz took home INR 22,814 for the win and pranjaljo INR 15,398 for the runner-up.

And that was it for Day 2 of the Little Big Series at The Spartan Poker. Stay tuned to GutshotMagazine.com for more updates like this one!
---
---
Comments