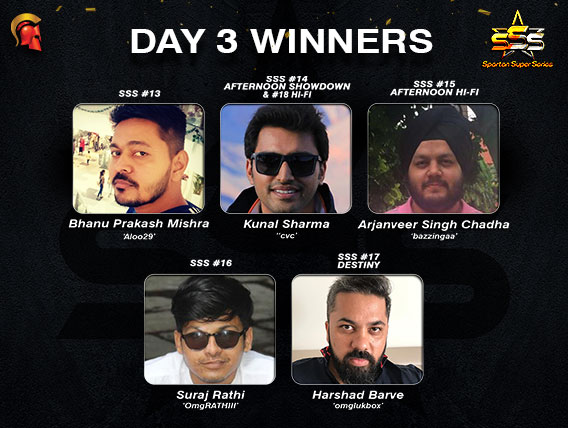 Poker
---
Harshad Barve wins Destiny; Kunal Sharma wins 2 titles
And what an incredible night it was on Spartan Poker yesterday, lit with several notable players on Day 3 of Spartan Super Series (SSS) which wrapped up another set of 6 winners for their hard-earned efforts. Spartan comes up with such online tournaments to allow the mid/high stakes players to showcase their talent. Here is a complete summary of SSS Day 3…
SSS Event #13 INR 50k GTD
The first tournament of the day itself saw a massive number of 617 entries, each player chipping in INR 110 buy-in. Such a field smashed the guaranteed amount only to create a prize pool of INR 61,700, eventually to be shared among the top 39 players receiving a payout of min-cash INR 425. The star of the night was Bhanu Prakash Mishra playing as 'Aloo29' who emerged victoriously after he beat 'killingspree' in heads-up and took home INR 10,678 as first-place prize money. The latter settled for the runner-up position bagging INR 9,917. Both players created a deal with Mishra carrying the largest stack of 1.4 million, winning the tournament and adding a valuable title to his poker career.
We spoke to Mishra after his win, about the tournament he stated, "I am happy to be on the winning side of yesterday's SSS tournament on Spartan Poker and I'm hoping for more such future endeavours."
SSS Event #14 Afternoon Showdown INR 4 Lakhs GTD
The second tournament of the day kicked off on a modest note with 195 players entering for a buy-in of INR 2,200. Only a bunch of top 17 remaining players received minimum cash of INR 6,280 after sharing the prize pool. A well-known poker player on the virtual felt, Kunal Sharma aka 'cvc' powered through the field to take home the prize money and along with the title after he beat 'kilpauk' in heads-up.
In Level #37 with blinds at 8,000/16,000 ante 2,000, both players enter the final hand, Sharma (4h 4s) entered with 1.16 million chips playing against 'kilpauk' (Kh Qd) with 294k chips. Ac Ks 4d on the flop, the latter bets 32k and receives a call. With another bet-call on 7s turn, 'kilpauk' puts his entire stack on the table for Queen on the river, now holding two pairs of kings and queens but he couldn't stand against Sharma's trip fours. And that's when he added another title to his poker cabinet.
SSS Event #15 Afternoon Hi-Fi INR 3 Lakhs GTD
The buy-in for Afternoon Hi-Fi of SSS Day 3 rose to INR 1,100 and once again, the guarantee was slightly crossed with 307 unique players joining. A known face across online tournaments, Arjanveer Singh Chadha aka 'bazzingaa' powered through this field to claim the title and the top prize. A new prize pool of INR 3.07 Lakh was created to be shared among the top 24, each getting a minimum payout of INR 3,070. In the final hand of the tournament, 3 players enter with 2 folding in pre-flop itself. With Chadha carrying the largest stack, he walked away with an ambitious amount.
SSS Event #16 INR 2.25 Lakhs GTD
With a buy-in of INR 770, a total number of 317 unique players enter the tournament. The prize pool was shared among the top 24, each receiving a minimum amount of INR 2,250. It was Suraj Rathi playing under the username 'OmgRATHIII' triumphing the event and adding another title to his online poker career after beating 'moZart' in heads-up.
In Level #39 with blinds at 10,000/20,000 ante 1,250, both players enter the final hand, Rathi (6c Qc) with 1.2 million chips against 'moZart' (3c Ac) with 700k chips. Board opens 7s 2d Qs Th 6h, found Rathi playing-slow while the latter betting. The showdown saw, 'moZart' shoving his high card Ace and Rathi taking away the title of the night by holding a much stronger pair of Queens and Sixes.
SSS Event #17 INR 35 Lakhs GTD
This is one tournament everyone has had their eyes on. Being a featured tournament hosted by Spartan Poker every Wednesday, Destiny smashed the guarantee to create a prize pool of INR 37.5 Lakhs. A massive number of 752 players entered with only the top 60 witnessing minimum cash of INR 15,020. It was another well-known player, Harshad Barve aka 'omglukbox' taking away the huge first-place prize money after beating Aditya Wadhwani aka 'adiwankenobi', another frequent face on Spartan, in the heads-up.
With blinds at 60,000/120,000 ante 12,000 in Level #49, Barve (5s 2s) with 8 million chips and Wadhwani (Qh Qc) with 3.2 million chips enter the final hand. Flop 3s 3h 8s, both players bet call 388k. With Ace on the turn, the latter puts 470k bet and got a call from Barve. Ultimately, Js on the river proved to be game-changer for Barve who was now holding flush with Jack high, defeating the former with Queens and threes. The champion shipped the tournament sending Wadhwani to settle in the runner-up position. Gutshot Magazine got in touch with Barve who expressed, "Though I was happy being the runner-up in last week's tournament, it is satisfying to win it this time."
SSS Event #18 Hi-Fi INR 8 Lakhs GTD
Fate was in favour of Kunal Sharma shipping his second title of the day. No wonder, Sharma has always been among the top names in the virtual felts. Day 3 concluded with the last tournament being Hi-Fi. The guarantee was crushed to create a prize pool of INR 8.34 Lakhs. For a buy-in of IR 1,650, a total number of 556 players entered the tournament. The top 54 players received a min-cash of INR 3,753. Truly, Sharma was the star of the night, topping the field after defeating his opponent Ashish Kaushik aka 'mmonas' in heads-up.
In level #43 blinds at 18,000/36,000 ante 4,500, amassing 2.8 million chips, Sharma (8h 7d) aka 'cvc' battled against Kaushik (Kc 9h) with 1.2 million chips. Th 5d 6h flop, the former bets 112k and receives a call from the latter. Holding a straight in the initial round itself, Sharma powered from the next 4s 3d turn and river, betting another 225k while 'mmonas' holding a King high was brutally defeated.
Gutshot got in touch with Sharma after the tournament, and he added, "Although I was looking forward to Wednesday's Destiny, I am overwhelmed with both Afternoon Showdown and Hi-Fi victories. I will be focusing on other tournaments in the rest of the SSS series."
For latest updates on online as well as live poker tournaments keep reading GutshotMagazine.com and stay tuned!
Check out our online poker rooms section, where you can read reviews on the biggest and best poker rooms in the country, while also taking advantage of their bonuses and promotions. Check out these top poker rooms HERE.
---
---
Comments